THE NATASHA HUMERA EJAZ PROJECT
Written by: Maryam Gul and Nida Qasim - Posted on: July 08, 2013 |

Comments
Google Translation: اُردو | 中文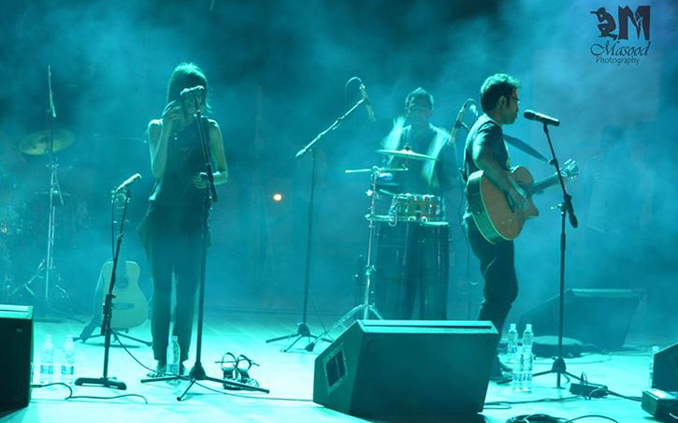 Natasha in her element at the rock musicarium
She walks in, a slim figure, sits down, apologizes for being precisely 4 minutes late and we begin. Natasha Humera Ejaz is a 25 year old singer from Islamabad, mainly known for her distinctive voice quality; she has worked on many solo projects as well as on a number of collaborations, winning International Awards for her work.
The youngest of four children, Natasha talks about how she knew she wanted to be a performer at the age of three after having learnt a nursery rhyme at school. The feeling, she recalls, was one of instant revelation. As the interview unfolds, we catch a glimpse into her life, her musical aspirations, her family, her friends- basically everything Natasha Humera Ejaz.
She reveals a rather feminist side to her personality; her second name, Humera, is actually her mother's name. "I couldn't become someone without giving credit to my mother" she explains. A painter by profession, her mother has been a vital source of inspiration throughout her career.
At age 15 Natasha decided to step into music formally, initially starting at the school level. Part of the group dubbed the NCA Group, Natasha's friends were just as eccentric as her, participating in street theatre, plays and musicals while still at school. Natasha was always a high achiever but when it came to university, she knew she had to study something which would help her with her musical aspirations, and that is how she ended up at the International College of Music (ICOM) in Kuala Lumpur earning a music theory certificate in audio engineering.
Why the Indie and Electronic genre especially when pop and rock are so popular in Pakistan? "It's a mix of what I know and what I can sing." She reveals that at 11 years, her favourite singer was Alanis Morissette because her older siblings wouldn't allow her to listen to Britney Spears and the like, thus tuning her musical tastes from an early age. Her favourite song from her own collection is Badal (Cloud). She explains how events in her personal life inadvertently got translated into this song, which made it a very honest performance. She believes however, that she hasn't quite reached the 'mark' yet, not quite according to her own standards. "There's a long way to go yet," she adds.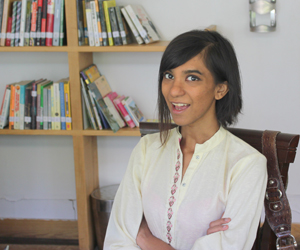 Candid as ever during our interview
We ask her about her other talents such as acting, choreography and her Radio Jockey experiences. She clarifies how she enjoys each one of them thoroughly in their own right, but gives music preference over all of her other ambitions. She gives an interesting analogy: "Your skills are like your muscles; you can work on one at the expense of the other." She explains that being a perfectionist by nature, she needs to concentrate solely on her music in order to deliver a product of her liking.
When we inquire about her 6 international awards from Bite my music, she responds: "Rishabh and I just uploaded it onto the site for the sake of it, we weren't expecting to win!" She talks about her song Jahan (World), saying that it was a mere collaboration between Rishabh Rajan (her instructor) and herself, part of their routine work. "I've learnt a lot from him," she explains, telling us how her studies at ICOM have given her an edge when making her own music. We ask her if coming back to Pakistan has been a setback for her music in terms of the facilities available. She explains that Pakistani music is at par with its international competition despite setbacks to the Music Industry in the recent years.
The conversation flows to her recent collaboration with Abbas Ali Khan and her stepping into Sufi Music. "I made my mother sit down and explain the whole poem to me!" she exclaims. "I could not sing Sufi music without understanding what it means." She thinks of 2013 as having been a time of defining grounds, where she worked on fewer productions than before and took time out to see where her music was headed. We can expect an album very soon says Natasha, while not giving us a date.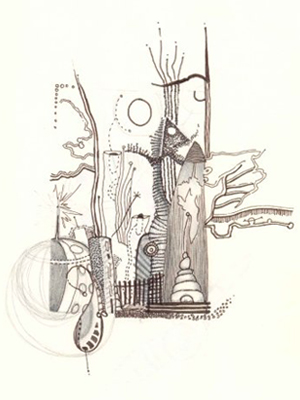 One of Natasha's miniature artworks
What does Natasha Humera Ejaz do when she's not making music or acting? "I draw," she replies. "I find it meditative." Working with lines and dots, Natasha makes miniature paintings in her free time; she likes to think of herself as a purist. We ask her to define herself and her immediate answer is "I'm a Clown! I don't mind people making fun of me." Taking advantage of the situation, we ask her to put on the accents she's so famous for and she playfully puts on a rather uncanny Scottish impression!
Most recently Natasha was part of the Blended 328 concert where she performed alongside bands from the USA. Her genre of Music might be different but Natasha aims to make the most of it, a self-proclaimed workaholic, a highly ambitious individual and most importantly a talented singer, one can only expect amazing things from Natasha in the near future!
You may also like: