HERMES' FESTIVAL OF ARTISANS AT WORK HELD AT UNION SQUARE, SAN FRANCISCO, USA SEPT 20 TO 24, 2012
Written by: Shahida JJ - Posted on: January 15, 2013 |

Comments | 中国 (Chinese)
Google Translation: اُردو | 中文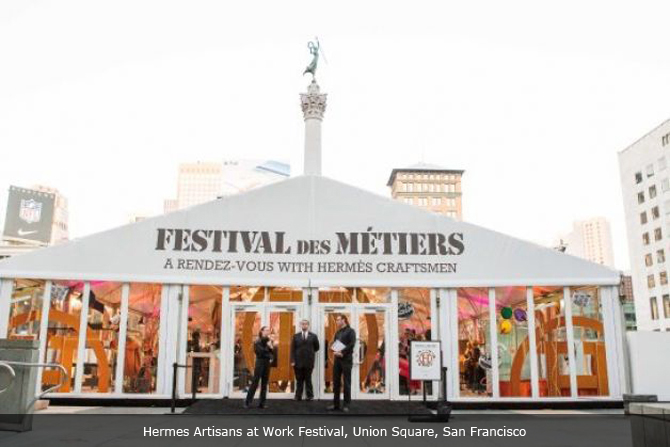 Here is some HERMES history:
"Hermes was founded in 1837.
Founder: Thierry Hermes
Headquarters: Rue du Faubourg Saint-Honore, Paris, France
Products: High-fashion clothing and accessory manufacture
Hermès is a French manufacturer of quality goods established in 1837, today specializing in leather, lifestyle accessories, perfumery, luxury goods, and ready-to-wear items. Its logo, since the 1950s, is of a Duc carriage with horse.
The Hermès family, of German descent, settled in France in 1828. In 1837, they established Hermès as a harness workshop and created the finest harnesses and bridles for the carriage trade.
1980s: tableware became a strong segment of the firm. New materials used in the collection included porcelain and crystal.
2008: Hermès has 14 product divisions encompassing leather, scarves, ties, men's wear, women's fashion, perfume, watches, stationery, footwear, gloves, enamel, decorative arts, tableware, and jewelry.
The company's designers began to draw inspirations from paintings, books, and objects d'art.
Hermès exclusively uses natural materials for its products, unlike other companies that use new man-made materials.
Hermès goods are almost entirely made in France by hand, in middle-sized workshops ("Ateliers Hermès") with an emphasis on quality manufacturing. Indeed, Hermes claims most items are fabricated from beginning to end by one person only, which is supposed to be a guarantee of the quality and uniqueness of Hermès products.
A topic close to my heart – Artisans at Work and Artisans Support, especially artisans of Balochistan, Pakistan; Several Balochistani rural women artisans have received recognition - Presidential awards, for doing exquisite Balochi embroidery, the best in Pakistan! The Log Virsa Mela brings together artisans from all over Pakistan at one place in Islamabad each year.
But San Francisco Artisans at Work exhibit is of a very different nature - featuring artisans who work for the world's top designer brand name and the most expensive - HERMES – all products made in France!
Union Square, is the center square of San Francisco, an open garden like space. Different events are organised here regularly. World class stores are located around the square: Saks Fifth Avenue, Neman Marcus, Barney's NY, Louis Vuitton, Chanel, Macy's, etc.
A white tent/marquee stands in the center of the square; was wondering what it was -Some exhibit going on. Passed by it several times. Decided, "Lets check it out," and paid a visit.
Signs outside said: HERMES' Artisans at work. Very exciting!
What we saw and learnt:
Artisans have come from France and are French speaking, but have English translators accompanying them. "Showing meticulous details that go in to the brands signature", is what is advertised - all hand done!!
There are separate sections showing different HERMES' products being produced by hand. Here is what we witnessed:
HERMES silk scarves
Silk screen printing demonstration:
A large table with two large silk scarves spread out flat; the artist demonstrates how silk screening is done by applying different dyes on the applicator that seep on to the fine silken fabric. Designs are created by Hermes artists. 7800 dyes have been specially created by Hermes that are used for dying.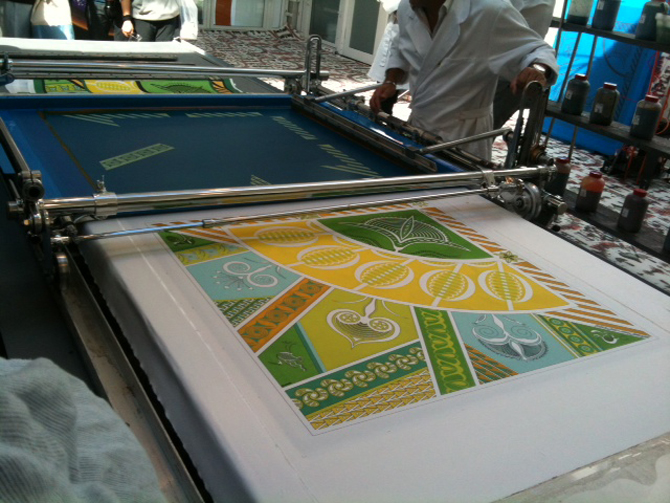 Demonstration of screen printing on silk Hermes scarf
We watched the artist/screen printer apply different colours, one at a time, numerous times, to complete one scarf. They are not mass produced. Therefore, fetch quite a price - one Hermes Scarf is sold for over $500. Each is a piece of art and a collector's item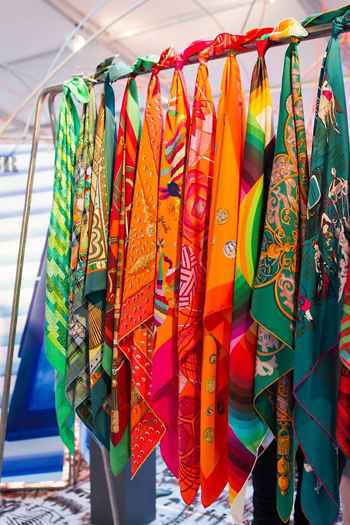 Hand printed Hermes scarves display
Hermes silk scarves, history and mystique:
HERMES scarf or carré was introduced in 1937. Hermès oversaw the production of its scarves throughout the entire process, purchasing raw Chinese silk, spinning it into yarn, and weaving it into fabric twice as strong and heavy as most scarves available at the time.
The company's scarf designers spend years creating new print patterns, individually screen-printed with vegetable dye. Each added color dries for a month before the next color is applied. Designers chose from over 200,000 different colors. Forty-three is the highest number of screens used for one scarf to date, which is the "Charity" scarf, released in 2006.
When scarf production first began, a dedicated scarf factory was established in Lyon, France. The same year, Hermès celebrated its 100th anniversary.
Contemporary Hermès scarves measure 90 cm × 90 cm, weigh 65 grams and are woven from the silk of 250 mulberry moth cocoons.
All of the hems are hand-stitched. Two silk-scarf collections per year are released, along with some reprints of older designs and limited editions.
Since 1937, Hermès has produced over 25,000 unique designs. The seen-everywhere "Brides De Gala" version, introduced in 1957, has been produced more than 70,000 times. An Hermès scarf is sold somewhere in the world every 25 seconds; by the late 1970s more than 1.1 million scarves had been sold worldwide.
So popular are the scarves that some have found themselves worn by Queen Elizabeth II in a portrait for a 1956 British postage stamp; worn by Princess Grace Kelly in a photograph on the cover of a 1956 issue of Life magazine; used as a sling by Princess Grace for her broken arm.
Kelly leather hand bags
In one corner was the table of the leather hand bag maker, the leather crafter. Several bright coloured, high quality, large leather pieces- whole hides were displayed, that become the Kelly hand bag; one hide used for one bag. The artisan/ bag crafter cuts the leather, hand stitches it using one piece of linen thread and an awl, with saddle stitch putting the pieces together. If the thread breaks, he has to undo the sewing and do it again, adds hardware, ornaments and finishes it. Two completed Kelly Bags were displayed.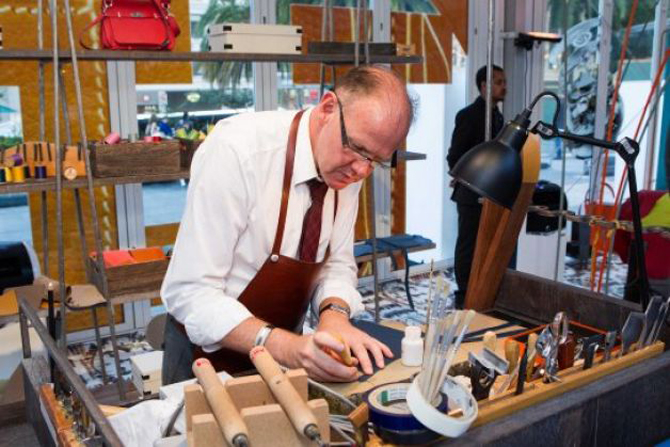 Kelly handbag maker
History of HERMES leather hand bag:
In 1922, the first leather handbags were introduced.
In 1935, the leather Sac a depeches (later renamed the "Kelly bag" after Grace Kelly) was introduced
In 1956, a photo of Grace Kelly, who had become the new Princess of Monaco, was shown carrying the Sac à dépêches bag in a photograph in Life magazine. Purportedly, she held it in front of herself to cover up her pregnancy. Thus, the public began calling it the "Kelly" bag. The name was subsequently adopted by Hermès, and the bag became hugely popular.
HERMES Birkin Handbag
Hermes Birkin handbags perfectly reflect the style of the French fashion house and remain a classic and everlasting fashion brand. Manufactured in France, the Hermes Birkin bag ranks at the top of the fashion world. It is named after actress and singer Jane Birkin. The bag is a symbol of wealth due to its high price and elusiveness, prices range from $9,000 to $150,000.
There are other individual options, such as diamond-encrusting. The bag also has a variety of hides such as calf leather, ostrich, crocodile, and lizard. One of the most expensive is saltwater crocodile skin. Bags with smaller scales cost more than those with larger scales. The bag is lined with goat-skin. The color of the interior matches the exterior. Prices for the Birkin bag depend on the color, hardware fixtures, and skin. Diamonds are another custom addition.
It was reputed for having a waiting list of up to 6 years. It is the longest wait for any bag in history.
The difference between an Hermes Birkin and Hermès Kelly handbag are the handles, the single handle handbag is the Kelly, and the Birkin has two handles.
Replicas or imitation Birkins have also become popular, sold at $300 a piece!! But one can tell which is real.
Hand painted crystal stem glassware
An artist hand paints with brownish paint the top border of a clear stem crystal glass which has the pattern embossed. She paints with a thin brush on the embossed design; the glass is later baked in a furnace and changes the brown colour to gold. Nieman Marcus, San Francisco and similar stores sell one gold hand painted Hermes crystal stem glass for $500!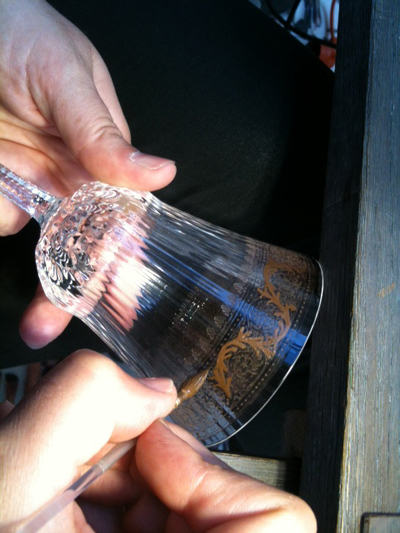 Real gold hand-painted stem crystal glass (Neiman Marcus)
Hermes Jewellery
Jewelry assembler. A very smart young women assembled jewellery.
For years, Hermès has partnered with Tuareg tribesmen on silver jewelry. The well-publicized Saharan nomads' traditional motifs are often mirrored in various Hermès products, including the scarves.
There was also a button sewer. A very dignified lady was demonstrating sewing buttons on to men's shirts –"all buttons are hand sewn", we were informed!
This was a first of a kind traveling Artisans at Work show that Hermes arranged. It travelled on to New York and other US cities.
The exhibit was truly an ART Exhibit! The floor matting was designed by Hermes artists, and pieces of it could be framed and hung on the wall.
I took lots of photos, and they are presented here:
I spend a lot of time working with rural artisans from all over Pakistan – HERMES ARTISANS AT WORK WAS VERY SPECIAL!!
Click to view picture gallery
You may also like: