IMRAN QURESHI'S COLLABORATION WITH ROHTAS GALLERY AT THE US EMBASSY
Written by: Alia Bilgrami - Posted on: October 08, 2012 |

Comments | 中国 (Chinese)
Google Translation: اُردو | 中文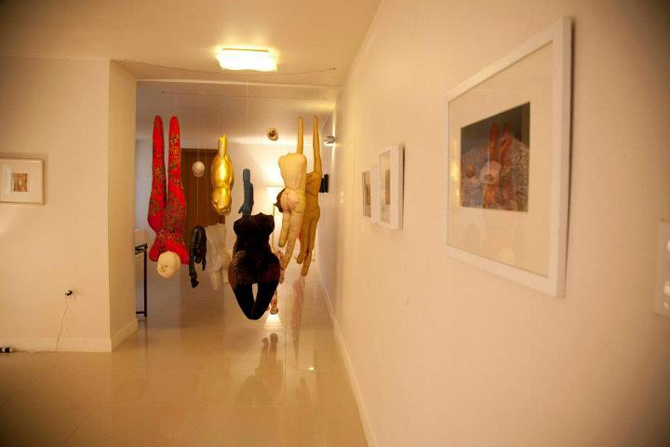 It seemed at first to be a promising exhibit, with thirty artists in total displaying their work, including some of Pakistan's finest recent graduates. Curated by eminent contemporary Pakistani miniature painter, Imran Qureshi, the exhibition was hosted by the US Ambassador Cameron Munter and his wife Dr. Marilyn Wyatt. On closer inspection, it is the space that really lent the show its excitement. On entering the Ambassador's home you were met with an installation obstructing your entry that was made of army print parachute material, covered in metallic rivets by Imrana Tanveer, and called 'Post Betrayal.'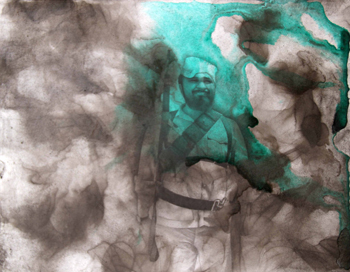 Once you crossed the entrance and tried to make your way into the first room, an installation with an assortment of cloth sculptures with legs and other body parts had to be moved aside first. These were by Mizna Zulfiqar. They seemed like a crude version of Ruby Chistee's work or, further afield, the work of French artist Annette Messager. The installation would have worked better if the pieces had been more finely executed. The rest of the room contained some interesting smaller works, some pieces by Ahsan Jamal, Imran Haider, Shanzey Mir, Arif Hussain and Aneela Khurshid and many more.

This room led you to the next one. After climbing a few stairs you saw two large charcoal works on canvas by Maria Khan titled 'Grape Wine' and 'Women of the Night,' that evoked interest with somewhat grotesque women morphed into compositions that sat well side by side. The titles left you with food for thought. On the left were interesting photographs by Nashmia Haroon of 'Bhatta Chowk' and on the right, the most intriguing pieces were by Sayhr Syed that contained elements of contemporary miniature with some three dimensional parts like tiny books piled up next to a portrait of a young child on handmade wasli paper. In these works you saw some originality and a play of flat versus three dimensional. You were left with a haunting feeling from 'In Loving Memory of a Clean Girl.'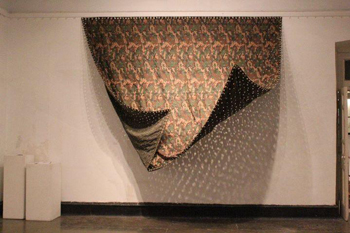 You walked into the last room which was partly divided and came across a canvas with jarring colours ad mirrors on it that seemed to have been blown apart by bullets. The pattern really reminded you of bullet holes in windows. Aesthetically these were unappealing, although they may have had some conceptual significance that wasn't at once obvious to the viewer. Shoaib Mahmood's numerous embossed text screen prints on handmade wasli paper left much to be desired, as his work is usually more engaging and playful with striking compositions that draw you in.

On a plinth in the middle of the room was a rectangle made up of miniature red bricks by Noor Ali Chagani. I remembered seeing similar work of his at the Victoria & Albert Museum in London last year that was part of the Jameel Prize exhibit. Somehow, 'Walled' reminded me of the epic story of Anarkali! She was the love of Prince Saleem's life, the son of the Mughal Emperor Akbar. When Emperor Akbar realised his son was hopelessly in love and intended to marry the dancing girl, she was banished from the empire for being a commoner and therefore unfit to marry into royalty. Myth has it that, eventually, Anarkali was buried alive in a large ditch and a brick wall was constructed in front of it; some say that she had in fact been immured alive in a brick wall.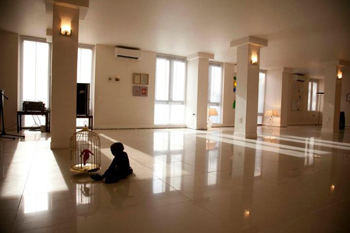 The one piece that, on closer inspection, stood out in the room and sort of stayed with you, was a powerful work by Imrana Tanveer titled, 'All Roads Lead to None.' The modern tapestry measuring 73 by 53 inches consisted of many Pakistani flags in a repeat pattern made of paper and thread and if you paid more attention and went closer, you found each flag to have a different twist. There was a drone, a star of David, a cross, a car's fuel tank with the needle at empty, a swastika, a bomb symbol, a rifle and a suicide jacket, just to name a few. She had managed to capture in symbols, all the problems that the world and in this context, Pakistan, faces today. Not only did the sentiment behind this piece seem akin to a young teenager with a set of wheels with no fuel in the tank but it also heavily referenced suicide bombers, drone attacks, guns, religion, politics, power, media, money, technology and almost every ingredient at play that you can think of. Not only do these factors affect Pakistan but everywhere in the world, people are facing the repercussions of what these symbols stand for. The title says it all!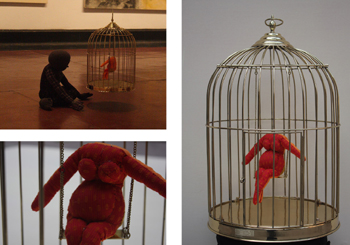 As is the case with most exhibition openings, you were hardly able to concentrate on the artwork itself and mostly ended up socialising with other visitors. My account of the one day show on 19 July 2012, a collaborative effort by Imran Qureshi, Rohtas Gallery Islamabad and the US Embassy is by no means an entirely fair critique as I was not able to spend as much time with the work as I would have liked to. Putting up an exhibition on such a large scale is an uphill task. However, the artists would have shone much brighter had they all made new work for the show. Several viewers were disappointed since they had already seen the same or similar work in Lahore at the NCA degree shows for the BA and MA this year or at other exhibitions. Others were impressed with how it all came together under one roof. Rohtas Gallery normally only showcases artwork that is up to date and of a certain standard.

Despite the fact that it is not really a public space, the Ambassador's home in Islamabad proved to be a perfect venue for an exhibition. The lighting and the space division improved the overall appeal of the show, making up for some of the other shortcomings. Promoting our young artists was a pleasant way to bid farewell to Pakistan.

You may also like: