LET'S DO SOME CHAI, KAAFEE AND SIASAT
Written by: Salma Chaudhry - Posted on: November 13, 2013 |

Comments | 中国 (Chinese)
Google Translation: اُردو | 中文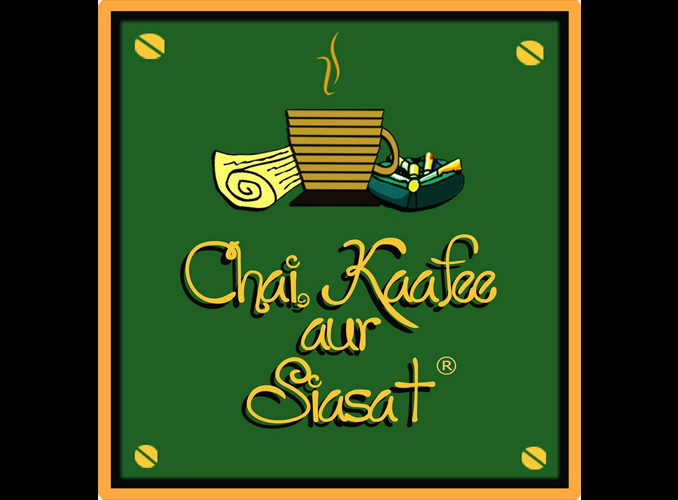 Cafés and restaurants all around the MM Alam Road draw in customers from various areas of Lahore but a novel and innovative place has become particularly phenomenal these days. You go there for the name but fall in love with the place, ambience, décor, staff and what-not.
First impression of the recently opened café Chai, Kaafee aur Siasat (Tea, Coffee and Politics) is: what a wonderful place!
You sit back and grab a cup of their signature Doodh Patti (strong milk tea) served with a special home-made khatai (a traditional biscuit), and catch up with the spirit of Lahore and Pakistan. The ambience is so intellectually invigorating that just about everything in the café reminds you of something, from music legends of the country to the magnificent Mughal Architecture and the great sufis and poets of this land.
Behind the pass you see the hotel owners who are quite passionate about their cuisine, alongside their team making delicate and fine food ranging from Desi (subcontinental) to Western. The kitchen is behind a glass wall and you can see the chefs preparing your food;for the owners, "Hygiene is [their] top priority."
An elaborate green wall decorated with portraits, paintings, quotations and pictures gives a different flavour, together with colorful lilac, red and mustard upholstered chairs and sofas all around. Another appealing feature of this café is the energy saving light bulbs which offer an earth friendly substitute for the traditional light bulbs. In addition, fluorescent lights are suspended throughout and considerate waiters explain the menu with a cheerful smile.
There is no dearth of cafes in the city; bigger chains do offer similar cups of coffee but Chai, Kaafee aur Siasat with their specifically designed Reader's Corner provides a smaller, more inviting venue for avid readers to catch up on reading, get together with friends or even strike up a discussion with a complete stranger on issues ranging from politics to culture.
For individuals with a common love for cigars, a separate cigar lounge has been set-up where they relax in a comfortable environment with only subtle lighting provided by fluorescent lamps. The décor seems just perfect to create a friendly atmosphere for visitors needing an excuse to have a smoke.
It's a bit uncanny, but this coffee house witnesses a regular surge of celebrities especially actors and journalists, coming and leaving. Probably because it's meant for discussing Siasat with a cup of Chai and even eminent people crave a CKS special piña colada cake at times. Sarmad Khoosat, Nauman Ejaz, Mehr Bukhari, Sania Saeed and Taimoor Rahman were just some of the famous names seen enjoying the homely feeling here at CKS at various times. The café has also started a Speaker Series in which people share ideas and experiences, discuss issues facing the society, and listen to motivational talks by their favourite celebs.
No matter what mood you are in, you will definitely fall in love with Chai, Kaafee aur Siasat. Whether you are looking for a quiet corner to read with a cup of coffee, planning to indulge in political discussions while enjoying meals, looking for a bit of intellect and history or having a desi breakfast with friends on a Sunday morning, CKS is the place to be.
You may also like: