MANDARA SPA
Written by: Shahida JJ - Posted on: July 30, 2012 |

Comments | 中国 (Chinese)
Google Translation: اُردو | 中文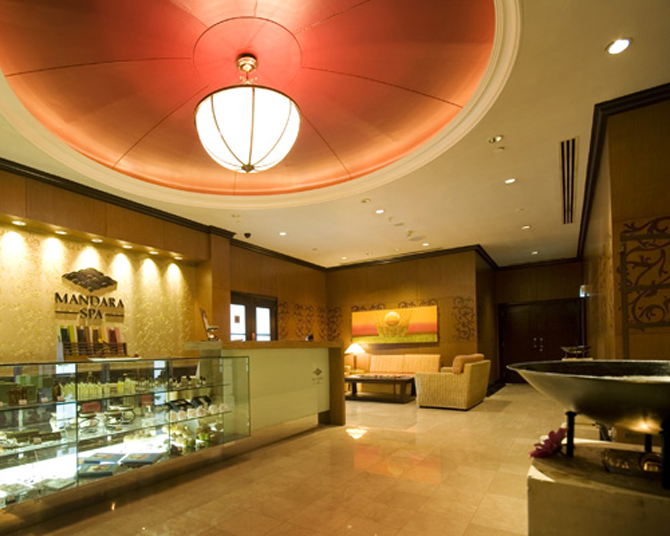 Mandara Spa on the fifth floor of the Sheraton Imperial Hotel, KL.

As advertised: the award-winning Mandara Spa; a modern-concept wellness and spiritual retreat, offering a full range of signature treatments that rejuvenate and revitalize in an unforgettable experience designed to soothe and delight the senses.

Inspired by a Sanskrit myth about the gods' quest for the secret to immortality and eternal youth, Mandara Spa embraces this legend with unique and exotic techniques and products that reflect the spirit and traditions of Asian culture. The spa selection consists of local Malay healing rituals, Balinese treatments and classic European and Asian techniques, emphasizing beauty and renewal for a refreshing and revitalizing day at the spa.

"Beautifully decorated, our spa inspires with thoughtfully-appointed details as our caring and skillful professionals restore and enhance your well-being within an hour or a day of carefree bliss."

My experience: Mandara Spa is Balinese, managed by an Australian; one of several Spas in Kl as well as in different cities in South Asia.

Exotic place on the fifth floor of the Sheraton Imperial. Open the door and you enter a place, totally relaxing ambiance, décor; spicy fragrances of cinnamon cloves and lemon grass. Fragrant herbal oils. Staff: young women in batik print sarongs and blouses, neat and clean, and extremely polite, bowing and welcoming.

Attendant comes and kneels on the shining floor, bringing iced ginger sweet tea, and cold scented towel.

"Why are you kneeling on the floor," I ask her.

"We kneel when we serve guests," she says, pouring tea for me in a Japanese style tea container and small cup.

Then tries on my hand four different herbal oils for me to choose from. I choose the relaxing one. Received a "treatment" of one and a half hour of relaxing massage; felt invigorated!

Next day, full spa treatment again. Rejuvinating foot reflexology, manicure and pedicure. Two young women pampering my hands and feet. My manicurist: a very slight, petite young woman from Borneo. To my query, "Why are you so thin?" responds in soft voice, "Cannot get fat, try so hard."

"I wish that was the case with me," think I.

Loud talking in the next room, in Chinese; the petite lady marches out with her hands on her hips to reprimand them; returns saying, "Chinese family in the Jacuzzi, grandma is old and hard of hearing, therefore the loud talk"!

Was impressed; old grandma also comes for pampering treatment at the Mandara Spa and relaxing in a Jacuzzi. We should learn from the Chinese how to live life!!

Stepped into a hot sauna, came right out. Saunas are for the Swedes and Norwegians, not us. Lahore sizzles at 42°C under the shade; get 24 hour sauna treatment free of cost.

Entered the Steam room, same reaction. Let the monsoons come; will be perspiring from head to toe. Not for me. Jacuzzi: Is it clean? How many clients soaked in it?? Will pass on that too!!

"Have you been to a fish spa? There are several in the malls," says my petite manicurist, while working gently on my hands, kneeling on a straw mat floor.

"What is that?" I felt ignorant for once!

"There is a certain kind of small fish, put in a water pond. You put your feet in and the small fish eat away the dead skin and clean your feet."

"Never heard of that before," I respond.

"Oh, fish spas are very popular here. There are several in the malls here, and all over the world, even in the States. Fish don't harm you. Just tingling feeling when fish eats away your dead skin".

Wouldn't want to do that. Will be my own manicurist and pedicurist and not allow fish to eat me!!

Googled and found these photos. Got a lesson from the petite lady from Borneo!! But not for me!!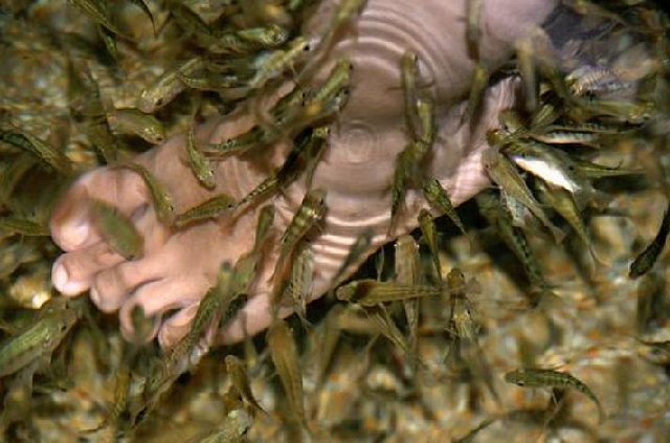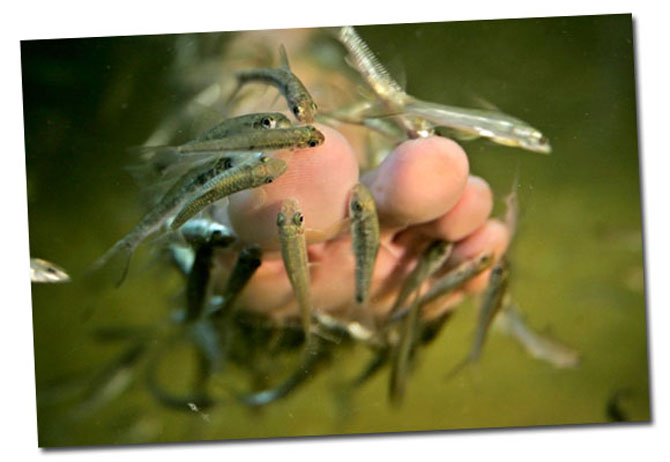 You may also like: