The Mysterious Resident of 'Kamra No. 9'
Written by: Aleeza Rasool - Posted on: December 17, 2014 |

Comments
Google Translation: اُردو | 中文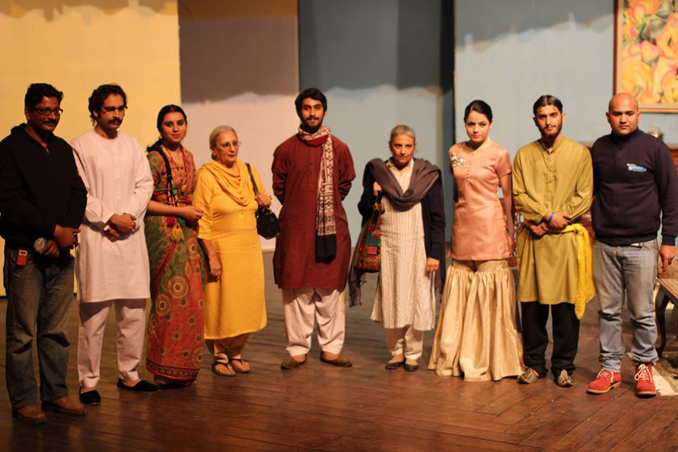 The team of Kamra no. 9 with Saadat Hassan Manto's daughters after the play
Last week saw the staging of Saadat Hassan Manto's sixty-minute radio play 'Kamra no. 9' at the Alhamra Arts Council in Lahore. Although many of Manto's short stories have been brought to life in the past, this was the first time that one of his radio plays was performed on stage, and that too by a young group of performing artists under the 'Independent Theatre Company', founded in March 2012 by Azeem Hamid and Danyaal Syed.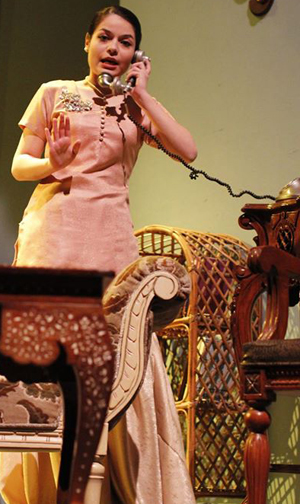 Shirin (played by Zoya Uzair)
"Who resides in room no. 9?" is the question around which the plot of the play revolves. The story begins with Shirin (played by Zoya Uzair) and her brother talking about the various men who visit their building to meet Shirin. This, in turn, sets off a chain of events that leave Shirin as well as the audience in the quest to figure out who the new resident of room no. 9 is.
Nasir (played by Faizab Naveed), who happens to be Shirin's lover, visits her often. The play revolves around these two characters that are poles apart in their behavior and thinking. While Shirin is talkative and carefree, Nasir is thoughtful and composed, with an aura of complexity. What follows is their witty conversation, disclosures and inadvertent surprises. Shirin eventually rejects Nasir's proposal, saying that he is a bit too sophisticated for her. Meanwhile, she is more interested in the resident of room no. 9, whom no one has seen except the Bhangan who cleans his house. Bhangan (played by Ishmal Malik) tells Shirin that the resident of room no. 9 is depressed, as she often hears him crying when she visits his room for cleaning. The script is filled with subtle nuances. The dialogue is sharp and effortless, with some lyrical trappings, and yet moving and humorous, with a tinge of sadness.
The play ends in a beautiful shadow performance, revealing that Nasir was actually the resident of room no. 9, whom Shirin had inadvertently become obsessed and fallen in love with. The two characters share amazing chemistry. Shirin's vivacity and Nasir's cool and composed appearance provide a striking comparison and also underline their strengths as young actors. Human psychology was central to the plot of the play, as is Manto's signature style.
The background music complemented the mood of the play, with Dagh's ghazal 'Woh Mera Bhoolne Wala Joh Mujhe Yaad Aaya', sung beautifully by Moen Ahmed and Rehmat Ali. The set was proficient, simple, and yet realistic, so as not to restrain the actors. The wonderful shadow walls were the main highlight, which added a unique flavor to the performances.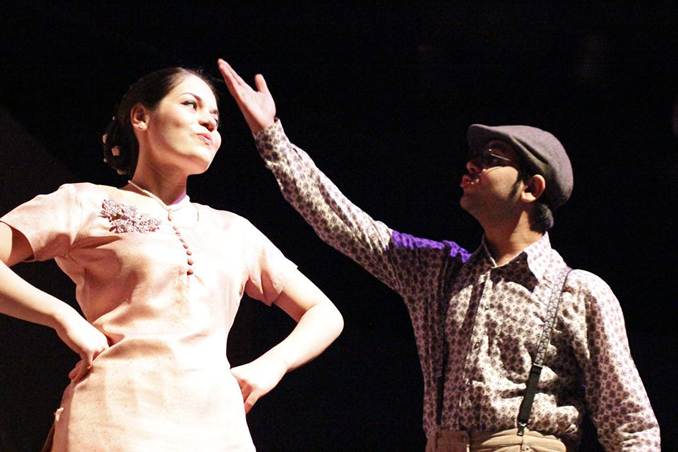 Shirin (played by Zoya Uzair) and Zaman (played by Namwar Ayaz)
The production put together by the new and upcoming actors was praiseworthy on many accounts. Firstly, a radio play by Manto was a refreshing choice, for it is one of the lesser-known genres that Manto composed during his brief lifetime. Secondly, the play was very well-acted, and most importantly, the direction was even-tempered, making the play engaging.
It is unusual to come across the genus of anticipation and suspense in Pakistani stage plays, which is why Azeem Hamid, actor and director of the play, deserves a pat on the back for putting up a wonderful performance on Manto's radio play. In his address to the audience, Hamid stated that his team's next stop was India, where the play was to be staged in a few days. Lahore's crowd lauded the young team with a huge round of applause and wished them years of successful shows ahead.
You may also like: