THE KHALIS FOOD OF LAHORE
Written by: Sarah Fatima - Posted on: December 20, 2013 |

Comments | 中国 (Chinese)
Google Translation: اُردو | 中文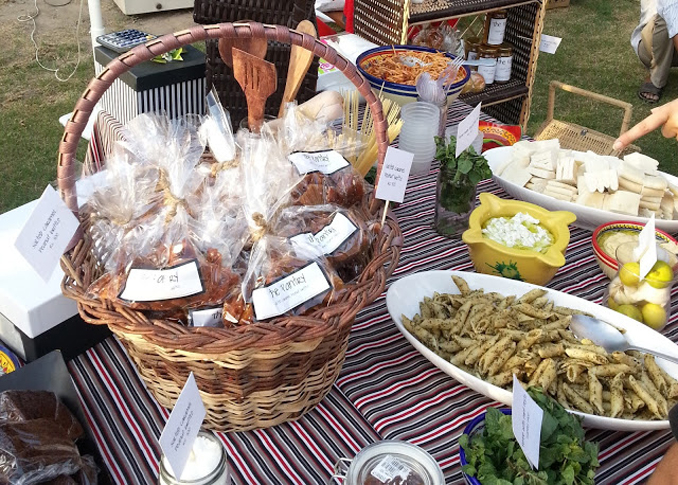 Food is every Lahori's inseparable soul mate. We enjoy and appreciate food as we would an art form, like something that connects, combines and celebrates all that is good, happy and fun in life. Zoning in on this love for food, and blending it with a growing global interest in staying healthy, safe and organic, Khalis Food Market has been giving Lahoris a reason to come together to re-engage with food in a novel manner.
The Khalis (Pure) Food Market describes itself as 'Lahore's first quality whole foods market, providing an exciting platform for fresh, organic and quality cottage industry food in an urban setting.'
Set up as a venue to bridge the gap between the buyers and sellers of organic foods, it has successfully made a place in the hearts of many. Some of it has to do with effective marketing and social media presence. A lot of it, however, is a success on ground with well-executed market places that look like mini festivals where families can actually have a fun time while learning about and experiencing the local produce.
The Khalis Food Market held on the 14th of December was a great example of this festivity. Set in a park amongst welcoming trees, chirping birds, a cold winter morning and against the backdrop of a warm sun, this was their fourth event, showcasing a fascinating mix of people and products.
The stalls were full of smiling faces in excited queues, lined up in front of steaming grills, pans and barbeques that had been set up as part of the live cooking. The crowd was a heartening mix of families and friends, all enjoying the setting and the food simultaneously.
The variety of stuff on display was also intriguing, ranging from some truly exotic items to tickle the taste buds like Wasabi and Ostrich meat, all the way to some traditional classics like desi ghee and podeena chutni (yogurt infused with coriander, a dish that accompanies most Punjabi meals).
The children were particularly attracted to the Hencoop where free-range birds were kept, and the face painting stalls. Meanwhile the elders were seen floating around with cups of tea, crispy fried prawns, Ostrich meat burgers and pretty looking cupcakes.
Entrepreneurs chatted away with customers, educating them about the whole foods, organically grown vegetables, fruit, grains and hormone free dairy and poultry, baked items and also the great causes that some of the food was supporting.
Roshni, for example, is an association that works for and with people with special needs. They were selling organic vegetables, items from their own bakery, and village handicrafts to help forward the cause and spark a conversation of this little acknowledged community.
'Resettling the Indus' is a unique project by Haider, an architect, and continues to rebuild communities that have incurred damage over the past few years owing to natural disasters like floods and the recent Baluchistan earthquake. By selling local produce from these areas under the brands of 'Subzzz' and 'Beebee Honey' he has been raising awareness and funds to continue the great work.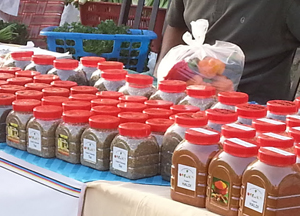 Some of the many other names worth a mention include 'A Piece of Cake' who targeted the visitors' sweet tooth were sold out pretty comfortably half way through, 'Salad Cauldron', which was offering an interesting, non-traditional twist to the regular food choices by cutting on the cooking and upping the greens in their yummy salads, 'JK Agricultural Farms' who had a range of Organic grains and seasonal veggies on display, 'O's Organic Honey', which had petite and pretty bottles of delectable crystallized honey that charmed everyone, and 'Desi Ghar' and 'Ghar Ki Murghi' which were offering mouth-watering achaars (pickles) and chutnis (salsa) to go with familiar spicy foods.
All this and much more went down on this Sunday's edition of the Khalis Food Market. If you missed it, Lahore now eagerly awaits the next market which will show up somewhere in mid January. Till then, we spend our time eating spoonfuls of sweet honey and reminiscing about the mouthwatering memories of fresh spring rolls, coffee with caramelized sugar, the aroma of grilled meat and marigolds basking in the sun.
You may also like: