Exquisite Truck Art and Hand Embroideries from Quetta, Baluchistan
Written by: Shahida JJ - Posted on: August 02, 2013 |

Comments
Google Translation: اُردو | 中文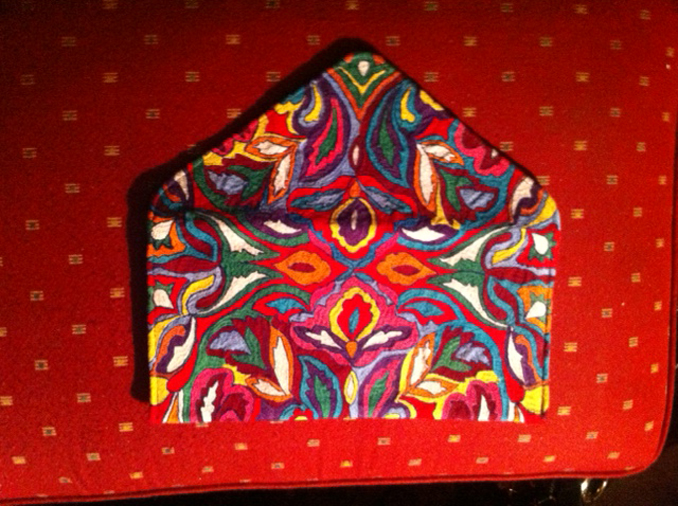 Truck Art in Quetta, Baluchistan
Truck Folk Art of Pakistan
Truck painting is an indigenous folk art form created in Pakistan. With colorful floral patterns, creative depictions of heroes, and calligraphy of poetic verses, this form of art is an established part of Pakistani transport tradition - every truck rolling on Pakistani roads and highways is a piece of art on wheels!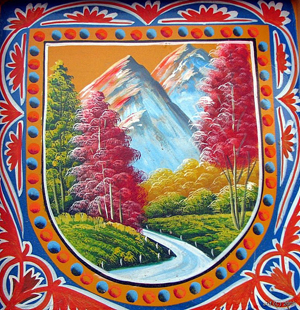 Truck art
Many trucks and buses in Pakistan are highly customized and decorated by their owners. These adorned vehicles are considered as moving art, or jingle art. Because of their unique decor style, these vehicles are very distinct from other trucks around the world. Each part of the vehicle is decorated differently, with variations depending on the regional style. In Pakistan a truck driver/owner usually pays $3,000 to $5,000 for their vehicle's external decoration. This decoration includes painting sceneries, historic buildings and monuments, portraits of distinguished individuals, calligraphy, ornamental decor and more. Mirror work on the front and back of vehicles and wooden carvings on the truck doors are commonly used. Usually, the driver or the owner takes the truck to a folk art local workshop soon after its purchase to be painted and decorated. The artist embellishes each truck according to the tastes of the owners.
Karachi is a major hub for decorating such trucks, though there are art workshops all over the country; in Rawalpindi, Swat, Peshawar, Quetta and Lahore. Every city in Pakistan has its own unique décor. The Baluchistani and Peshawari trucks are heavily trimmed with wood. Rawalpindi and Islamabadi trucks prominently feature plastic work. Camel bone inlay ornamentation is commonly seen in trucks decorated by Sindhi artists. These trucks are also representative of different historical and cultural regions of Pakistan. And each truck has a pair of beautiful large, kohl-lined almond shaped eyes, placed at a prominent point on the back and front of the truck - to ward off the evil eye!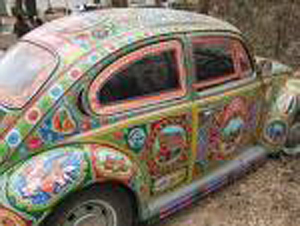 Truck art hand-painted on a volkswagen
Some foreign art lovers have had their cars hand painted and decorated in the truck art style - I saw a Volkswagen Beetle driven by a young male foreigner on Islamabad roads, who later took it with him to his country - a real art collector!
Melbourne, Australia: During the 2006 Commonwealth Games, a local city tram was especially hand painted by Pakistani artists and ran the local roads; it was very popular with both Australians and tourists. It was known as the Karachi Tram!
Truck Art Embroidery in Quetta - A Field Visit
Hazara Town is located at the western end of Quetta city/valley, at the base of the mountain, off Brewery Road and across the Sardar Bahadur Khan Women's University. Hazaras, having migrated from Afghanistan have settled over several years in Hazara Town and Marriabad, both located at the two ends of Quetta Valley at the base of the mountains.

I did a field visit to Hazara Town, accompanied by Tahir Malik, the Regional Coordinator of Aik Hunar Aik Nagar (One Craft One Village), AHAN Baluchistan. It was a visit to monitor the truck art hand embroidery being done by a cluster of women community members.

Tahir, originally from Quetta, is a graduate of the National College of Arts Lahore, the NCA, having specialized in textiles and weaving. He has worked with artisans, both men and women, in Baluchistan and all over Pakistan.
Having started work with rural artisans of the Baluchistan Rural Support Programme - BRSP- Tahir moved on to work with other Rural Support Programmes – RSPs - and established the AHAN Baluchistan Regional Office at Quetta.
It is claimed that Baluchistan embroideries are the only embroideries in the world, that continue to exist in their original form today. All others have been modified and changed for commercial purposes.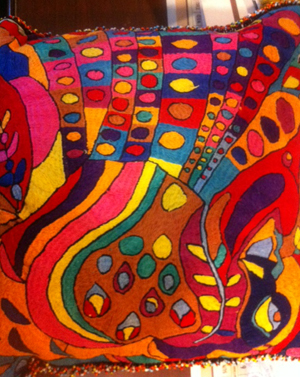 Hand-embroidered cushion cover
At AHAN, Tahir, besides working on modifying existing Baluchistan embroideries and crafts, introduced hand embroideries using Pakistan truck art designs and created several different products. The embroidery stitch is locally known as Pashtun Khamak, and is originally from Afghanistan and the Central Asian countries. Susani is its most popular form and is closely related to the European version of the satin stitch.
The AHAN Head Office in Lahore came up with the concept of introducing hand embroidery on fabric using folk truck art designs. They took photos of real art work and designs from trucks on the road, modified them on computers and created designs for cushion covers, note book covers, file folders, hand bags and other items. Tahir and his Quetta AHAN team did the execution of the project.
Implementation of Truck Art Embroidery Project
Baluchistan is very rich in tradition and culture; for over hundreds of years there has been movement of people from neighboring regions, who took up residence and settled in different parts, bringing with them rich culture and traditions, enriching the land.

The Baluchistan AHAN staff is all local and has extensive knowledge of every ethnic and cultural group of people of Baluchistan. Different ethnic groups live in their own settlements in segregated areas and are easily identifiable.
The AHAN team identifies areas where women do class embroidery. They visit and, through interaction with the local women, select a Cluster Chief from within the community who becomes a link between AHAN and the artisans. She interacts with the local women artisans who do quality Khamak embroidery and select the ones doing the best work. They are trained as Master Trainers, and also become Cluster Chiefs, Their responsibilities involve selecting women to do fine embroidery in their locality/community, organizing them into clusters or groups of artisans, providing them training and giving them work.
AHAN provides cloth or fabric with designs and traced patterns, accompanied with actual color pictures and fast color thread. Cluster Chiefs regularly visit and monitor the artisans work.

Quality control is strictly adhered to. Women artisans work from their homes. Work is given to them and collected by the Cluster Chief. They get paid wages per piece. One piece of 16 by 16 inches cloth takes about 30 days to be fully hand embroidered.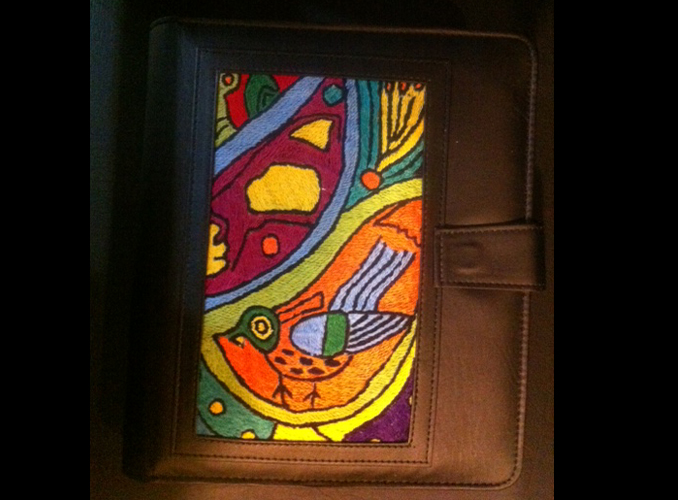 Hand-embroidered leather folder
Their work is collected, washed and cleaned and sent to Lahore for manufacturing of different products. Classy leather hand bags, fabric shoulder office bags, leather note books, file folders, cushions and several more items are created.
Items so produced are sold at an AHAN outlet in Lahore. Some enterprising ladies purchase them from the AHAN Lahore outlet and sell through their personal websites at higher prices, earning themselves handsome profits!
My Visit to Hazara Town Quetta
Tahir and his AHAN team established Clusters of women artisans in Hazara Town.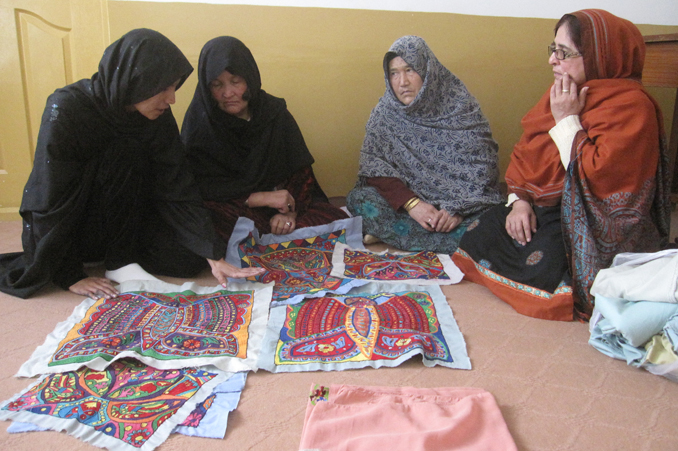 Finished work being collected
Security is an issue at Quetta and, unfortunately, more so in Hazara Town - but we went nevertheless. Our designated stop was a private home, a workshop where some artisans were waiting for us. Marzia, a young Hazara woman was the Cluster Chief, and the Cluster has 100 workers.
We entered a large room and sat on a mat-covered floor. Artisans came with their work. It was beautiful art work and I took lots of photos. Discussions were held, on quality, pricing, and delivery time. Marzia is responsible for collecting the completed work and delivering it to AHAN for onward transportation to Lahore.
This was a few months ago. Today there are clusters of women doing Khamak truck art embroidery in Hazara Town, Mariabad, Arbab Gali in Quetta, and Pishin and Kuchlaq on the outskirts of Quetta.
I purchased several pieces at source - AHAN Quetta - and placed orders for several items, and I love all that I got!
Here are some photos I took of some women artisans at work as well as some photos of the hand embroidered products.
Today, Truck art inspired ready-to-wear clothing for women has become very popular. Local boutiques are selling brightly colored clothing and accessories with folk art designs and patterns.
Click to view picture gallery
You may also like: