Making the Metro Bus Environment Friendly
Written by: Zahra Belal - Posted on: May 27, 2014 |

Comments
Google Translation: اُردو | 中文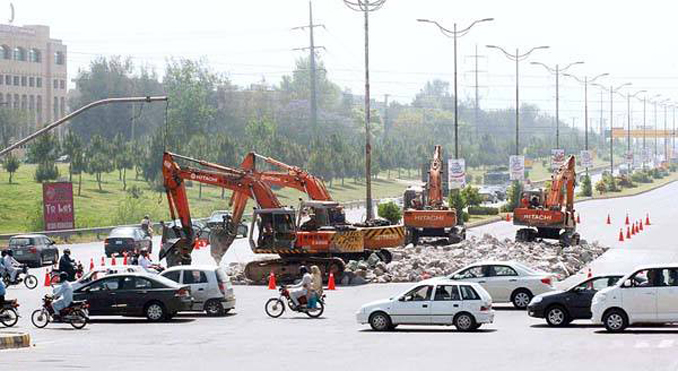 If you have been stressed about the Metro Bus Project that has hit the town, then you are on the same page as the Sub-Committee of the Senate Cabinet Secretariat Committee. In a powerful bid for the cause of environment, this Sub-Committee met on Thursday, May 22, 2014 to discuss the environmental violations committed in construction of the Metro Bus. Under the chairmanship of Senator Kamal Ali Agha, the meeting called the relevant authorities and officials to ensure that steps are taken to mitigate the environmental damage concomitant with this mega project.
The Committee echoed what has been on everyone's minds- that not enough thought and planning has been put into project management, particularly in terms of costs, be it monetary or non-monetary. What exactly is the point of holding public hearings after the ground breaking of the project in a direct violation of the law is what the Convener asked the officials. Charging forward, he also noted that a proper mass transit system could be made in merely 2 billion dollars, contrary to the current approved cost of a whopping Rs. 44 billion- yes that is twenty-two times more! Just like in the case of its sister project in Lahore, the government is also expected to pay hefty amounts in subsidy after its construction to keep the project running.
You would expect that this ludicrous budget comes with a well-managed construction plan that minimizes environmental impacts and public inconvenience. Not so. The Committee members decried the indiscriminate extirpation of green belts and trees in Islamabad. Truckloads of cut trees scurrying around the city are a common sight these days, a trade-off between development and environment. Really, is there even a comparison between the sight of lush, picturesque greenery and a metro bus enclosed in steel cages?
Steel cages. And raised platforms. The Committee members also took exception to digging out good roads in the city to raise the platform for the bus and then enclose the lane in metal separators from all sides. What would happen to the pedestrian crossings, they asked. Couldn't they simply reserve one lane for the bus, the way it is done in the UK and US, instead of wiping of green belts to make a new one? Pedestrians' crossings are very important, particularly on the route that cuts through the Blue Area of Islamabad. The mighty steel barriers would make it impossible for the pedestrians to cross from side to another, a practice which is very common in this part of the city.
It was a cheering moment when the Capital Development Authority (CDA) Chairman assured the Committee that the CDA would ensure that the steel barriers and raised platforms are expunged from the plan. He also stated that the CDA would be amenable to considering the objections raised by the Environmental Protection Agency (EPA) and recommendations forwarded by the Islamabad Green.
You may also like: