AMI QIN: THE CHINESE GOLFER OF PAKISTAN
Written by: Eeman Amjad - Posted on: June 25, 2013 |

Comments
Google Translation: اُردو | 中文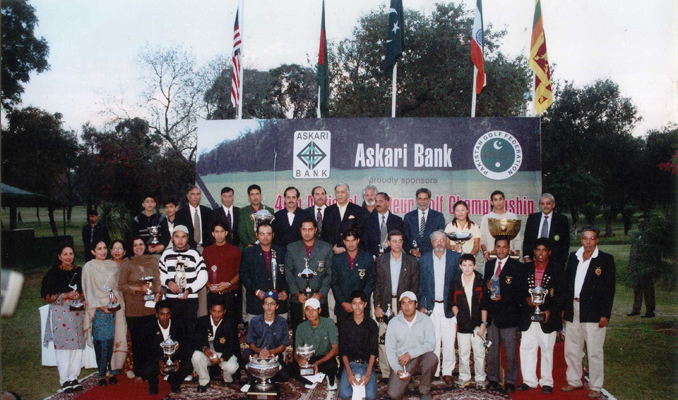 Ami Qin is a Chinese restaurateur and golfer residing in Islamabad since 2000. She has won multiple national golf championships in Pakistan and is currently the women's golf captain at the Islamabad Golf Club.
The beginning of the 21st century: social media was just evolving, global warming was a remote threat and technology was beginning to knit the world together. Somewhere in the midst of all this change a young Chinese woman was moving from her home in Hunan Province to a small city called Islamabad, located in a country no one at the time knew much about.
Ami Qin first traveled to Islamabad when she had just finished her studies and was a single mother. She had come for a couple of weeks to visit a friend, leaving her only son behind in China; weeks turned into months and months into years, and thirteen years later Ami has a family and her own business in Islamabad.
Ami was enchanted at first sight with the green city, the friendly people, and the quiet space. Initially, it was just a beautiful long vacation, but two years later, she opened her own business of serving Chinese food to cater to the large Chinese expat community in the city. Eventually, she bought her first house where she settled with her family.Her son also moved to Islamabad and would be the only person in the family who could fluently converse in Urdu. Ami's life was slowly changing much like the century that would see many changes. This new life was exciting for the moment, but she knew she would go home eventually; back to Hunan once the vacation was over.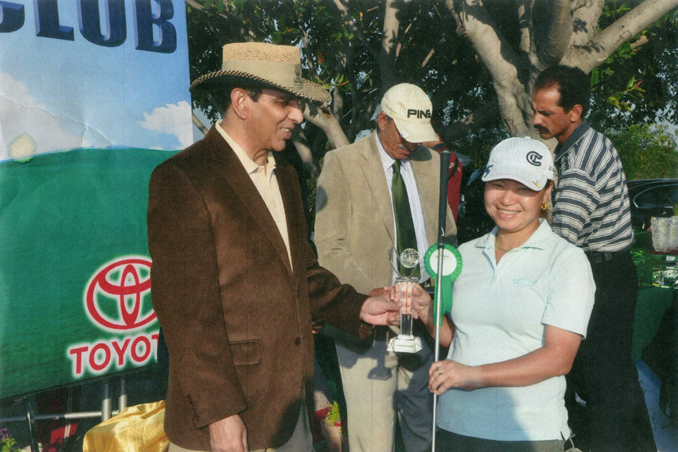 Islamabad is where Ami would meet the two greatest loves of her life: her husband, Jean Luc, a French restaurateur in the city, and the game of golf. The latter started off as just a hobby, a way to escape from the boredom in her life. There was a lack of activities for women to do in the city, Ami admits. She would accompany her husband to the Islamabad golf course and would practice by herself. In the span of two to three years, she progressed from a 28 handicap to just a single handicap. In 2006 and 2007, she won the National Championship in Islamabad. At that time, she realized she could be great. The more she won, the more she wanted to play, and the more she was driven to push boundaries. It was sort of a healthy addiction. The golf course was her home. No matter where she was in the world, this would be the place that understood her worth.
When she played in Shanghai, in 2007, at a major golf tournament in China, she realized that the small world of Islamabad had misled her. While one of the best in her adopted city, out in the world she was the smallest fish in the pond. She does not regret being part of the competition. It not only gave her the experience she needed, but also a sense of humility. Her latest undertaking in competitive golf was the ladies trip from the Islamabad Golf Club to New Delhi. Ami was part of the Pakistani team,proudly wearing the Pakistani shirt, and played against the Indian women's team. She admits that she was always too lazy to learn the language, but golf gave her sense of belonging with the rest of the female golfers from Pakistan. She wants,one day, to play from the Pakistani team professionally all over the world, but since she does not have a passport, those dreams might remain unfulfilled.
Ami had to learn many things in Pakistan; teach herself how to cook, learn good English, learn to manage a business and house, but most importantly, she learned golf. "I like both golf and cooking, but cooking is my job; golf is my passion. I don't think I could ever stop playing." There are some great Pakistani women who play, she claims, but they need more women and more encouragement.
When the law and order situation in Pakistan declined, her family in China asked her to move back, but she was too familiar with the Pakistani world by then; it was now her world too. "I was stranded with a punctured car tire once, and everyone stopped to help," she reminisces. It is the culture, she strongly believes; people here are just generous. Moreover, she noticed that Pakistani people love Chinese people more than other nationalities. "I can tell because of my husband," she laughs.
Ami does not think she will stay in Pakistan forever. After all, the world is changing as the century progresses and she plans to see more of it. But for now, she is where she is. "Islamabad has given me golf, my husband, my family, my business. How can I not love it?"
You may also like: