DANIELLA: AN ISLAMABAD INSTITUTION
Written by: Dr Dushka H. Saiyid - Posted on: January 21, 2013 |

Comments | 中国 (Chinese)
Google Translation: اُردو | 中文
Over a span of over three decades, Daniella has morphed from a prominent beautician and hair stylist, into an institution of Islamabad. She is a quintessential Chinese expat, who has settled down in a foreign country, learnt the local language, and with sheer hard-work, professionalism and personal warmth, built up a legion of clientele spanning different generations.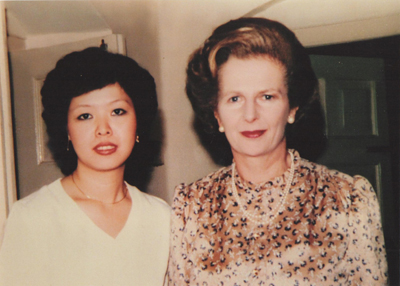 Daniella with Former British
Prime Minister Margaret Thatcher
I remember going to her salon in F-6/2, in the late 70s, to have my long plait lopped off, a seminal event at the time. I was beginning my academic career and Liang's was the only go to salon in town. Her kids would come bouncing in to the salon after school, and her mother-in-law hung around making us feel comfortable. This was a time when Islamabad had hardly any traffic, lots of trees and green belts, the F-8 sector marked its outer limits, and by 10 pm the city was asleep.
Interviewing Daniella for Youlin, I realized that she was an enigma even for those of us who had known her for decades, as quite literally, they had no idea where she was coming from. Daniella's parents had emigrated from mainland China at the time of the Chinese Revolution in 1949. Although born in Rawalpindi, she grew up in Mauritius, where her parents had moved. She recalls that her father's sister had a famous restaurant in Dacca called Café China, and she went to visit her after she had finished her schooling in 1969, and then stayed on to train with her daughter-in-law, who had opened a salon called Leefee Liang's. Daniella earned her spurs under Leefee's tutelage, who had trained in Hong Kong, and who was a tough taskmaster.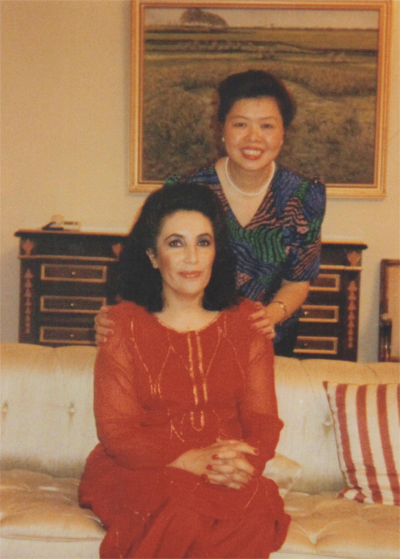 Daniella with Former Prime Minister Benazir Bhutto
With war breaking out in 1971, in what was then East Pakistan, the whole family moved from Dacca to Karachi, and began to build their business from scratch, and the well-known Hong Kong beauty parlour was born. Daniella describes this period of her life as "tough". She met and married Leefee's brother in Karachi, a dashing Pakistan Air Force pilot. His family had been living in Abbotabad since before partition and owned the famous China Boot House, which supplied shoes to soldiers. A couple of years later, Daniella moved to Islamabad into a joint-family system. Her two brothers-in-law, who ran Liang's beauty parlour, soon left for LA, in pursuit of the American dream, and she took over the sole charge of Liang's. Meelee's, the other well-established salon of Islamabad, belongs to her sister-in-law.
Daniella has come a long way since the 70s. She maneuvered the challenges in her life with tact and resilience: whether it was learning a foreign language, dealing with an omnipresent bureaucracy or training a lackadaisical staff to assist in the parlour. Most celebrities, from Hilary Clinton, Margaret Thatcher and Benazir Bhutto have sought her services. Benazir was her regular client and patron, and Daniella's daughter Janie, used to accompany her on her foreign trips as her hairdresser and beautician. Janie is now the proud owner of her own salon in Dubai, her son is doing well in the IT field, and also assists her with photo shoots of brides. She has built her own sprawling house surrounded by well-tended plants, in a central sector of Islamabad, with the salon on the ground floor.
Daniella with U.S. Secretary of State Hilary Clinton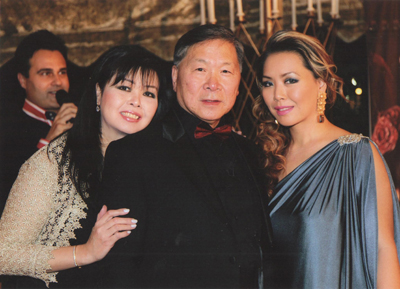 Daniella with her Husband and her Daughter Janie
I ask her the question that has been nagging me: why did she choose to stay on in Pakistan rather than go to LA, like her two brothers-in-law? She responds that it is her husband, he loves Pakistan, and refuses to go anywhere. He had given up his career as an Air Force pilot because of her business.
Historical upheavals had caused Daniella and her family to move through different parts of Asia, but like the well-tended plants outside her house, she and her family had taken root and were thriving in the soil of Pakistan. Her story is that of many other Chinese expatriates in Pakistan, who, through their honest hard work, an ability to adapt to and respect the local culture, have become well-loved members of our society.
You may also like: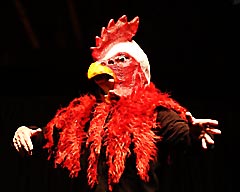 Rafi Peer International Puppet Festival 2018
Sheherzade Noor Peerzada
(January 23, 2018)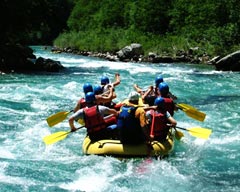 Water Adventure in Pakistan: Rappelling and Rafting
Muhammad Umer Farooq
(January 22, 2018)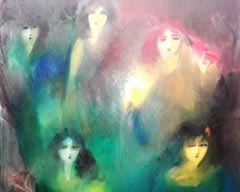 Art Review: Raja Changez Sultan at Tanzara Gallery
Varda Nisar
(January 19, 2018)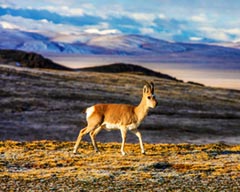 Hoh Xil: Kingdom of Wild Animals
People's Daily
(January 18, 2018)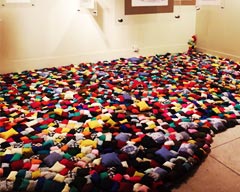 NCA Rawalpindi Degree Show 2017
Varda Nisar
(January 17, 2018)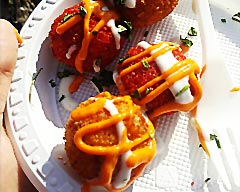 Karachi Eat 2018: The Good & the Bad
Hareem Zafar
(January 16, 2018)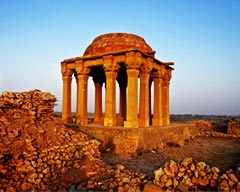 Tales from Thatta: Makli Necropolis
Muhammad Asif Nawaz
(January 15, 2018)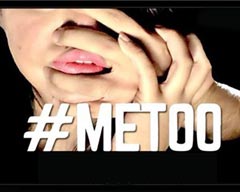 Theatre Review: #MeToo by BlankPage Productions
Tasarunn Munir Chaudry
(January 12, 2018)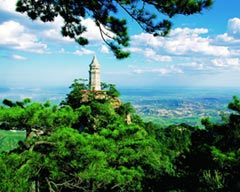 Panshan Mountain of Ji County
Li Xuelu
(January 11, 2018)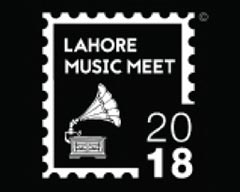 Lahore Music Meet - 4th Edition
Momina Mindeel
(January 10, 2018)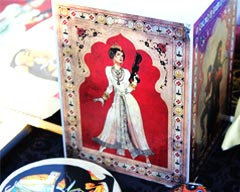 Winter Fete, Islamabad
Staff Report
(January 09, 2018)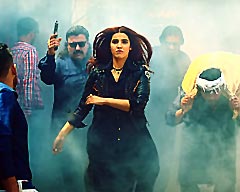 Film Review: Parchi
Momina Mindeel
(January 08, 2018)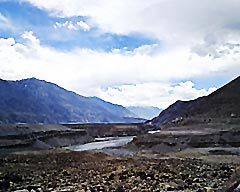 The Stunning Haramosh Valley and Kutwal Emerald Lake
Muhammad Umer Farooq
(January 05, 2018)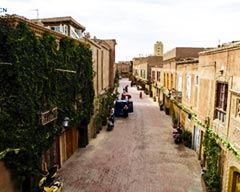 Stories from the Old Town of Kashgar
Yuetiker Nijiati
(January 04, 2018)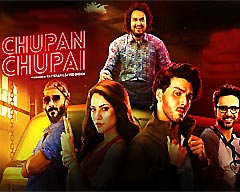 Film Review: Chupan Chupai - A Comedy of Literal Errors
Noor Ul Ain
(January 03, 2018)