Critical Mass Islamabad marks its 100th Ride... 'The Century Ride: Spirit on the Wheels' with more than 130 bicycling enthusiasts
- Posted on: may 06, 2013 |

Comments
Google Translation: اُردو | 中文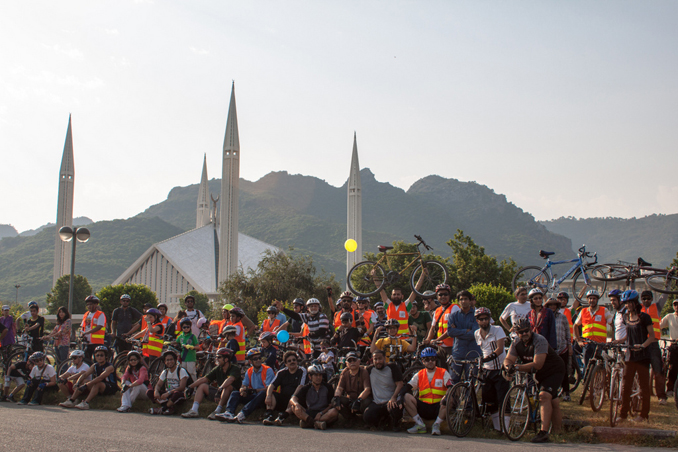 The crowd of around 130 bicycling enthusiasts from all walks of life, gathered at Faisal Mosque on Sunday (May 5, 2013) evening, truly echoed the main theme of Critical Mass Islamabad's (CMI) mega "Century Ride: Spirit on the Wheels'.The highly spirited children, women, young people and men gathered to mark CMI's 100th ride, reiterated the group's agenda of promoting and encouraging cycling as an environment friendly, healthy communal sport as well as an alternate mode of transportation. The Islamabad Traffic Police, joined hands in the initiative by providing assistance to the cyclists on the roads and all the busy intersections.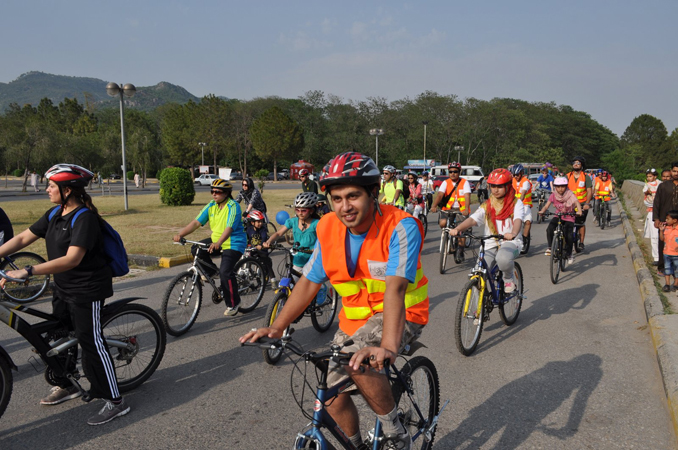 The ride started from the Shah Faisal Masjid (parking on the right side, next to the kiosk) and taking the route from Khayaban-e-Iqbal F-7, F-6, arrived at the haunted hill/ hot spot café in F-6. The 100th ride cake was cut by the youngest members of the group which included 4 to 8 years old boys and girls. Women felt elated that they had a space where they could pursue such activities, without any social pressures and barriers. Some of the avid cyclists had postponed other important commitments to take part in the event. The event also gave an opportunity to raise awareness among automobile owners about rights of the cyclists, when the Islamabad Traffic Police, efficiently facilitated and made way for the bicyclists to pass through the busy roads.

Critical Mass, Islamabad (CMI) is a not for profit, volunteer based group of cycling enthusiasts that was initiated in 2009. The socially conscious group ensures that cyclists follow traffic rules, road safety procedures and respect gender and class diversity. The group has explored many routes 'on-road' and 'off-road' to give the riders an opportunity to explore the scenic beauty of Islamabad and its surroundings. Some of the routes explored includes the Shah Allah Ditta caves, Shahdrah village, Trail 6, Sangrial Village, Simly Dam, Khanpur Dam, Daman-e-Koh, Monal etc. Men, women and children belonging to all ages and walks of life are part of the CMI family. What initially started as a five to ten member group in 2009 has now grown to a mass of more than twothousand members, with at least fifteen to twenty members taking part in the weekly Sunday rides and up to a hundred in the mega rides, arranged every three months.
You may also like: