LA VIE EN ROSE (France)
Written by: Aiza Azam - Posted on: March 21, 2015 |

Comments
Google Translation: اُردو | 中文

Marion Cotillard as Edith Piaf
La Vie en Rose brings to film the tumultuous life of Edith Piaf, one of France's most beloved icons, and one of its greatest international stars. Marion Cotillard plays the famed singer, infusing indomitable life into the character. Drawing from an invisible and seemingly endless source of energy and emotion, Cotillard channels passion and defiance into a powerful performance that draws the viewer into a realm of no escape, leaving one with the sense of being spent at the end of the film.
This is the role that won Cotillard her Academy Award for Best Actress.
The film traces Piaf's life from childhood to her early death, at a mere 47 years of age, from liver cancer. With her mother having abandoned her, Piaf's father leaves her in the care of his mother, a madame at a brothel, where the young girl spends the next few years in the loving care of prostitutes. Uprooted from this existence when her father returns from the War to claim her, she travels with him from place to place while he earns a pittance as an untalented contortionist. Later, she accompanies his street act with her singing, which actually manages to earn them enough money each day for food and lodging.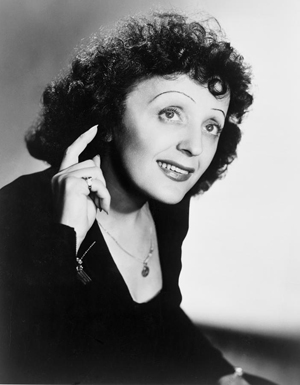 Edith Piaf
In her late teens, Piaf works as a street singer, where she is discovered by Leplee (Gerard Depardieu), a nightclub owner. Her performances there bring her to the attention of important members of the entertainment industry. When Leplee is murdered by the mafia, the latter discovered to have had prior links with Piaf, she comes under suspicion of complicity and her career is threatened. But she is saved by Raymond Asso (Marc Barbe), who drives her relentlessly to perfection, ultimately guiding her to the beginning of a life of accolades. From Paris, Piaf travels to New York where she does not take long to be recognized as a star.
It is in New York that she meets the love of her life, Marcel (Jean-Pierre Martins), a French boxer; though he is married, the two embark on a passionate love affair, which ends in tragedy when Marcel dies in a plane crash on his way to New York. His death devastates Piaf. From there, her personal life appears to spiral steadily downwards, with such afflictions as rheumatism, a morphine habit, and alcohol addiction, compounded by multiple car accidents in which she suffers serious injuries. Her health begins to give way and affects her career for the worse, even as she struggles to keep performing, refusing to give in to her doctors' advice and a body that is slowly shutting down, for fear that she "will lose faith in [herself]". However, despite her failing health, she continues to perform right up till her death.
A well directed film with a superb script and brilliant acting by the cast, it is the incomparable Cotillard who arrests every second of the viewer's attention, staying with one long after the lights have come on.
You may also like: