Pakistan Day Polo Cup
Written by: Staff Report - Posted on: 25 March, 2015 |

Comments | 中国 (Chinese)
Google Translation: اُردو | 中文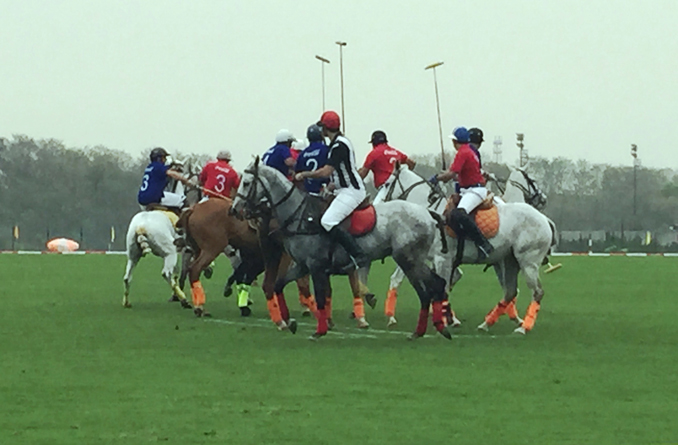 Pakistan Day Polo Cup: Marco Polo Reds vs S&A Blues
The Islamabad Club organized a Pakistan Day Polo Cup on the 24th of March, for which the finalists were the Marco Polo and the S&A teams. The President of Pakistan, Mr Mamnoon Hussain, was the Chief Guest.
Under a cloudy sky, the four chukka game started late between the Marco Polo Reds and S&A Blues. Marco Polo dominated the game from the start, with Raja Nadeem Shafiq playing at No 3, as the aggressive star of the match. The Blues didn't manage to click as a team and Matias, the Argentinian coach at the Islamabad Polo Club, who was also playing at No 3, tried his best to rally them. The gap in the goals scored by the two teams was too large, although the game of the Blues did pick up towards the end, but it was too late, and Marco Polo won 6.5 to 4.
While the spectators were invited to the ground and were treading in the divots, pageantry was added to the match as a brass band marched past the stalls. Just as the game was ending, it began to drizzle, and the award ceremony had to be moved under the tent, followed by a sumptuous tea.
The matches of the Serena Cup are starting from today, and the final will be played on Saturday. To watch sinewy polo ponies gallop past on the lush green of the Polo Club ground, with a backdrop of trees merging into the horizon, is an exciting and uplifting experience for the newly introduced sport in the city of Islamabad.
You may also like: