Islamabad's First Children's Literature Festival
- Posted on: May 29, 2013 |

Comments
Google Translation: اُردو | 中文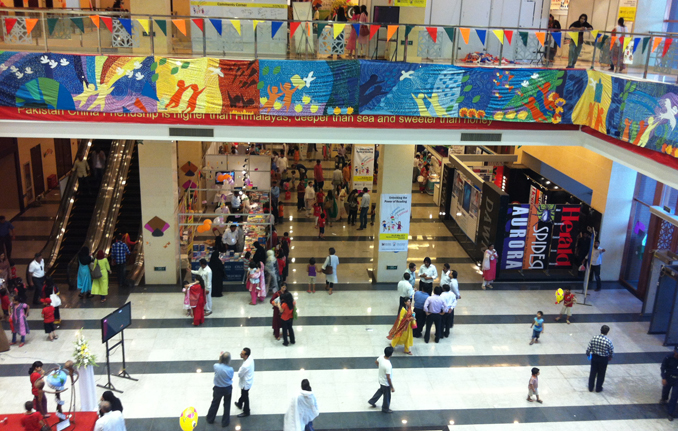 The orange silhouette of a child reaches to catch the dark shadow of a flying bird. The colours change from day to night, but the silhouette continues to advance to the birds. Several such paintings hung on the railing of Pak-China Friendship Center where the first ever Children's Literature Festival (CLF) in Islamabad was being held.A constant flow of school children with their parents and teachers rushed through the outdoor corridor that hung murals from educational institutes such as City School, Pehli Kiran,and Lahore Grammar School.
The festival was organized by Oxford University Press (OUP), Idara-e-Taleem-o-Agahi (ITA) and the Foundation Open Society Institute (FOSI). This festival included a number of activities that featured over a hundred writers, actors, singers, and intellectuals including Nadia Jamil, Pervez Hoodbhoy, Samar Minallah, and Beo Rana Zafar.
The ground floor featured bookstalls from various publishers displaying colourful, entertaining and educational books for children. On the top floor, children were occupied with activities such as classical dance, pottery making and painting. A stall by "Bacha Bulletin" concentrated on educating children from impoverished communities to expand their imagination and visual understanding of their world through storytelling and photography.
CLF is held every year in different cities to promote reading, education and learning in all parts of the country and includes all parts of society whether it is private or public schools, affluent or marginalized, the focus being to create an educated Pakistan. Below the murals of birds being chased by colourful children there is a flow of active and excited kids from across Islamabad chasing the shadow of learning and infinite potential.
You may also like: