Qayaas and Saturn ending the Rock Festival on a high
- Posted on: February 03, 2014 |

Comments
Google Translation: اُردو | 中文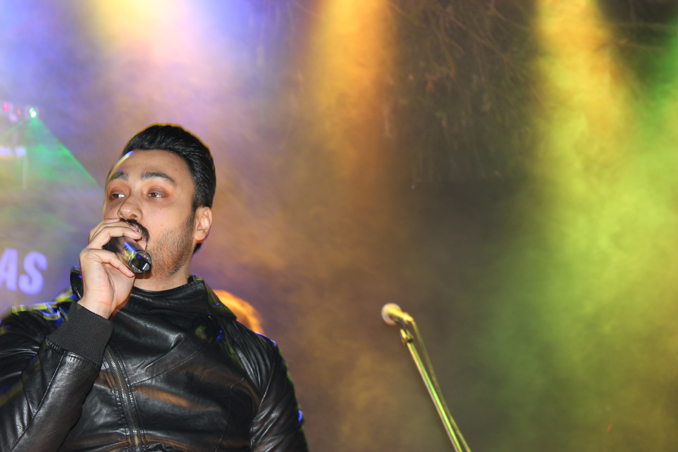 Umair Jaswal (lead vocalist), Qayaas
Internationally rock music is on decline. The fame that rock stars enjoyed once, in the 70s and 80s, is not the same any more. Techno and trance (electronic music) is gradually taking over the music scene, with DJs climbing up to that level of eminence, which was once the sole domain of rock stars.
But is Rock Music dead? Not really.
The screeching guitars, and the thumping of drums, with a loud, vocal presence, in essence, has often been used to bemoan the status quo structures of the society. The context for rock music to exist in Pakistan, henceforth, is not far from ideal.
This Friday, 31st of January, there was a performance arranged for Saturn and Qayaas, which was to mark the final show, ending the month long rock festival being celebrated at Kuch Khaas.
Qayaas and Saturn, both are Islamabad based rock bands with a strong local following. While Saturn is more or less, still an underground band, Qayaas enjoys a national and even an international reputation, with a couple of international rock awards to its name. The music of the movie, Waar, was also done by Qayaas.
Saturn played a couple of its own songs, after which it performed a few covers.
The evening, however, picked up with Qayaas' sudden appearance with its hit song, "Shehrezade", performed with color sprinkles/paper, and fire bellowing around. Umair Jaswal, the lead vocalist, like all the Jaswal borthers, was highly comfortable on stage, gearing up and involving the audiences, as rock stars are supposed to.
The audiences were graced with a song from their upcoming album as well, "Jhamoora Bacha" (Democratic Child), which can be interpreted as a political critique on more than one level.
Jhamoora Bacha (Democratic Child) by Qiyaas
Naseer Afridi from Naseer & Shahab, performed a single with Qayaas, "Umeed" (Hope), which is a relatively mellow, melodious number from the Qayaas songs.
Qayaas, on the event informed the around 100 or so head banging, charged up audience, that a double album is in the pipeline with 24 songs; 12 in English and 12 in Urdu.
With Pakistan at war with itself, it is always heartening to walk in Kuch Khaas, and be away from the political and social strife, and enjoy an evening of music. Our youth deserve such a break.
You may also like: