Qissa Khwani - An evening with our past
- Posted on: June 23, 2013 |

Comments
Google Translation: اُردو | 中文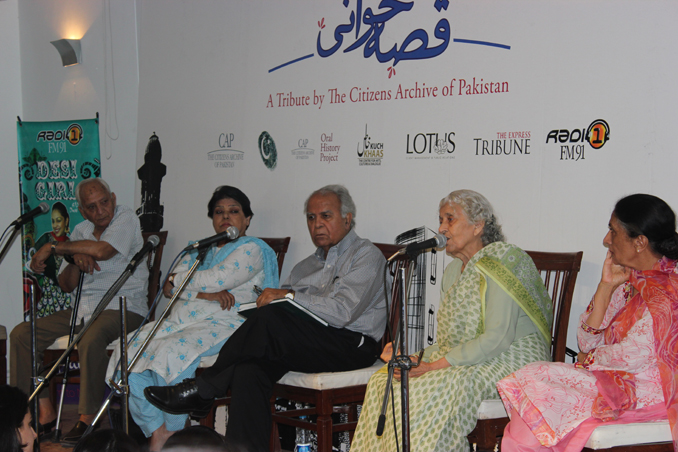 Sharmeen Obaid Chinoy, Pakistan's Oscar winner and co-founder of the Citizen's archive of Pakistan opened yesterday's event at Kuch Khaas introducing it as a forum where people who have seen Pakistan through its evolution can share their stories with the younger generation. Part of a three day event as a tribute to the famous Qissa Khwani Baazar of Peshawar, day one was themed Partition and Migration and the line-up of speakers indicated that this was going to be a stirring session.
The atmosphere reminded one of a mehfil, with the youth gathered around the speakers intently listening on as each of the panellists exuberantly relayed their story. Mrs Nasreen Cheema narrated her affiliations with the Muslim League as a young child and described her eagerness to meet the Quaid-e-Azam and her utter shock upon seeing him; exclaiming to her father; 'Yeh tou insaan hain!'(He is a Human!) Every panellist offered their own perspective on the partition, those members of the audience who had experienced the migration first-hand also contributed, recounting their stories.
It was in short, a live lesson in history-a unique opportunity for the different age demographics to interact. Sixty-five years on, from the creation of Pakistan, there is a select group of people who were part of the partition; this session allowed this receding number of individuals to communicate their stories of 1947, first-hand to the younger generation. It was a treat attending the event, which left one moved, the panellists gave their perspectives, but it was left to every individual to amalgamate the stories and reconcile them with their own version of Pakistan's history.
You may also like: