Sydney-Lahore: Prints from Cicada Press and Saeed Akhtar Studios
Written by: Aleeza Rasool - Posted on: September 26, 2014 |

Comments
Google Translation: اُردو | 中文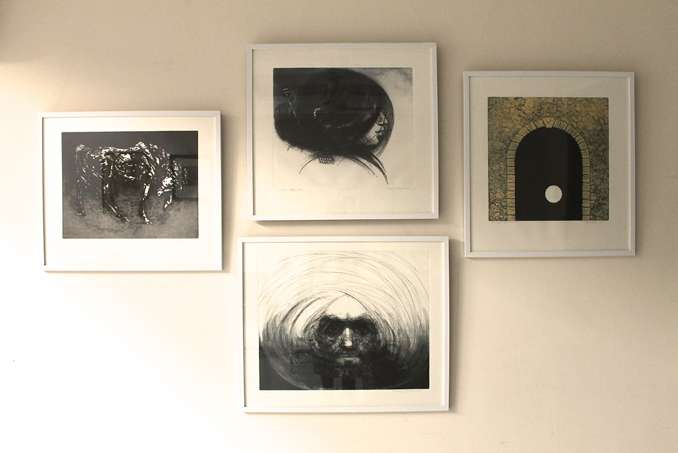 A display of all of Saeed Akhtar's prints at the exhibition
Printmaking is one of the many branches of fine art that students at the National College of Arts (NCA), Lahore can choose to acquire training in. However, interest and scope for printmaking through the use of traditional techniques of woodcut, etching, lithography and screen-print, are rapidly declining owing to the proliferating growth of digital printing techniques.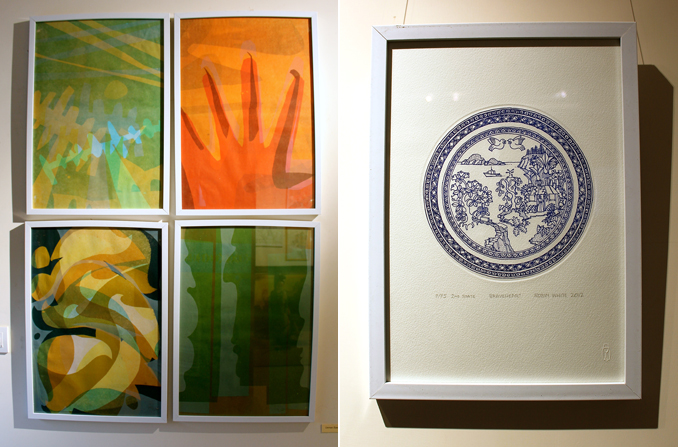 Work by Usman Saeed Braveheart by Dame Robin White
To revive this branch of fine art, Saeed Akhtar Studios in collaboration with Cicada Press from Sydney, Australia, organized exhibitions in Sydney and Lahore, exhibiting prints from famous artists from around the world. These prints were either part of personal collections or were displayed at different art galleries in Pakistan and elsewhere. For the purpose of putting together the exhibitions, organizers Saeed Akhtar, Imran Ahmad, Usman Saeed and Michael Kempson, the Convener of Printmaking Studies and Director of Cicada Press at the University of New South Wales, borrowed these prints from their rightful owners to enable, "...prints from diverse regions of the world converse with each other.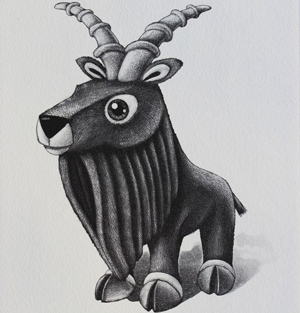 Markhor by Michael Kempson
For those wondering how printmaking is different from painting on canvass; a print is fundamentally, any image, which can be reproduced (http://www.zootownarts.org/printshop_whatis). Traditionally, prints are viewed as images produced from plates, blocks, screens or stones; however, these four are only intermediary surfaces. The picture, design, or message is carved, incised or etched into these surfaces (Ibid). The image then receives ink or paint and is transferred to paper using pressure (Ibid). Pressure is applied using a printing press, through hand burnishing or, in the case of screen-printing, with a squeegee (Ibid). These basic printmaking processes can be repeated, producing nearly exact copies.
The exhibition in Lahore lasted for twelve days between the 9th and 20th of September 2014 at the Saeed Akhtar Studio in Johar Town. Curated by Imran Ahmed and Usman Saeed, it had on display prints by Saeed Akhtar, Micheal Kempson, famous award winning miniature artist Shaziah Sikander, Salima Hashmi, Syed Sadequain, Dame Robin White etcetera.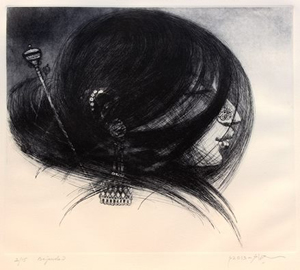 Bejeweled by Saeed Akhtar
Omer Saeed, famous architect and son of Saeed Akhtar, told Youlin that all artists at some point in their lives indulge in printmaking. However, these works are less known for the main focus of these artists is somewhere else. He further added, "I don't think many people know that Salima Hashmi and Sadequain who are well known painters have created prints as well!"
One of the most captivating works on display was Saeed Akhtar's print titled 'Bejeweled' which had been rendered using printmaking techniques of etching and aquatint. This print depicted the profile of a female's face almost covered in beautiful strands of thick, black hair. Hair carries a lot of significance in most of Akhtar's works, the reason being that he considers them as one of human beings' most beautiful features. He himself once related that hair has, "...the fluidity that no other feature of the human body can ever have."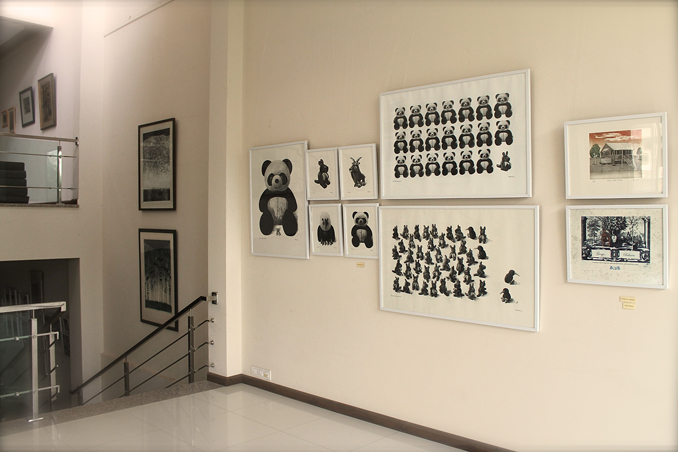 Works by Michael Kempson
An entire wall at the exhibition had been dedicated to Michael Kempson's prints that depicted children's toys such as stuffed pandas, kangroos, eagles and a mountain goat or the markhor. Mr Usman Saeed related that Kempson aims at strengthening relations between Austarlia, Pakistan and other Asian countries through his work, which is why he has used the kangroo, the symbol for Australia, the panda, the symbol for China and the markhor, the national animal of Pakistan, as his motifs.
Photography by author
You may also like: