Tweeting: the new kind of journalism
- Posted on: July 10, 2013 |

Comments
Google Translation: اُردو | 中文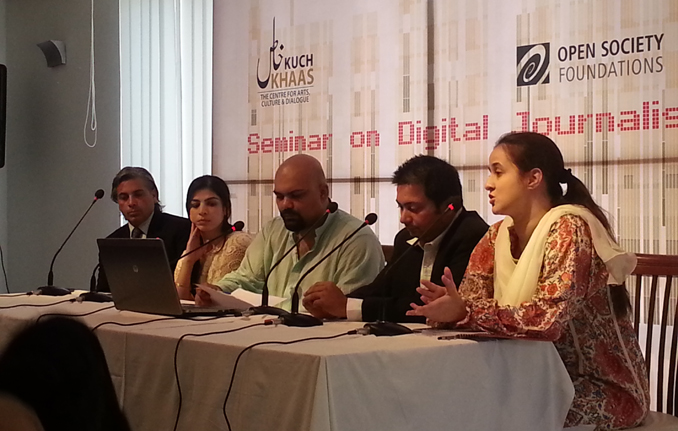 Kuch Khaas, in partnership with Open Society Foundations, inaugurated a Seminar on Digital Journalism, which comprised of three sessions: Citizen journalism in Pakistan, Digital journalism, and Data journalism and computer assisted reporting. With noted panelists from the field of online and print journalism as well as bloggers, the seminar was a platform for people to discuss the upcoming forms of journalism, and deliberate upon the challenges and advancements that can be brought in them.
There was a lot of hype about the elections of 2013, where many instances of citizen journalism have been observed: videos of rigging of votes and reports of other injustices during the elections. Social networking websites including Twitter and Facebook were termed as platforms on which citizens could share information and report news, thus becoming part of a whole array of web-based journalists. Mainstream media was criticized as hiding half the truth from its audience, something that as yet, the digital media hasn't caught up to.
The benefits of Digital Journalism were discussed in great detail, and the increasing popularity of net-based blogs and news websites in Pakistan was commended; some of the websites including Express Tribune, Saach TV, Pak votes and 24/7 online TV. Particularly amusing was an insight given at the occasion regarding Halal googling, which is the world's most unique Muslim search engine that filters out haram content.
Well organized and efficiently moderated, the sessions were engaging and the entire audience had something to offer to the discussion, which was very positive. One would have expected a lot of interest given the nature of the seminar and it was a disappointment to see such a low turnout. Here's hoping more of such events keep happening and are advertised even more next time.
You may also like: