'An Affair with Wood' - Sculptures by Abid Larik at VM Art Gallery
Written by: Farheen Abdullah
Posted on: April 28, 2017 |

Comments | 中文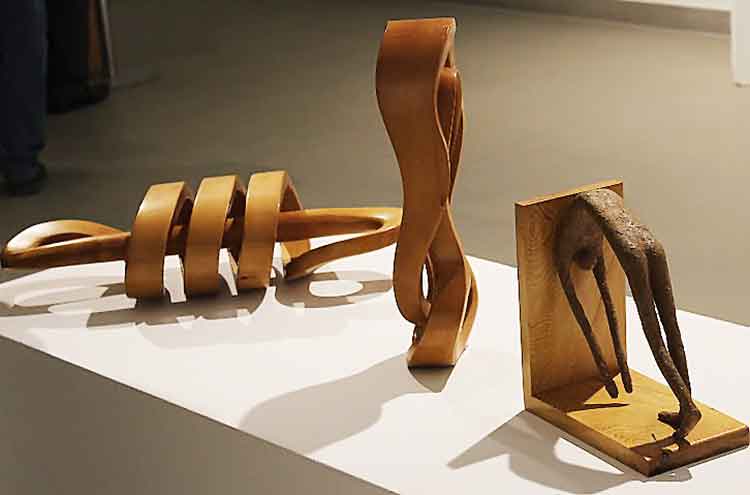 'An Affair with Wood' by Abid Larik at VM Art Gallery, Karachi
The V.M. Art Gallery is an intimate space in Karachi where art exhibitions and displays have been held for almost 30 years. It was created in 1987 by Mr. Mohamed Aly Rangoonwala to promote education in fine arts, as well as to provide artists with a recognized platform to display their works. Managed by Art Director Riffat Alvi, the gallery has actively contributed to the development of visual arts in the country since its inception, and is therefore considered to be one of the leading venues showcasing traditional as well as cutting-edge, modern art in Pakistan.
The latest show hosted by the gallery is an exquisite display of wooden sculptures, which was inaugurated on Wednesday, 26th April. Titled An Affair with Wood, it showcases the eye-catching works of sculptor Abid Larik.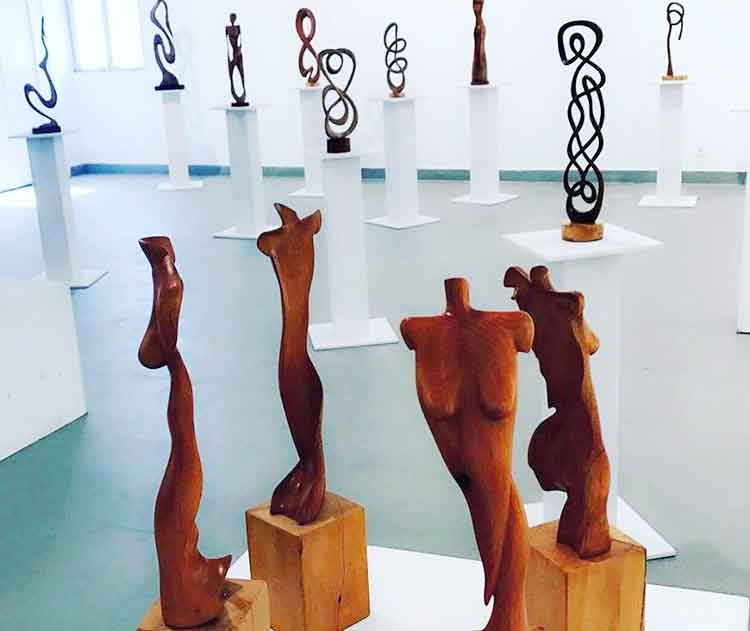 Starting his career back in 1981 as a woodwork assistant in the department of Fine Arts at Sindh University Jamshoro, Abid Larik worked under the teachers of the Art Department not as a traditional carpenter, but as a future wood sculptor. By 1986, he had started making his own art, never to look back. It was Abid's immense love for wood that helped him express his feelings, and for which he is famous in the contemporary art world.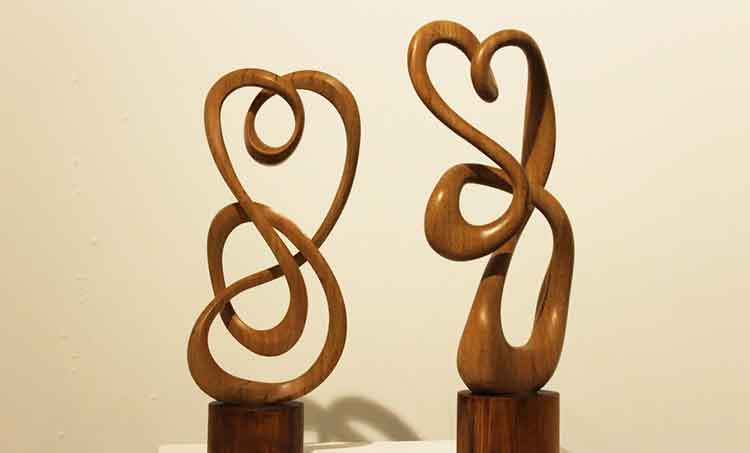 As a sculptor, Abid seeks to share his views with those who understand and are devoted to the language of art. He is passionate to pass down his creativity and tremendous skill as an artist to the new generation of sculptors to come.
Abid's works in wood are meticulously crafted, capturing the movements of the female form in a captivating manner. He uses wood in natural texture and colour to give life to inanimate objects. However, he does not restrict himself to one kind of wood or art form. While the majority of sculptures are made of Golden Teak, other types of wood include Burma Teak, Deodar, and Wood Dust. Additionally, while some artworks are hung on the gallery walls, others are free-standing pieces.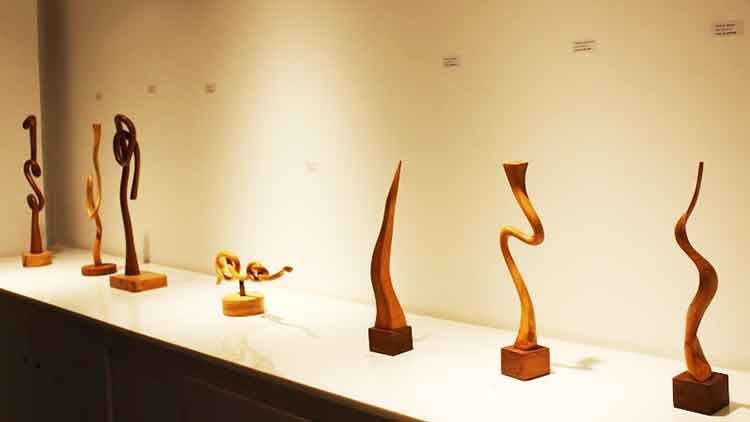 Perhaps one of the most fascinating aspects of the collection is the absence of titles for the pieces, allowing for multiple interpretations by the visitors. Some sculptures, with their portrayal of human figures, compel the viewers to reflect on human nature and suffering, while others explore the concept of self-destruction.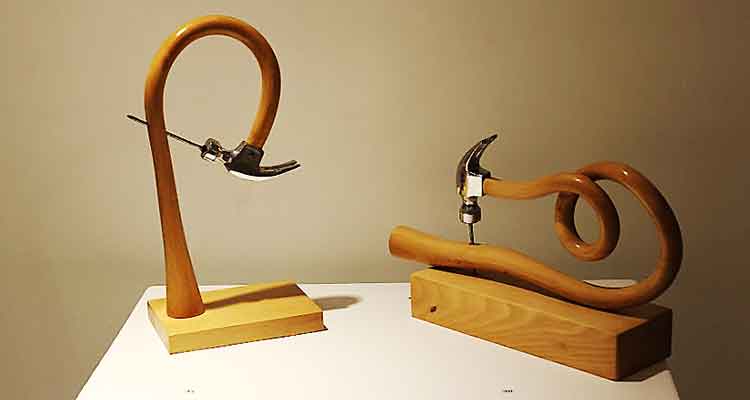 Sculptures depicting self-destruction
It was interesting to see such a diverse crowd present at the opening ceremony. When one usually thinks of art shows, an image of artists who have been formally educated in the relevant field immediately comes to mind. However, Abid Larik's exhibition witnessed not only a combination of professional artists and students, but also children. Entire families were present at the venue to appreciate and celebrate his art. The exhibition is expected to continue till Saturday, 20th May.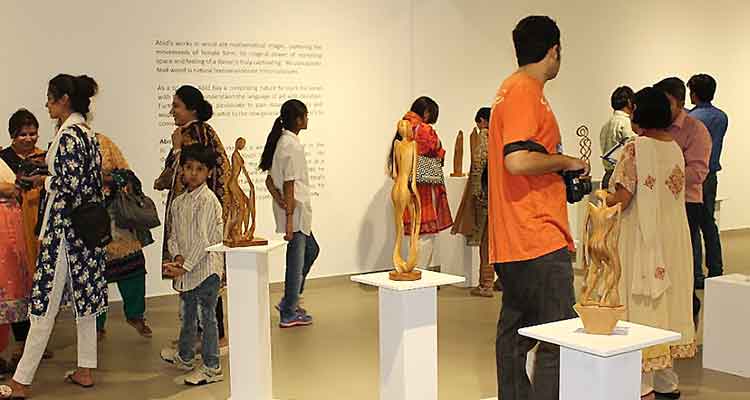 You may also like: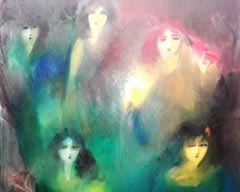 Art Review: Raja Changez Sultan at Tanzara Gallery
(January 19, 2018)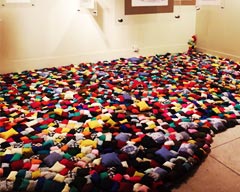 NCA Rawalpindi Degree Show 2017
(January 17, 2018)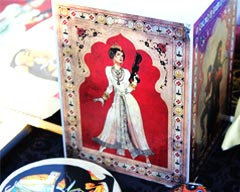 Winter Fete, Islamabad
(January 09, 2018)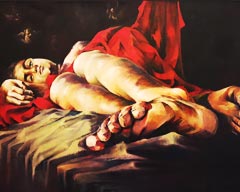 Review: 9th National Exhibition at PNCA
(January 02, 2018)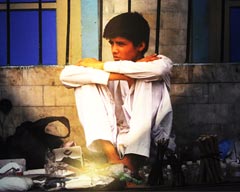 Yeh Hai Karachi 2: Photography and Film Exhibition
(December 20, 2017)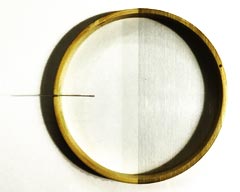 Art Review: Reading Between the Lines at Sanat Initiative, Karachi
(December 05, 2017)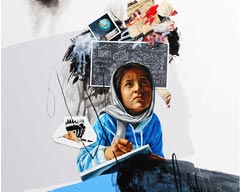 Art Review: The Onrushing 2 at Gallery 6, Islamabad
(December 04, 2017)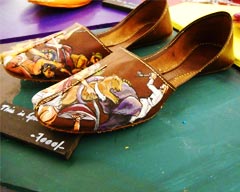 Daachi Arts and Crafts Exhibition 2017
(November 13, 2017)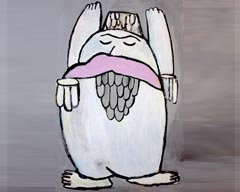 Art Review: 'Loompaland' at Studio Seven, Karachi
(November 09, 2017)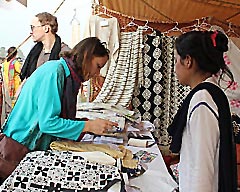 The Behbud Bazaar, Islamabad
(November 07, 2017)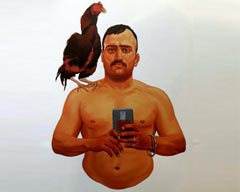 The Karachi Biennale 2017 (KB17)
(October 27, 2017)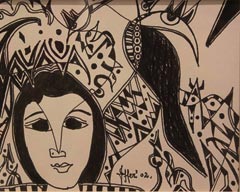 Wahab Jaffer Exhibition Opens at Tanzara Gallery, Islamabad
(October 20, 2017)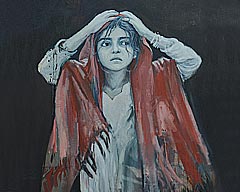 Art Review: Socio-Domestic at O Art Space, Lahore
(October 11, 2017)