Co-Existing Contrasts Pakistan: Evolving Expressions of Diversity in Architecture
Written by: Hammad Husain
Posted on: September 25, 2012 |

Comments | 中文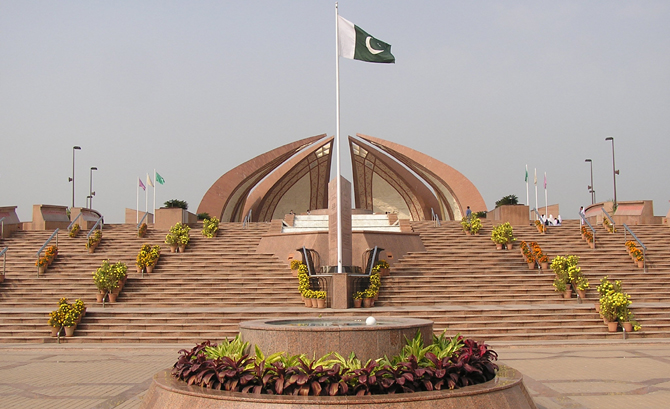 Architecture of Islamabad
The historical city of Lahore, the second-largest in Pakistan after Karachi, has over the past many centuries been the heart of many empires which have left their marks on the flavor of the city. While Lahore itself may have grown in proportions beyond any limits imagined, it has managed to maintain that elusive element that makes it stand out among other cities, the intangible quality that marks its streets as they weave a labyrinthine web around its historic roots. Juxtaposed against this inorganic, informal pattern is the seemingly more ordered, controlled logic of new developments. So Lahore is a city of anachronisms but still echoes down the length of its eight-lane boulevards, declaring its presence to all those who are drawn to its many wonders, and those who have claimed it as their identity.
Karachi tried asserting its cosmopolitan and international identity over Lahore, but it is a scuffle of just contrasts. Karachi, a metropolitan city with a population of over 18 million, stands out for its amalgamation of influences, that come together to constitute deeper, more nuanced meanings. Lahore, in contrast, causes the visitor to stop in his tracks, and behold what lies around him, each constituent of its existence ringing true to the quintessential flavor that emanates from its bold identity. Islamabad, with its relatively recent beginnings, lacks what can be thought of as a distinct flavor. Attempts at instilling that mystical element into the veins of the city have taken many forms, among them an attempt at importing it from the city of Lahore. However, the rigid, orderly, grid-iron plan of Islamabad with axial roads and strictly controlled development sets it apart from Lahore. It is the city that projects the modern face of Pakistan. At least this is what its Greek planner Constantinos Doxiadis intended.
The Capital Project

Pakistan's new capital city of Islamabad was called the 'City of the Future' by Doxiadis, His idea of 'dynapolis' – a city expanding in a linear fanshape from an initial point – was meant to cope with the explosive urbanization and growth of the 60's in a developing country like Pakistan.
A blend of loosely-knit ethnic groups, Pakistan was held together by religion; the Capital project was an attempt to modernize the country by weaving a diverse population into a unified entity and to lay the foundation for a modern and progressive Pakistan. The aim was to transform a rural agrarian society into an urban and cosmopolitan culture. Conceived in 1959 by the military ruler General Ayub Khan, the project was intended to be a modern, planned city that would be an ideal seat of government tucked away in the foothills of the Margallah range. Doxiadis Associates prepared the master plan and it was approved in 1960. It was a planned city with wide tree-lined roads, green belts, planned residential sectors, earmarked commercial areas, proper zoning and large-scale structures to be designed by foreign architects.
The Government of Pakistan commissioned American architect Edward Durrell Stone to design the three most important buildings of the city: the president house, the parliament building and the cabinet block, because of, in the words of a government official, "his love for Mughal buildings and the spirit of grandeur the Mughal buildings emanate." However, he produced designs which were, ironically, in a Wright-inspired, straight horizontal line language, devoid of any Mughal or traditional vocabulary. He also designed the Quaid-i-Azam University in Islamabad. The Supreme Court was designed by Japanese architect Kenzo Tange in the 1980s as an imposing formalist building derived out of triangular forms, with an unsuccessful attempt to "Islamize" it with stick-on symbols.
Turkish architect Vedat Dalokay's modern design of the Grand Mosque of Islamabad, built in the late 1970s, received criticism from bureaucrats and the general public alike for being a clear departure from the traditional mosque form and devoid of the influence of Islamic architecture. However, it has now become a symbol of the city, revered by the citizens of Islamabad. This gradual change in the way architecture has been perceived over the years has had several effects on the society. The most prominent is the realization that East and West, tradition and modernity, are not poles apart. In fact, they are very capable of fusion. There are no clear cut divisions of black or white, but several shades of grey. Having a rich tradition and a glorious architectural history does not mean being a slave to that custom. It is evident that typologies and styles lose importance in the wake of functionality and diversity. Faisal Mosque in Islamabad has been a merger of all the perceived contrasts and it has braved the test of time against all pre-conceived biases of a partisan society. It has cast a lasting influence in changing the mindset of a society that has generally been averse to influences outside the confines of its own traditions and culture.
Residential Architecture: An Artist's Canvas

Private houses, villas and suburban farmhouses constitute one of the largest and the most consistent markets for architects with expensive and high-end housing schemes mushrooming in all the major cities of Pakistan. A standard villa on a 500 Square yards plot in the heart of Islamabad sells for as high as US $ 600,000 and the value of a luxurious farmhouse on a 5-acre plot in the suburbs is in excess of one million US dollars.
In stark contrast to these rich suburbs are the lower-income neighborhoods, known as 'mohallas,' found in almost all cities of Pakistan and which form the bulk of the city. Most of these mohallas are either shoddily planned or not planned at all. Built on small plots, these houses, in many instances, in the absence of enforced laws, go upto as high as four storeys. The roof is an important part of the living and it is used for a multitude of activities including sleeping on hot summer days, family gatherings in winters and kite flying. Because of narrow streets and attached houses with common walls, there is very little ventilation in these compact buildings. This fact makes the roof more useful. Some examples of successful architect-designed low-cost mass housing schemes have been Arcop's Al Azhar Garden, Karachi (2007) and Yasmeen Lari's Angoori Bagh housing in Lahore (1975).
Energy Crisis and Sustainability
Pakistan has been hit badly by the global energy crisis and the rising international oil prices. The energy shortage and increasing utility prices have necessitated a move towards energy-efficient buildings. The traditional Pakistani house, built with lime mortar and lime plaster, had a central courtyard, verandahs, two-foot thick walls, clay roof insulation and double height ceilings with ventilators at the top to allow accumulated heat to escape. Even British architects, during the 200 years of colonial rule, adopted this climate-derived, vernacular style in their buildings. However, when the air-conditioner permeated the urban Pakistani homes, these traditional concepts were slowly discarded in favor of mechanized thermal control-dictated designs. With temperatures in summer soaring up to 46 degrees Celsius and frequent power outages, living inside a poorly ventilated and badly insulated house becomes very uncomfortable. Recently, the focus has gradually started reverting towards the traditional vernacular concepts, not necessary in style, but in terms of thermal comfort.
One may say that the ever elusive silver lining may soon become a reality in Pakistan. The onslaught of foreign investment, the discovery of new talent and the generally more educated and informed clientele has broadened the horizons for architects, and provided them new avenues for the execution of these design philosophies. There is now a better opportunity for the architect to influence the life of the common man, if not directly then by implication. This must be understood in the face of the constraints the architect has to overcome at every step of the process, from the planning phase to the execution. Although Pakistani architecture is looking for a definitive and clear direction, the constant search for appropriate and applicable architecture has begun to show results.
You may also like: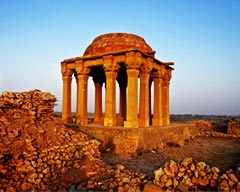 Tales from Thatta: Makli Necropolis
(January 15, 2018)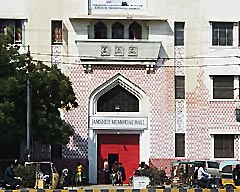 Jamshed Memorial Hall (Karachi Theosophical Society Hall)
(December 14, 2017)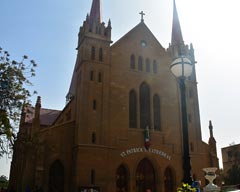 The Architectural Wonder of St. Patrick's Cathedral
(November 29, 2017)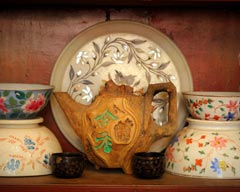 The Treasure of Faqir Khana
(October 23, 2017)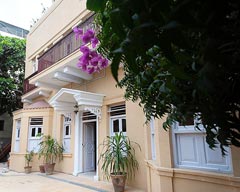 TDF Ghar - Reminiscing Karachi's Cultural History
(October 04, 2017)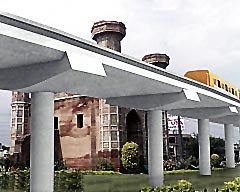 Heritage Based Urbanism: A Development Model for Lahore?
(September 13, 2017)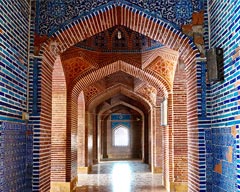 Tales from Thatta: Shah Jahan Mosque
(September 12, 2017)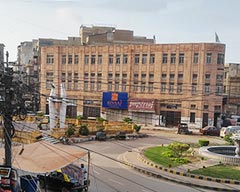 The Pakistan Chowk Initiative
(August 28, 2017)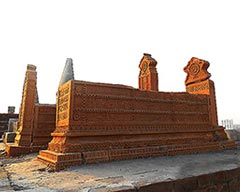 Lost Narratives: 'Sateen Jo Aastan'
(August 24, 2017)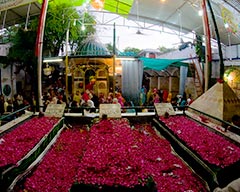 The Shrine of Bibi Pak Daman
(July 20, 2017)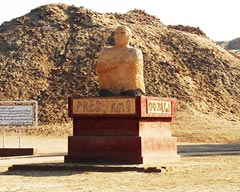 Mohenjo Daro: An Ancient Gem of the Indus Valley Civilization
(June 12, 2017)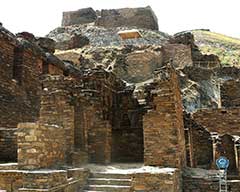 Takht-i-Bahi, an Icon of the Ancient Buddhist Civilization
(March 30, 2017)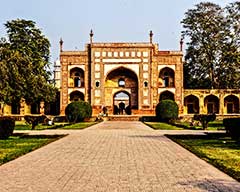 The Tombs of Jahangir and Nur Jahan: A Forlorn Reminder of Their Passionate Relationship
(March 09, 2017)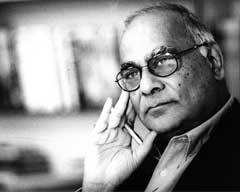 Remembering Habib Fida Ali
(January 09, 2017)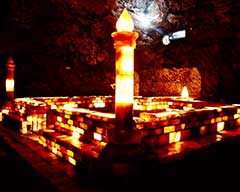 The Salts of Time: Inside the Khewra Mine
(January 06, 2017)