Art Review: 'Loompaland' at Studio Seven, Karachi
Written by: Syed Hamad Ali
Posted on: November 09, 2017 |

Comments | 中文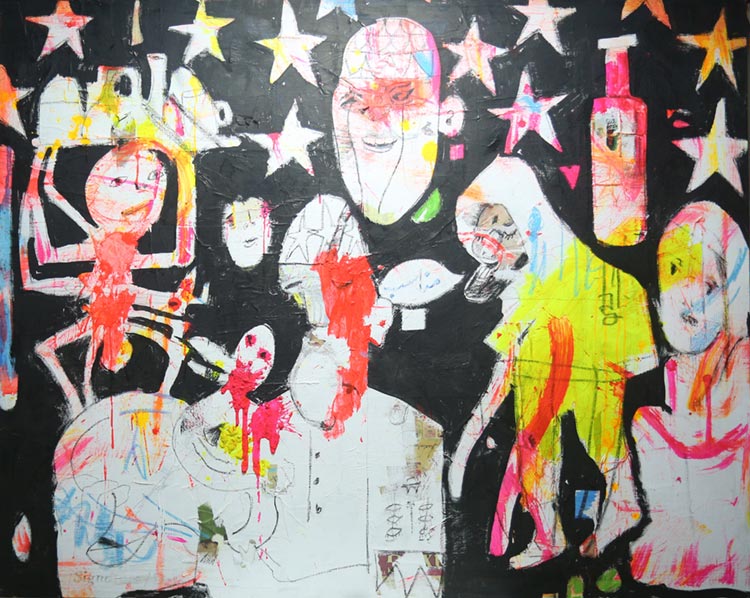 Safwan Subzwari's 'Munasib Maulvi'
An art exhibition titled 'Loompaland' opened at Studio Seven, Karachi on the 7th of November, showcasing the works of Safwan Subzwari, Anum Lasharie, Maryam Arslan, and Sophia Balagamwala. If you've read the children's novel, Charlie and the Chocolate Factory by Roald Dahl, you'll know how the character Willy Wonka describes Loompaland. According to him, it is a desolate land covered with thick jungles, inhabited by horrid beasts. However, most people outside of Wonka's factory dismiss it as utter nonsense. According to Rabia Ali, the curator of the exhibition, "A work of fiction is an act of creative imagination, so its audience does not assume it to be realistic." This is exactly what the show delivered; representations of the daily and mundane in creative forms. Though the work can be dismissed by an audience as pure fiction, it actually alludes to everyday realities.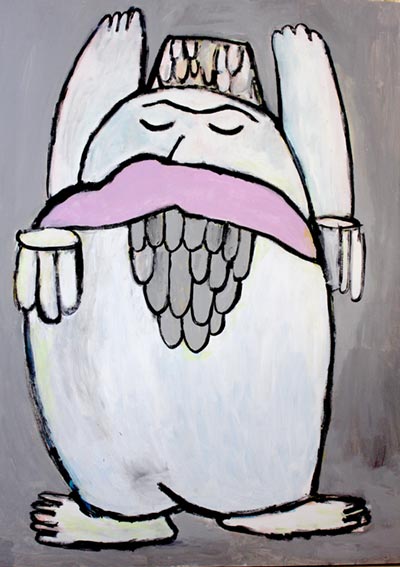 Sophia Balagamwala's 'Private Pyaaray II'
As I walked down the stairs, my ears tingled with the faint noises from the news bulletins being played in Sophia Balagamwala's installation 'very important announcements'. Made of fiber glass and enamel, the shape of the television setups resembles brains with two antennas stuck in, an allusion to our nonsensical, fictitious, and distorted version of events. "The installation presents the election campaigns of a series of fictional politicians who are running for office in the upcoming elections. Their speeches sound suspiciously similar," said Sophia. Interestingly, the sounds from the multiple animated video clips, merged together to form a cacophonous conundrum. One was unable to understand even a single message, and this sly jab at television talk shows, adds another layer to the work.
Maryam Arslan's mini canvases, sized 7x7 inches, were a visual treat. As a self-portrait artist, Arslan likes to use her intuition and impulses to build "scrumptious narratives." The series titled 'Of food and other demons,' consisted of paintings clearly showing her unprecedented love for food and her fantasies about it. Each piece proved her expertise in oils, and her attention to detail was visible in every stroke. Whether it was the thick oil paint piped onto the cupcake, or the deliberate spill of brown onto the white frame which gave the impression of chocolate, every painting told a story which, "transcends beyond space and time," in Arslan's words.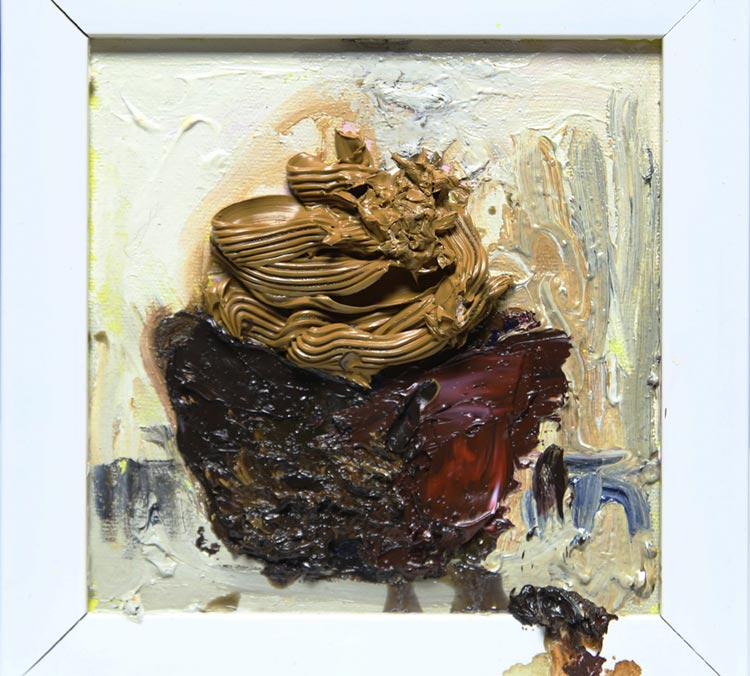 Maryam Arslan's 'Of Food and Other Demons'
Safwan Subzwari's two large and eight small paintings attracted all the attention due to their illustrative style. His works are a socio/cultural commentary on the identity crisis our society is going through. Sex and religion were some of the recurring themes in his works. 'Munasib Maulvi' was a commentary on the religious scholars and leaders of our society, who appear to be backward, rigid, and benighted, in a world that is rapidly changing. Depicting a woman wearing a scarf, a liquor bottle, a few maulvis and a background full of stars; the painting was witty and self-explanatory. It highlighted the double standards and hypocrisy of those who claim to be guardians of religion.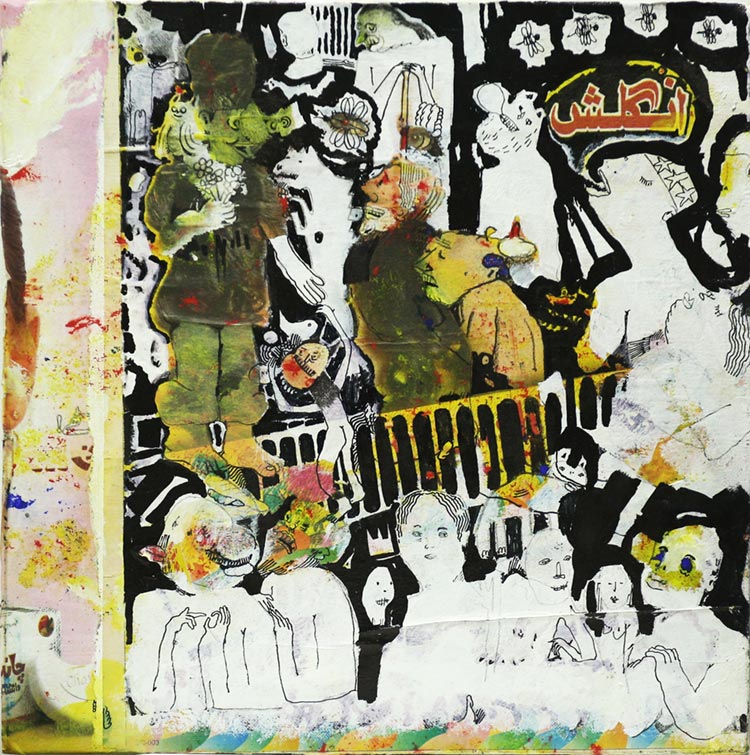 Safwan Subzwari's 'English Beauty Cream'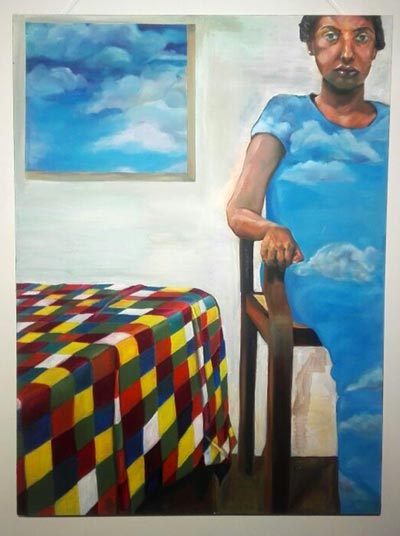 Anum Lasharie's 'Waiting and Wanting'
Anum Lasharie's huge canvases, with figurative depictions, were a treat to look at. Her work typically explores the inner self of an individual, such as our conflicted self in the materialistic and erratic world that we inhabit. For this show, her work revolved around the theme of anxiety and self-discovery. The piece 'Waiting and wanting', portrayed a woman confined to a single room with just one window to the world outside. What struck one was that the clouds depicted outside the window, were also painted on the dress of the woman. Besides conveying the desire of the woman for freedom, perhaps another point being made was that that everyone is free, once the layers of imposed patriarchy and even capitalism, are peeled off. In a hetero-patriarchal society, it is no wonder that all of the women in Lasharie's canvases seem to be trapped.
The works testified to the expertise of the artists, while their subject matter was an exploration of fiction and fantasy relating to the ironies of reality. All of it was perfectly encompassed by the title, 'Loompaland.' The exhibition ends on the 18th of November.
You may also like: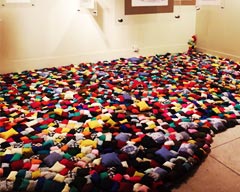 NCA Rawalpindi Degree Show 2017
(January 17, 2018)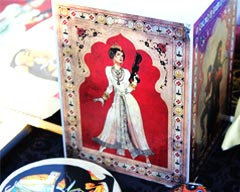 Winter Fete, Islamabad
(January 09, 2018)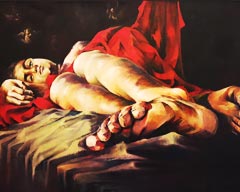 Review: 9th National Exhibition at PNCA
(January 02, 2018)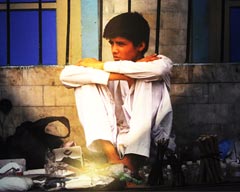 Yeh Hai Karachi 2: Photography and Film Exhibition
(December 20, 2017)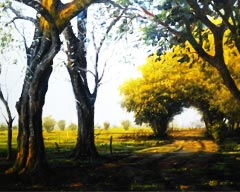 Art Review: Punjab Romanticism by Zulfiqar Ali Zulfi at Tanzara Gallery, Islamabad
(December 18, 2017)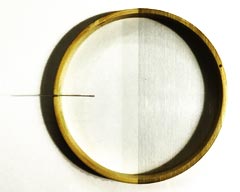 Art Review: Reading Between the Lines at Sanat Initiative, Karachi
(December 05, 2017)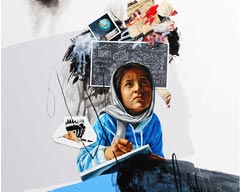 Art Review: The Onrushing 2 at Gallery 6, Islamabad
(December 04, 2017)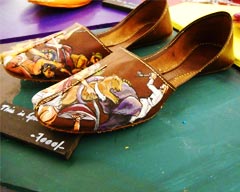 Daachi Arts and Crafts Exhibition 2017
(November 13, 2017)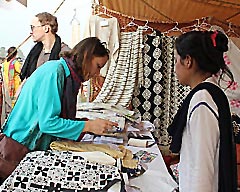 The Behbud Bazaar, Islamabad
(November 07, 2017)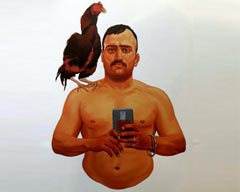 The Karachi Biennale 2017 (KB17)
(October 27, 2017)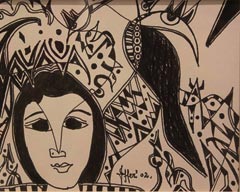 Wahab Jaffer Exhibition Opens at Tanzara Gallery, Islamabad
(October 20, 2017)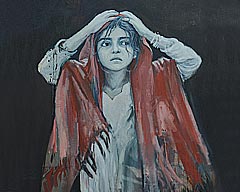 Art Review: Socio-Domestic at O Art Space, Lahore
(October 11, 2017)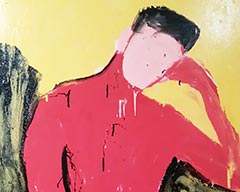 Art Review: 'Insta Loves II,' by Abdullah Qureshi at Satrang Art Gallery
(October 06, 2017)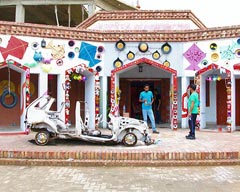 Munaqqash: I Am Karachi's New Initiative for the Community
(September 20, 2017)