Chairman PCI, Senator Mushahid Hussain Sayed, hosts delegation from China Foundation for International Studies

Posted on: September 19, 2012 |

Comments | 中文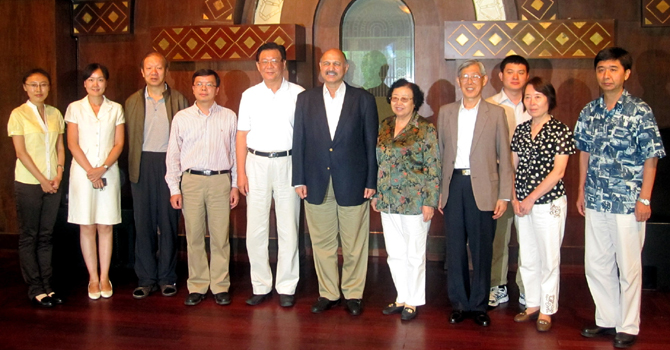 Chairman PCI, Senator Mushahid Hussain Sayed with delegation from China Foundation for International Studies
Chairman, Pakistan-China Institute, Senator Mushahid Hussain, hosted the visiting delegation of the Beijing-based think tank, China Foundation for International Studies, headed by its President, Zhang Deguang, who has been one of China's premier diplomats and experts on the region. He served as Vice Foreign Minister and the first Secretary General of the Shanghai Cooperation Organization (SCO). The delegation includes the popular former Ambassador of China to Pakistan, Zhou Gang.
During their bilateral talks, they discussed the emerging regional scenario in the context of Afghanistan, Pakistan-China relations, the growing role of SCO and the upcoming visit of President Putin to Pakistan. As the delegation had just arrived from New Delhi, they also reviewed both countries ties with India.
The Pakistan-China Institute and the China Foundation for International Studies also agreed to sign an MOU to further the cooperation between the two think tanks.
You may also like: