COLOURS OF ROKNI
Written by: Eeman Amjad
Posted on: January 07, 2014 |

Comments | 中文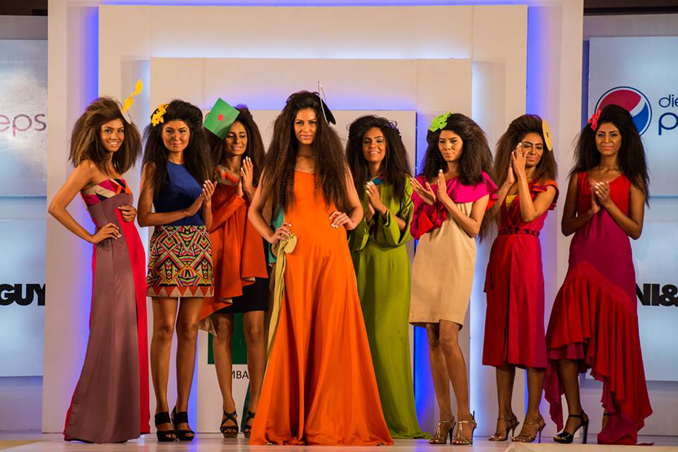 When fashion capitals around the world trembled under the pressure of the global financial recession, New York, Milan, Paris and London looked south of the equator for a new hub of fashion resources. Brazilian fashion had arrived, kicked off by a sensational fashion week from São Paulo, that redefined global fashion output across the world. Brazilian design houses such as Osklen, Tufi Duek, João Pimenta, Colcci, and Gloria Coelho evolved into creative and financial power centers in the global arena.
Towards the end of last year, the Brazilian influence entered the gateways of Pakistani fashion with the September unveiling of Kamiar Rokni's new Brazil inspired line. After a long sabbatical, allegedly due to a heel injury, one of Pakistan's most creative fashion faces launched his "Colours of Brazil" line in Islamabad.
Kamiar Rokni began his career back in 2001 with designer Maheen Ali to produce the fashion line Karma. Five years later, he left the doors of Karma behind to begin his own fashion line, The House of Kamiar Rokni. In the past decade, Rokni has become known for his creative ethnic spins and versatile outlook. In an interview in 2007, Rokni stated, "Versatility is my style. As a designer I usually get associated with somebody who is very modern or somebody who's very funky but I think my main strength as a designer is the fact that I'm very versatile." This versatility was reflected in the collection he presented at the finale of the PFDC L'Oreal Paris Bridal Week in October 2013; each piece drew from Oriental themes and was complemented by jewelry created exclusively for the line by Reama Malik of GOLD.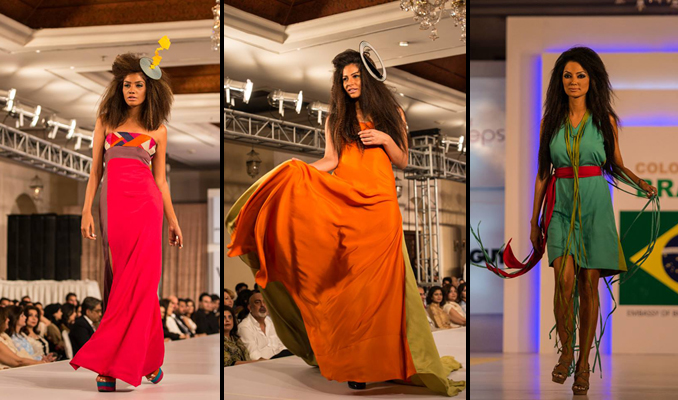 Perhaps this very versatility was what allowed Rokni to visualize and translate Brazilian culture into a clothing line for Pakistanis. The collection was an ode to Brazil, inspired by Rokni on his visit there back in 2011. Both he and Arsalan Khan, Creative Director of Verve Events, were part of a group that traveled to bring back a piece of the checkered Brazilian life for the Pakistani public. The group had been sent by the Brazilian embassy and on return had decided to dedicate their creative energies to promoting the diverse and vibrant nature of the country. Arsalan Khan said that his trip to Brazil was "a life-changing experience, and that promoting the Brazilian culture was now [his] lifelong desire." The concept of the show had been conceived a year earlier, but was delayed due to certain scheduling issues.
In Rokni's statement before the event, he professed his admiration for the Brazilian 'Mix'- the amicable "mix of European and African, mix of Brazilian and Japanese, the mix of urban sophistication and natural beauty." Brazil is not just a melting pot for cultures, but a beautiful blend of distinct languages, religions and ethnicities. It was the existence of these contrasting influences that inspired Rokni. His collection was a kaleidoscope of bright colours and shapes that fused together to present that harmonious 'Mix.' Coral and pastel colours with minimal patterns contrasted with the bronzed-up models, and gave the collection a sense of heightened animation and movement. The hairstyles and headpieces, produced in collaboration with Hashim Ali, were in recognition of the bold presence of African and Japanese cultures.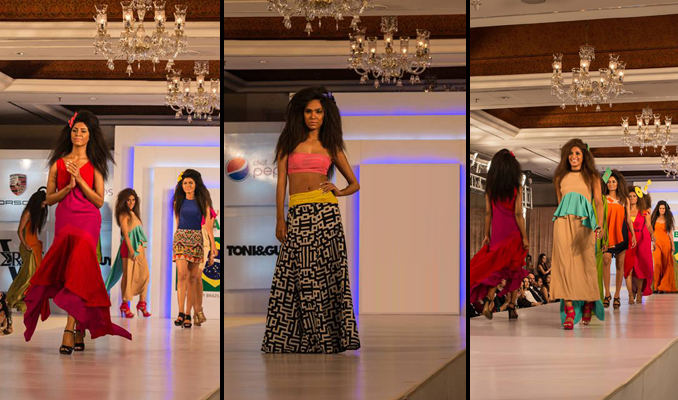 The starting point for the new collection was mid-century modernism interwoven with Bahia and African influence, with "a touch of nostalgia." There were fifteen different designs that collectively represented Rokni's interpretation of the glamour associated with Brazil. The fashion show, as a whole was, meant to accentuate the theme of glamour- a word that has become synonymous with Brazil: everything, from the line of Porsche cars in the lawn, to the indoor décor and the models themselves, was a reflection of 'glamour.'
Kamiar Rokni's Brazil line missed the unconventional details and embellishments that he is recognized for, but the collection featured as an expression of the dominating presence of Brazilian fashion, that has spread its wings throughout the world stage. This new collection was not only a celebration of Brazil and Brazilian culture, but a foreshadow of the capacity of Pakistani designers to incorporate foreign concepts into their fashion periphery.
Click to view picture gallery
You may also like: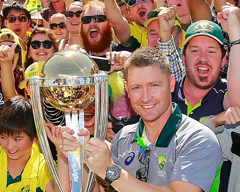 Australia Pulverizes New Zealand to Bag World Cup 2015 Trophy
(March 30, 2015)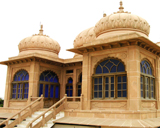 The Undying Grandeur of the Mohatta Palace Museum
(March 29, 2015)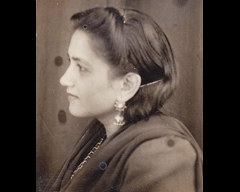 Ada Jafarey: A Tribute
(March 27, 2015)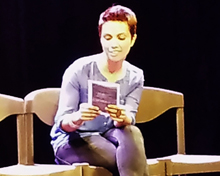 Me, My Mom & Sharmila: Fawzia Mirza and the Brown Woman
(March 26, 2015)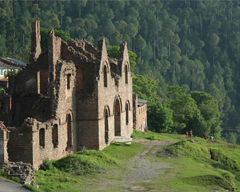 Silk Road: The Picturesque Mansehra and Abbottabad-VI
(March 25, 2015)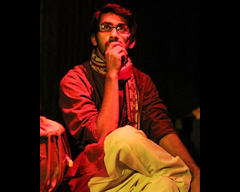 Azeem Hamid and the Independent Theatre Company
(March 25, 2015)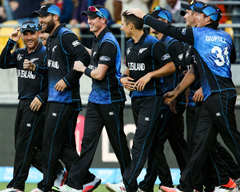 New Zealand to Choke South Africa and India to Overpower Australia?
(March 24, 2015)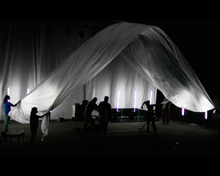 NAPA International Theatre Festival 2015: 'Among Fog'
(March 20, 2015)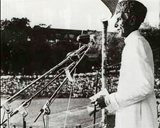 Pakistan Resolution Revisited
(March 20, 2015)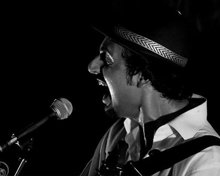 Faizan Tirmizi - The Ideology of an Aspiring Musician
(March 12, 2015)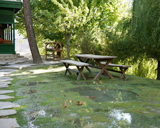 Hunza Valley: A Fine Balance between Tradition and Modernity
(March 10, 2015)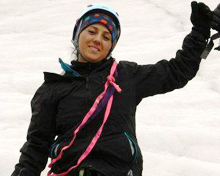 Samina, we are proud of you!
(March 06, 2015)