CSS School: Giving Hope to Street Children
Written by: Mirza Salam Ahmed
Posted on: October 10, 2016 |

Comments | 中文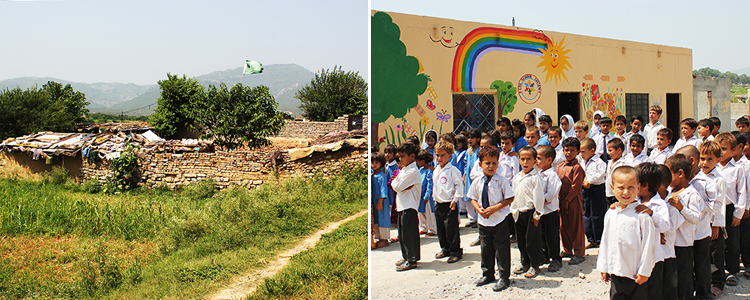 Community Social Services (CSS), Islamabad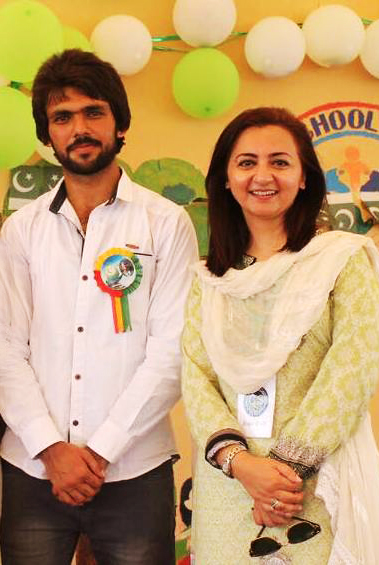 Usman with Saima Omar, one of the key supporters of the school
It might be located in the outskirts of the city, but it is in the hearts of over 200 families. Community Social Services (CSS) is a beacon of hope, which demonstrates that ideas can transform lives. Almost a year and a half ago, a boy named Usman Khan set out on a mission to educate children in the juggis (temporary thatched houses where the very poor live) surrounding Islamabad. The idea itself was not new, but was one that very few would be able to implement. Usman had no support for his journey but a group of trustworthy friends – Hasan Naseem, Saima Omar and Ibrahim Qausar – and a steely determination.
Hailing from Swabi in Khyber Pakhtunkhwa, and currently completing his third year of college, Usman became aware of the importance of education at a very young age. Several years back, he moved to Islamabad to acquire a better education. The fire of knowledge always burned bright in Usman, but upon meeting him, I realized he possessed one quality that burned even brighter: compassion.
I asked Usman how it all began, and was surprised to find that his story was quite simple. He had come to Islamabad with great expectations, but was surprised to see children on the streets, some as young as kindergarteners, loading bags full of garbage on their young backs that they could sell to salvage yards. Pouring his heart out, Usman told me how utterly helpless he would feel upon seeing children waiting at tables or laboring in workshops. This was when he realized that instead of helpless despair, he needed to play his part in bringing a change, no matter how big or small. Henceforth, whenever Usman saw children picking up trash or being involved in child labour, he would track down their parents and try to persuade them about the importance of education.
The change that Usman wanted to bring about, took shape in the birth of the Community Social Services (CSS) School. Usman did a first-hand survey of all areas in Islamabad – including the slums – and learned that since the Capital Development Authority (CDA) had pushed almost all the slums out of the city, they had relocated to Shah Allah Dita, at the edge of Islamabad, which housed hundreds of impoverished families. He also noticed that the CDA had been unable to establish a school in this area. So Usman decided to take matters into his own young hands, and with help from his close friends, he built a school in a jhonpri (temporary wooden and thatched hut).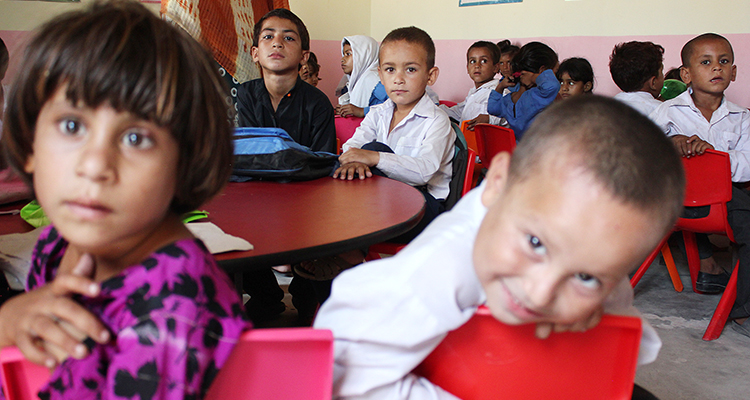 The future of Pakistan
Usman recalls the initial days of his school as a challenge like no other, from convincing the locals (who consisted of laborers, widows, drug addicts and dacoits), to persuading teachers to volunteer an hour a day for the sake of these poor children. Eventually, thanks to an undying resolve and a persistent desire to succeed, Usman's efforts bore fruit and his school became functional. "The first term of six months went by in a flash. I learned that it can get very hot teaching in a jhonpri, so I had to start and end the school early in the day", said Usman. "Convincing teachers to come every single day remained a major struggle. In the end, however, the little children and their eagerness to learn won the teachers over."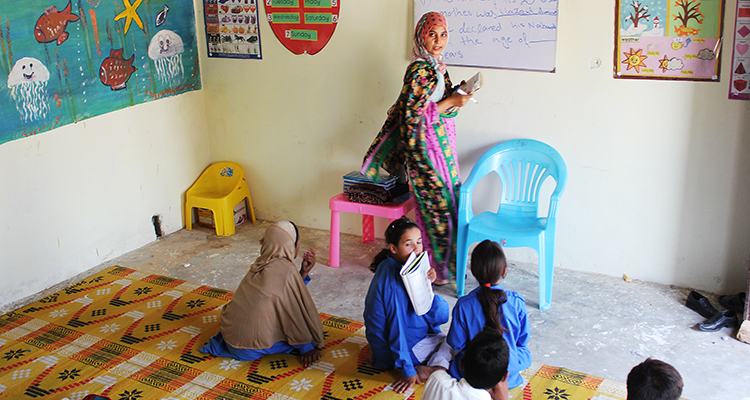 A dedicated teacher
Today, sitting in a modest compound (previously a cement factory that ironically used to be filled with child laborers), Usman runs a school with over 130 students, the number increasing every day. The school now has volunteer and paid teachers from kindergarten to 3rd grade. It is currently being run on funds acquired from close friends and families; small donations from institutions and philanthropists arrive sparingly, and are inadequate.
CSS School now has a proper educational structure and an approved curriculum by the government. Usman plans to take things a step further and increase the classes to 5th grade. However, for that he needs support. Thankfully, word of his brilliant work is spreading like wildfire in the belt of slums occupying Shah Allah Dita and its surroundings.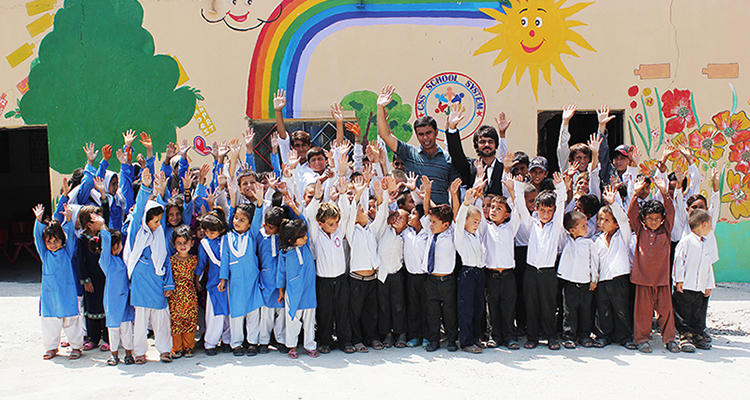 "The future? I have no idea what you are talking about", says Usman. "I wanted to play my part in making this country better, in helping humanity, in bringing a better future to these people; but truth be told, the future is not something we can control. We have limitations. So the best thing that we can do is focus on the present. I try to give my best to this place every day."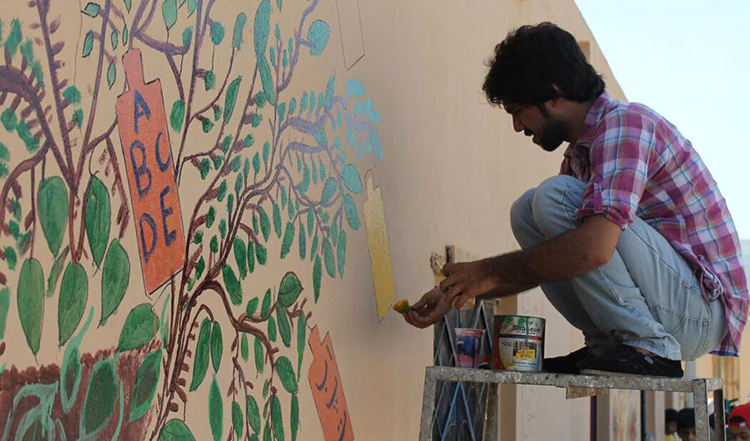 The multifaceted Usman painting the school wall
Usman's words hit me hard. As I walked around his school and was warmly greeted in every class, I began to grasp the magnitude of his accomplishment. He had gathered Punjabi, Pakhtun, Afghani, Kashmiri, and Balochi children under one roof. They had no common language, yet these children were finding ways to communicate with each other. The sense of unanimity created by Usman's dream of spreading education was finally revealing itself. Somehow, this young boy from Swabi had instilled harmony and created a sense of union in his community.
Students singing Dil Dil Pakistan on 14th August
You may also like: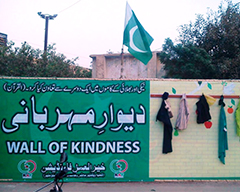 Wall of Kindness: Compassion is Still Alive
(June 01, 2016)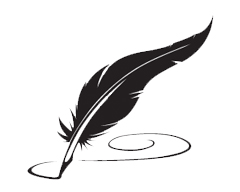 Editorial: Edhi's Legacy
(July 10, 2016)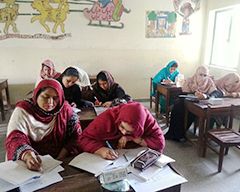 Creating an Impact with 'The Citizens Foundation'
(April 11, 2016)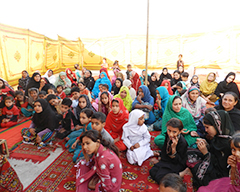 Rozan: Promoting a Violence Free Pakistan
(February 26, 2016)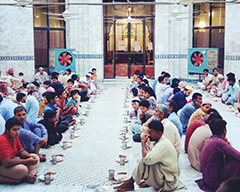 'Rizq': Combating the Problem of Food Wastage
(November 04, 2015)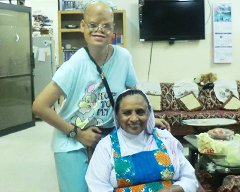 'Dar ul Sukun' and Sister Ruth: Saving Divinity in Man
(October 27, 2015)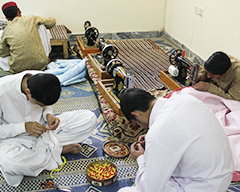 Pakistan's Heroin Addicts and Dost Foundation's Lonely Crusade
(October 22, 2015)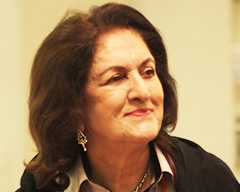 Dr. Parveen Azam: Battling Pakistan's Drug Epidemic
(October 22, 2015)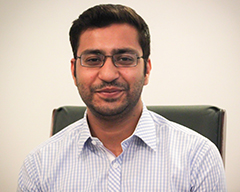 Abdullah Ali - Giving back to Pakistan
(August 13, 2015)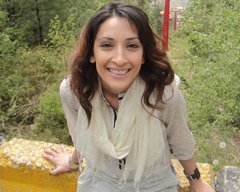 Shaida Rahim - Giving Back to Pakistan
(July 23, 2015)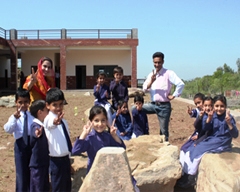 Revisiting the House of Light
(July 14, 2015)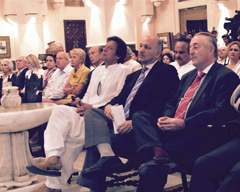 The Launch of the Karim Khan Afridi Welfare Foundation
(June 11, 2015)

Zimmedar Shehri: Citizens Activism at its Best
(July 30, 2012)