Food Review: English Tea House, Islamabad
Written by: Zainab Hasan
Posted on: June 23, 2017 |

Comments | 中文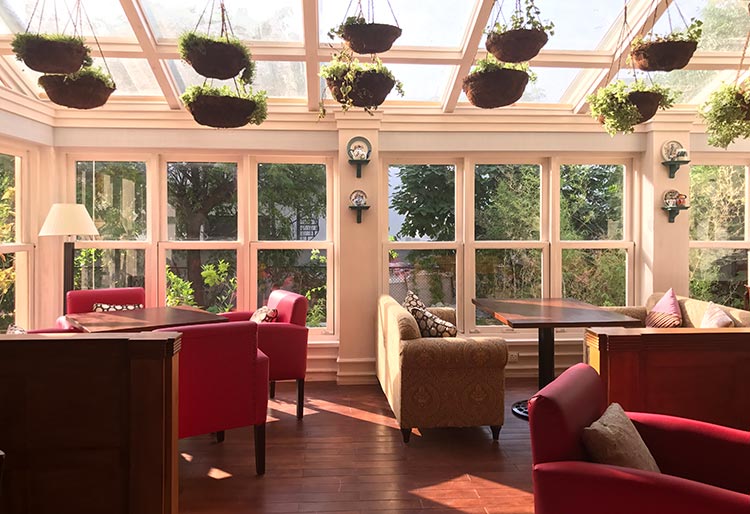 The interior of English Tea House
The cream of restaurants from Lahore is slowly seeping into the culinary map of the twin cities. English Tea House – the most recent addition to the capital – has been welcomed with open arms, and customers have been rolling in since day one. What started off a few years ago as a small café in Lahore has evolved into a popular restaurant, known for its lip-smacking Italian and continental platters.
In Islamabad, the restaurant is located close to Hardees in Rana Market, Sector F-7. It seems a lot of thought has gone into planning the architecture. The two-storey red-bricked building has teal window and door frames. A beautiful garden trails the right side, and provides a pleasant view from an adjacent sunroom. Customers can also enjoy the outdoor seating area once the weather gets better. In the evening, the restaurant is lit up by warm yellow lights, making the ambiance cozy.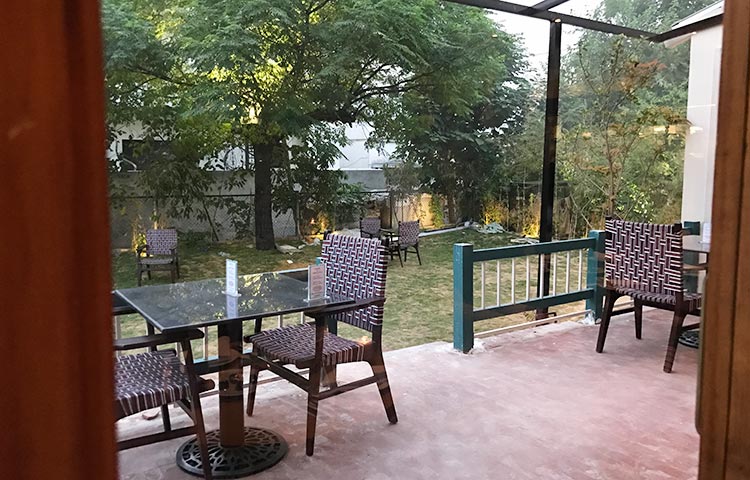 The outdoor seating area and garden
Walking into the restaurant, the interior impresses instantly with a crystal chandelier and wooden panelling. The seating area features inviting high-backed chairs on one side, and comfortable low-lying couches on another. Bright leather banquettes line a feature wall, which boasts an assemblage of items, including vintage books resting on shelves. There are two fireplaces, adding warmth to the décor and perfect for cozying up in the winter months. There is also an in-house bakery, serving all kinds of delicacies to keep the visitors satisfied.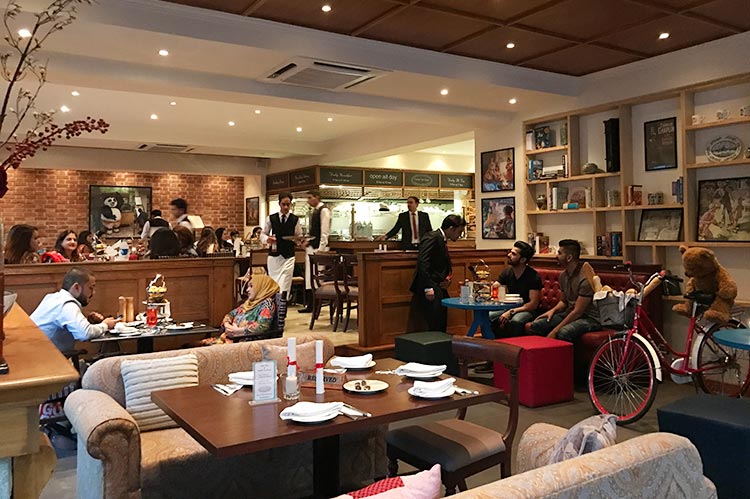 People settling in before Iftar
To break the fast in the month of Ramzan, you are provided with a traditional Iftar platter, which arrives in a silver tray and contains an assortment of dates and pakoras, cold sandwiches, crispy chicken wings and fruit chaat. Rooh Afza and lemonade are provided to quench your thirst. Traditional Sehri is also available for this month: in addition to the regular breakfast menu, you can order a platter of favorites (Khageena, Qeema, Aaloo ki Bhujia, Paratha and Sweet/Salty Lassi) for Rs 1,095.
There is a wide array of options on the menu. To start off, the Chicken Alfredo Pasta is deliciously rich and creamy, a little hot, but balanced with freshness from the sautéed chicken slivers, crispy on the edges and bulbously meaty in the centre.
The Double Deck Steak is flavourful and evenly cooked, with a nice charred finish, and topped with a dense jalapeno sauce. The hot sauce is emulsified using only neutral vegetable oil. It is served with sautéed vegetables.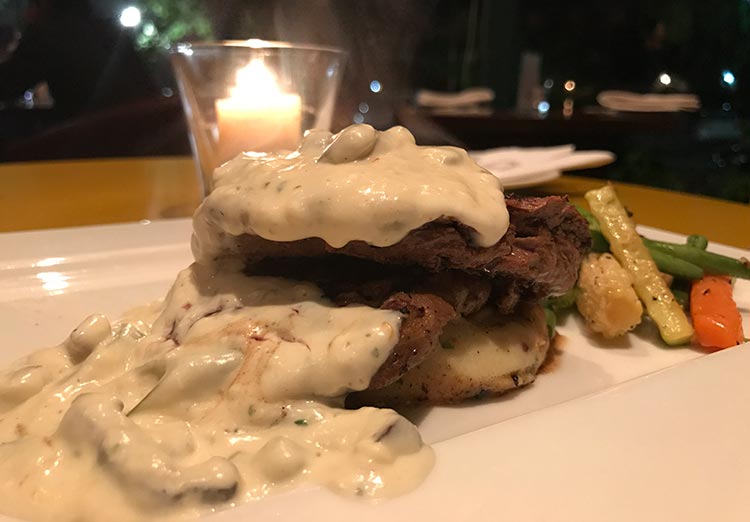 Double Deck Steak
Grilled Moroccan Chicken, as the name indicates, is inspired by the bold flavours, smoky aromas, and varied textures of Moroccan cuisine. From cinnamon and coriander to cumin and paprika, Moroccan food tends to lean towards warmly spiced meats and stews. Allowing the chicken to marinate in the rich blend of seasonings creates a flavourful crust that smells fantastic, while keeping the insides moist. Potatoes Au Gratin – layered thinly sliced potatoes with cream and cheese – looked appetizing with the chicken, but were slightly bland in taste.
Chicken Katro is the chef's recommendation. Grilled, tender chicken breast fillets sit over a special full-flavored, tamarind-studded sauce. The mashed potatoes are filled with cheese, providing a zappy punch to the chicken fillet.
Lady Smith's Choice Burger was one of my favourites on the menu. The charcoal grilled chicken, turkey bacon, cheddar cheese, sauté onion rings and jalapenos went together perfectly. The patty was crumbly and slightly charred. The bacon was everything I had hoped it would be: sweet and peppery, it played well with the smokiness of the grilled chicken and the sharpness of the cheddar cheese. The insides were encased in a soft, toasted and seeded bun.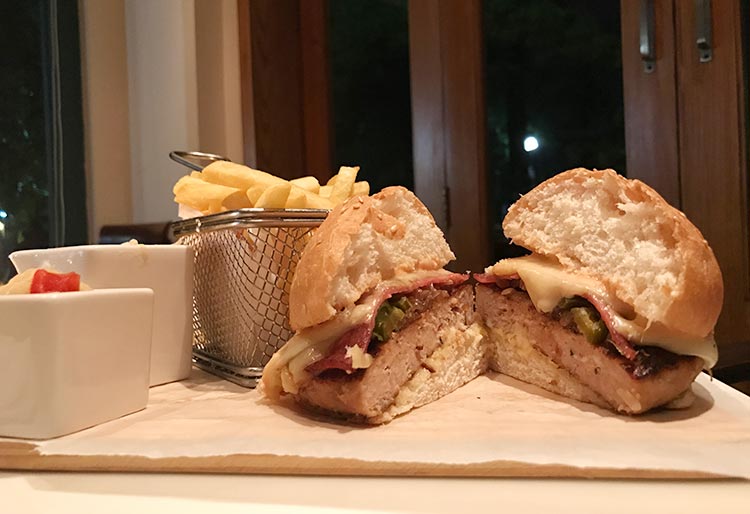 Lady Smith's Choice Burger
In the dessert menu, the molten lava cake is a popular item. Artistically presented with vanilla ice cream, it's a flavourful experience and an excellent mix of temperatures. The cake is firm from the outside and splits well when cut, allowing the dense chocolate liquid to flow out smoothly.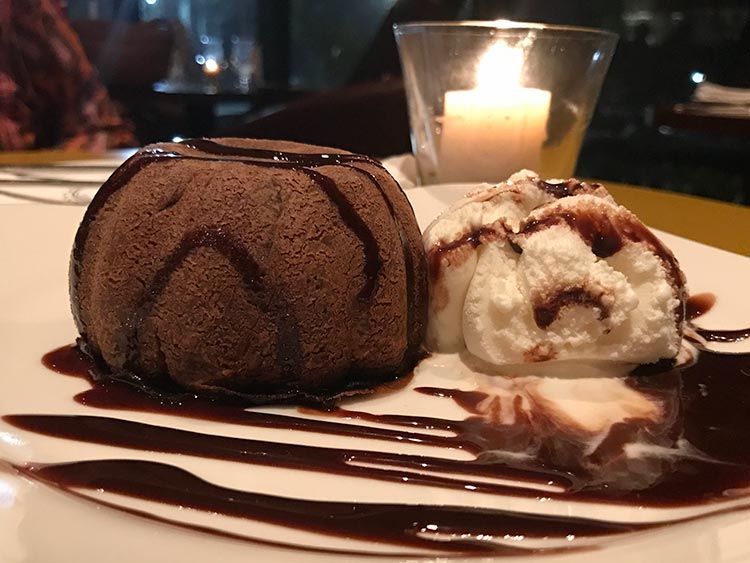 Molten Lava Cake
Cheesecake is my weakness, so I just had to try it. This one had Philadelphia's creamy cheese baked with bite sized Mars chunks. The semi-solid cheese complemented the cutting sweetness of caramel and melted chocolate, leading to a nice balance of tastes.
Although prices are generally high, the quality of the food makes up for that, and will keep you coming back for more. On your way out, the management offers you bangles made of red roses and white motia flowers, providing a pleasant conclusion to the entire experience.
With an eclectic interior, courteous service and versatile culinary delights, English Tea House is sure to win hearts in the capital.
You may also like: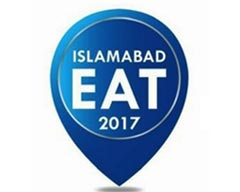 Islamabad Eat 2017: Don't Speak, Just Eat
(November 14, 2017)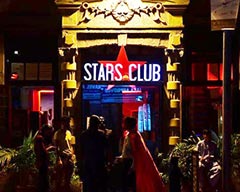 Stars Club: Karachi welcomes its first film-themed café
(November 06, 2017)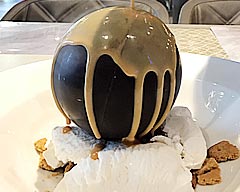 Food Review: Browns, Islamabad
(October 19, 2017)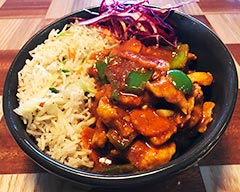 Wok Fusion Café
(October 09, 2017)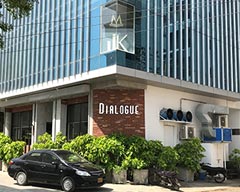 Food Review: Dialogue Restaurant, Karachi
(September 29, 2017)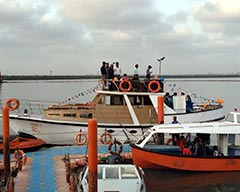 Savor Boating and Restaurant: A Unique Experience
(September 08, 2017)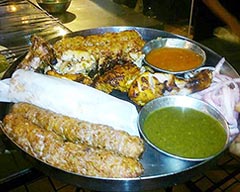 Boat Basin Food Street, Karachi
(August 25, 2017)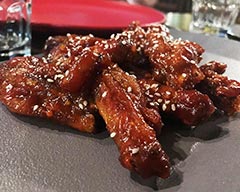 Food Review: #EAT, Islamabad
(August 11, 2017)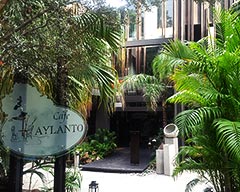 Food Review: Café Aylanto, Islamabad
(August 04, 2017)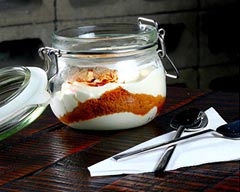 Food Review: Soi Asian Bistro, Karachi
(July 28, 2017)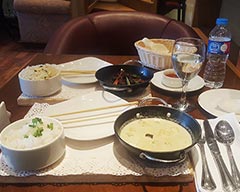 Food Review: The Chinese Café
(July 21, 2017)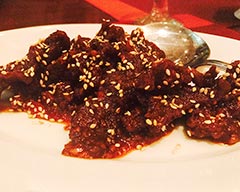 Food Review: Yum Chinese and Thai Restaurant
(July 14, 2017)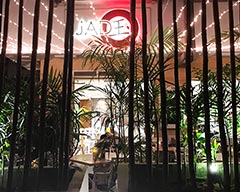 Food Review: Jade Café by ChinaTown, Islamabad
(May 19, 2017)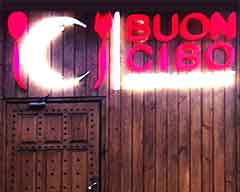 Food Review: 'Buon Cibo' - A Treat for the Taste Buds!
(May 05, 2017)