Art Review: 'Insta Loves II,' by Abdullah Qureshi at Satrang Art Gallery
Written by: Sana Shahid
Posted on: October 06, 2017 |

Comments | 中文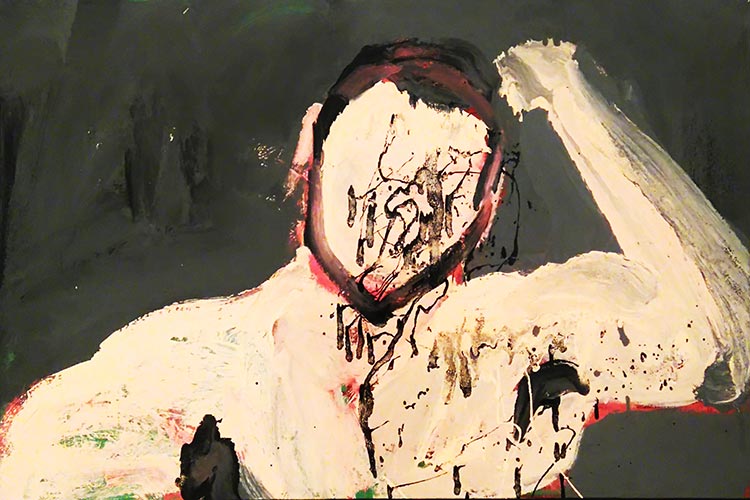 'Insta Love: Obaid Being Obaid' by Abdullah Qureshi
When it comes to art, creativity often preys on our surroundings for inspiration, and such is the case with Abdullah Qureshi. A solo exhibition of the artist, titled "Insta Loves II" opened on 4th October, 2017 at the Satrang Art Gallery, Islamabad. As one of the most renowned contemporary artists of Pakistan, Qureshi has had the honor of having his work exhibited multiple times, both locally and internationally. Other than being an artist, he is also the founder of Gallery 39K in Lahore.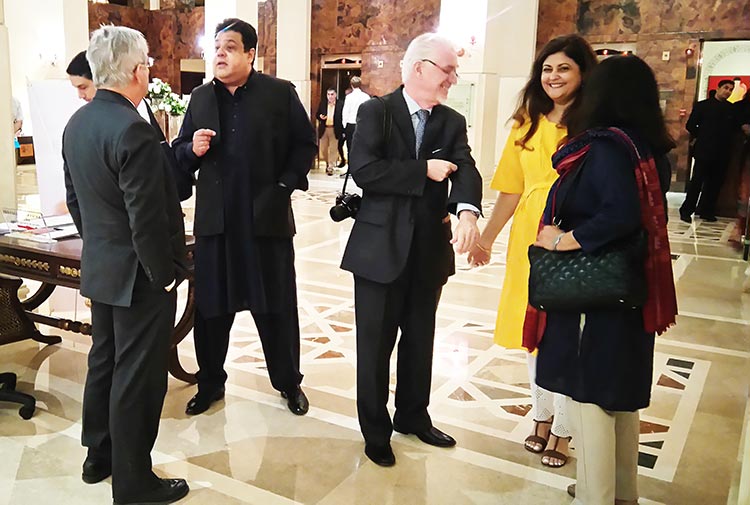 Director Satrang Art Gallery, Asma Rashid Khan, welcoming guests at the opening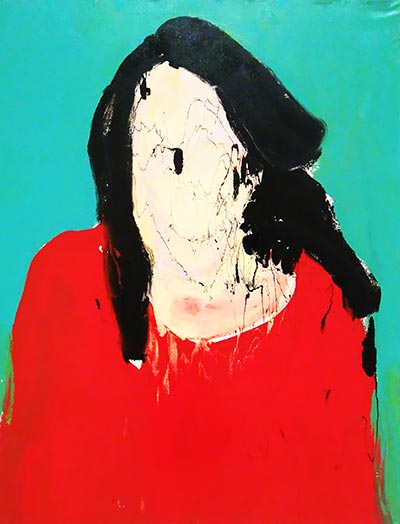 'Mahnum' by Abdullah Qureshi
Abdullah Qureshi seems to have developed a distinguished style over the years, which involves using washes of enamel paints on large-sized canvases. The content of his work is simple, yet each painting has a certain depth to it. The way that all his figures have been painted shows the comfort level of the artist with the medium.
Dripping paint and bold strokes are evident in his work. This technique displays the high level of confidence with which Qureshi, despite using a very difficult medium, allows his hand to take over the canvas rather than limiting himself. He turns around the medium's restrictions to his advantage, and creates what is true to himself.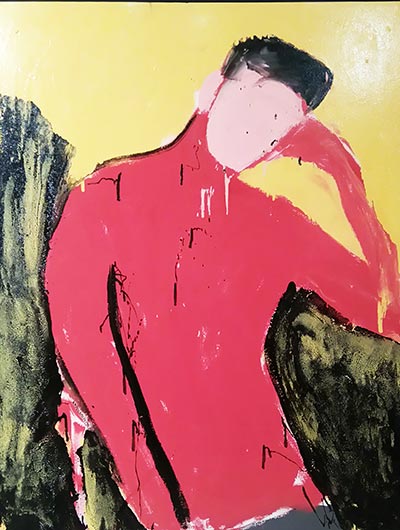 'Awais II' by Abdullah Qureshi
There is a sense of ambiguity in the portraits, but the human figures are proportionate, with just a slight bit of distortion. The ambiguity arises from the fact that Qureshi's portraits are featureless. And yet his portrayal of gestures and the body language of human beings is such that the paintings turn into stories of pain and trauma; a visual diary of Qureshi's experiences. The painted canvases seem to be an outlet he can fully express himself through. Even though Qureshi has used a bright colour palette pretty much throughout his series, grief is a prominent theme in every piece. The gestures he has chosen to paint are not necessarily grotesque; many of them are simple, casual moments, but the way they are painted captivates the viewer. The people in his paintings seem vulnerable and often broken, made more apparent by Qureshi's use of dripping paint, which makes the canvas look like it's been scratched at from certain angles. A visit to the exhibit is a humbling experience due to this, because it makes you think about the fragility of human nature, and how certain events can break you.
Though Qureshi's work falls into the category of abstract expressionism, "every one of his portraits still manages to completely encompass human existence," says the curator of the exhibition, Zahra Khan, who has brought his thought provoking work to art lovers in Islamabad. It can be said that Qureshi's experimentation with expressionism has paid off spectacularly, because he has succeeded in putting his ideas and concepts on the canvas, using nothing but gestures, and his unique technique.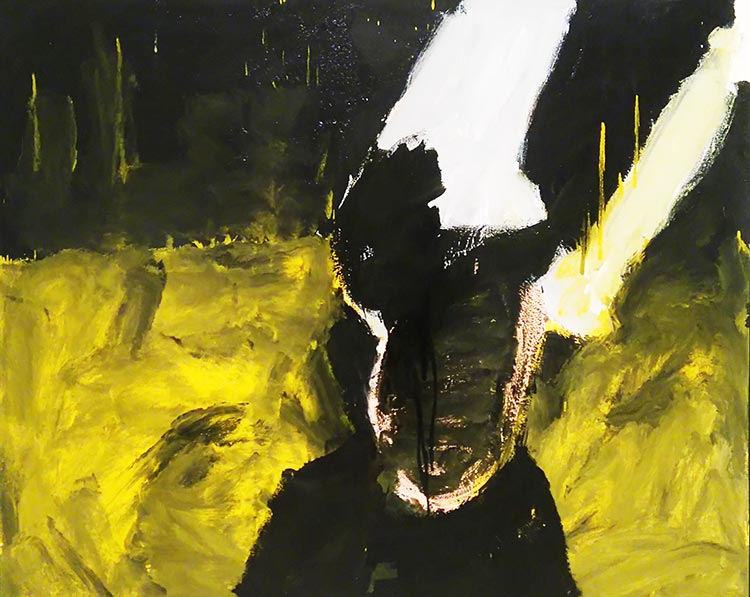 'Self Portrait II' by Abdullah Qureshi
Everyone with an interest in expressionism is strongly advised to pay a visit to the show at Satrang Art Gallery before it ends on 17th October.
You may also like: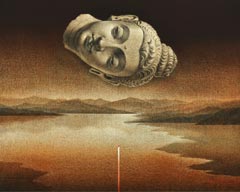 To Reflect: To Recognise
(February 12, 2018)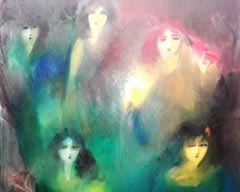 Art Review: Raja Changez Sultan at Tanzara Gallery
(January 19, 2018)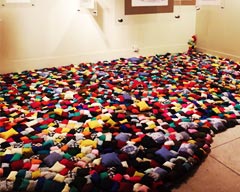 NCA Rawalpindi Degree Show 2017
(January 17, 2018)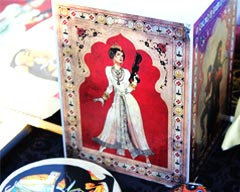 Winter Fete, Islamabad
(January 09, 2018)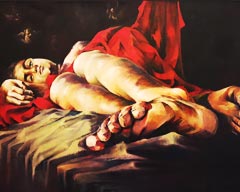 Review: 9th National Exhibition at PNCA
(January 02, 2018)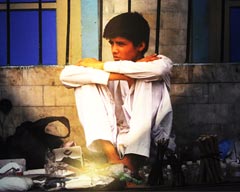 Yeh Hai Karachi 2: Photography and Film Exhibition
(December 20, 2017)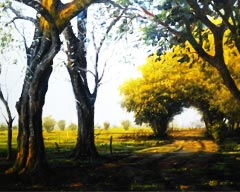 Art Review: Punjab Romanticism by Zulfiqar Ali Zulfi at Tanzara Gallery, Islamabad
(December 18, 2017)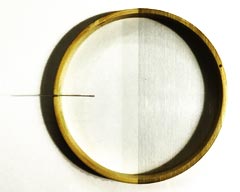 Art Review: Reading Between the Lines at Sanat Initiative, Karachi
(December 05, 2017)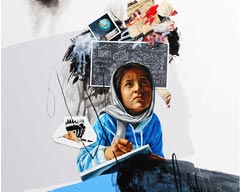 Art Review: The Onrushing 2 at Gallery 6, Islamabad
(December 04, 2017)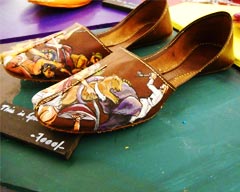 Daachi Arts and Crafts Exhibition 2017
(November 13, 2017)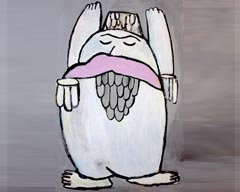 Art Review: 'Loompaland' at Studio Seven, Karachi
(November 09, 2017)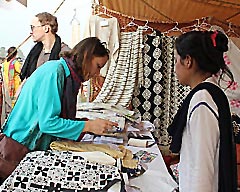 The Behbud Bazaar, Islamabad
(November 07, 2017)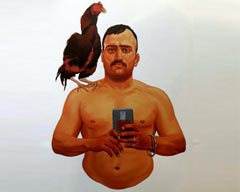 The Karachi Biennale 2017 (KB17)
(October 27, 2017)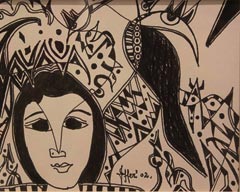 Wahab Jaffer Exhibition Opens at Tanzara Gallery, Islamabad
(October 20, 2017)