Reel On Hai: Initiating Discourse through Public Art
Written by: Nageen Shaikh
Posted on: February 09, 2017 |

Comments | 中文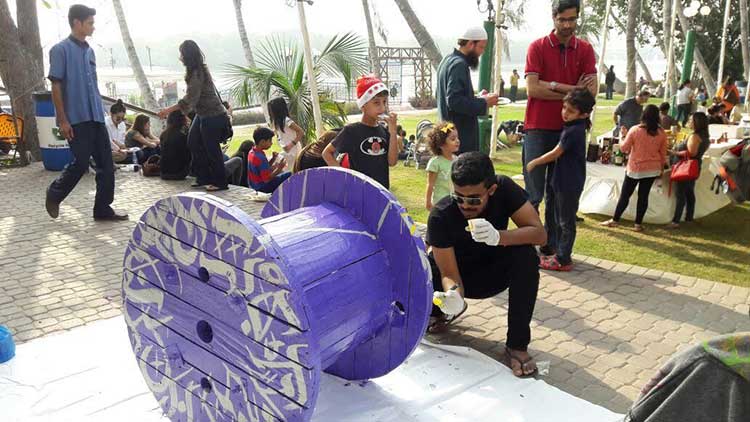 Graffiti and performing artist Sanki King paints his reel as visitors watch
The first ever Karachi Biennale will be a one-of-a-kind event that will hold a series of exciting projects and discussions on contemporary art throughout this year. With the biennale scheduled to take place in October and November 2017, several projects are already underway in Karachi that aim to establish dialogue between art and the community. Reel On Hai is one such project, which is taking place in several areas around the city in an attempt to create an accessible platform for the public and involve the citizens of Karachi in the creative process.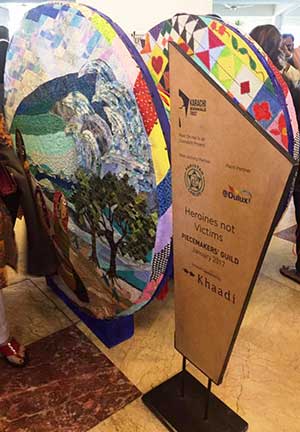 Reel art by Piecemakers Guild
Reel On Hai consists of widespread art installations that will see around 100 huge cable reels transformed into unique works of art by artists, designers and architects, who are participating in this project via an open call by Karachi Biennale. With recycling being an almost forgotten concept in Karachi, and hordes of garbage to be found in major public areas, Reel On Hai aims to initiate healthy public discourse on recycling, sanitation and the environment.
Six reels have already been installed at different locations around the city, with the most recent one being magnificently turned into beautiful artwork by a group of local quilt making women called The Piecemakers Guild, launched at the Beach Luxury Hotel. Previously, architect Wajiha Afsar's reel was transformed into an interestingly designed space for children at the Jinnah Postgraduate Medical Centre (JPMC). Renowned Cartoonist Feica also contributed his creative talents by turning the reel into colorful aesthetic art that has been installed at St. Patrick's Cathedral. Graffiti and performing artist Sanki King has painted his reel in bold hues of violet, displayed at late social activist Perween Rahman's office (Orangi Pilot Project). Italian artist Maurizio Boscheri's reels with vibrant artworks showcasing animal life have been installed at the Customs House. Finally, Sahyra Qamar Sultan's reel, with fascinating art depicting the Mughal era, has been launched at the French Bazaar and will be installed somewhere in the city soon.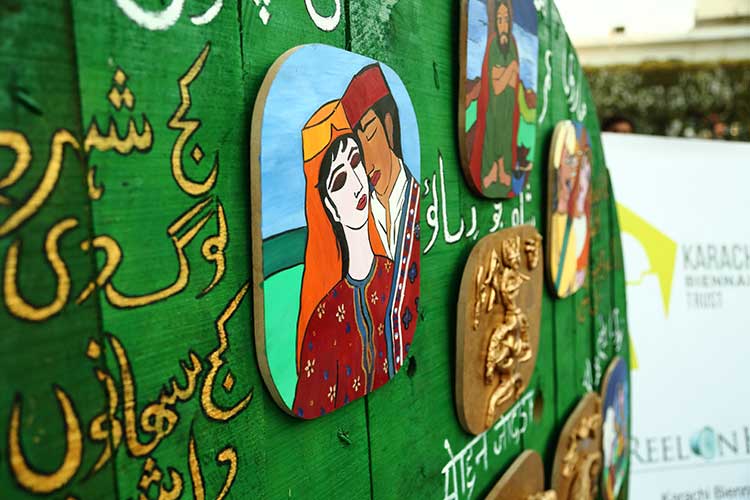 Reel by Sahyra Qamar Sultan
Public art is an effective tool for initiating discourse on issues that urgently require positive social change, such as public health and environmental conservation. Reel On Hai is a dynamic project in many ways. It serves to create a sense of identity and belonging in the people who observe the installations in different areas of Karachi. In addition to stimulating thought, the reels are also an aesthetically pleasing addition to the city's urban landscape, as artists and designers have meticulously worked for months to create art out of these wooden structures.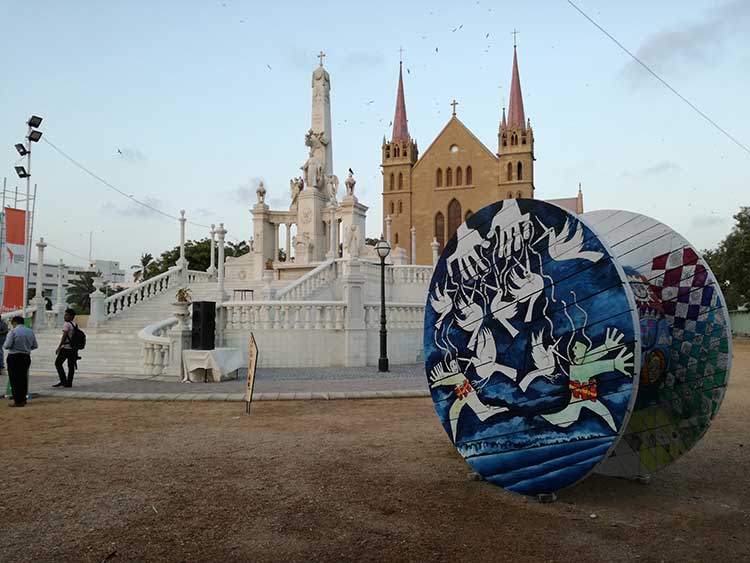 Feica's Reel at St. Patrick's Cathedral
The residents of Karachi can expect to see more and more reels being installed in various parts of the city as we move towards the Karachi Biennale, which will be the biggest art event Pakistan has witnessed to date.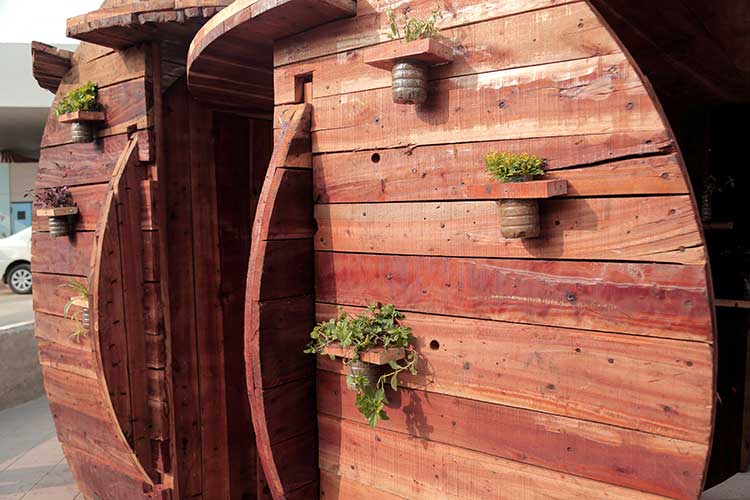 Wajiha Afsar's reel at JPMC
All images have been taken from the Karachi Biennale Facebook page.
You may also like: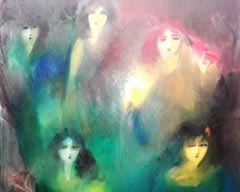 Art Review: Raja Changez Sultan at Tanzara Gallery
(January 19, 2018)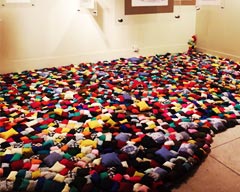 NCA Rawalpindi Degree Show 2017
(January 17, 2018)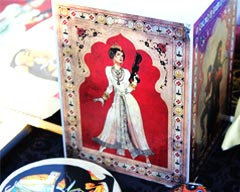 Winter Fete, Islamabad
(January 09, 2018)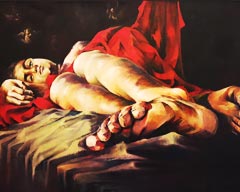 Review: 9th National Exhibition at PNCA
(January 02, 2018)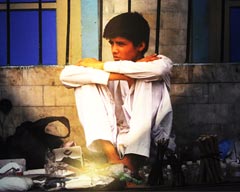 Yeh Hai Karachi 2: Photography and Film Exhibition
(December 20, 2017)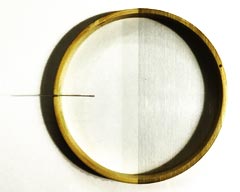 Art Review: Reading Between the Lines at Sanat Initiative, Karachi
(December 05, 2017)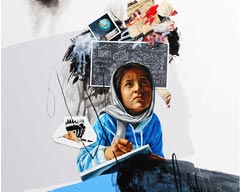 Art Review: The Onrushing 2 at Gallery 6, Islamabad
(December 04, 2017)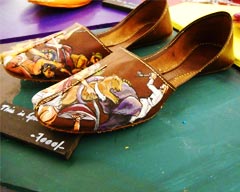 Daachi Arts and Crafts Exhibition 2017
(November 13, 2017)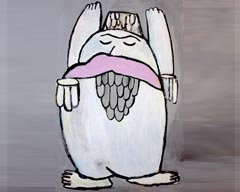 Art Review: 'Loompaland' at Studio Seven, Karachi
(November 09, 2017)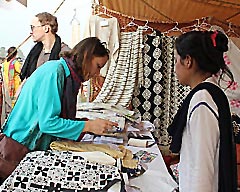 The Behbud Bazaar, Islamabad
(November 07, 2017)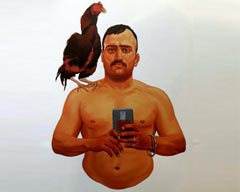 The Karachi Biennale 2017 (KB17)
(October 27, 2017)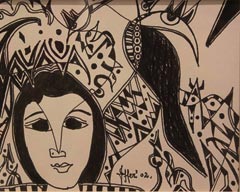 Wahab Jaffer Exhibition Opens at Tanzara Gallery, Islamabad
(October 20, 2017)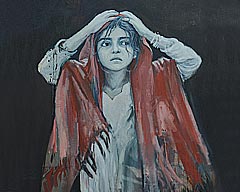 Art Review: Socio-Domestic at O Art Space, Lahore
(October 11, 2017)