A Comedy of Errors: LUMS Annual Play 'Tom, Dick and Harry'
Written by: Mahnaz Shujrah
Posted on: April 25, 2017 |

Comments | 中文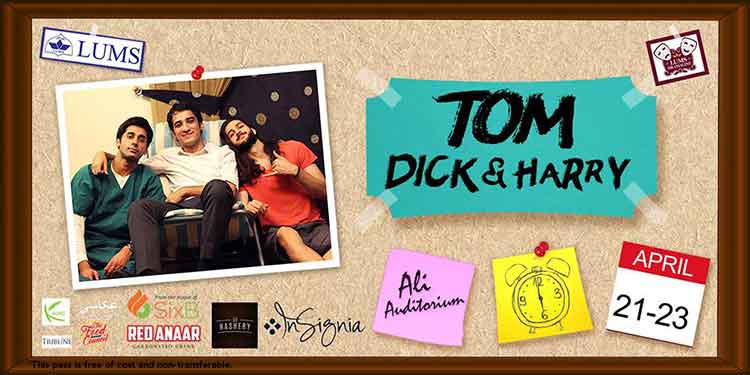 LUMS Annual Play 'Tom, Dick and Harry'
This past weekend, the weather wasn't the only crazy thing happening in Lahore. Dramaline, the dramatics society of the Lahore University of Management Sciences, pulled off yet another amazing theatrical performance at the LUMS Annual Play 2017, which took place at Ali Auditorium from the 21st to the 23rd of April.
Following many hits in previous years like The Producers and Sweeney Todd, there were high expectations and a lot of buzz over this year's Tom, Dick and Harry. The play was an adaptation of the famous book of the same name, originally written by Ray Cooney and his son Michael. The story follows the life of a young couple, Tom and Linda Kerwood (played by Abdullah Haroon and Hira Naseem), who are hoping to adopt a baby. They are preparing for their interview with Mrs. Potter (Scheherezade Peerzada), the lady from the adoption agency, memorizing the answers to all her possible questions. However, Tom's two brothers, Dick (Abdullah Ghazanfar) and Harry (Deyar Pasha), enter the frame and soon everything starts to go terribly (and hilariously) wrong.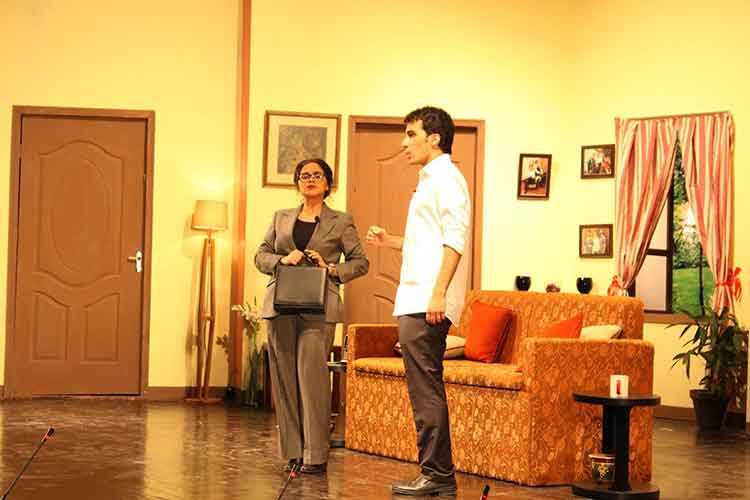 Tom trying to explain the situation to Mrs. Potter
Director Adil Lalani successfully captured the confusion and hilarity of the situation, and all the actors did a fantastic job in performing their respective roles. The set was created in an interesting manner, showing the main living room of the Kerwoods' home, where most of the action takes place. There were more than five entrances to this room, and timing was essential in executing humorous situations, with the characters continuously entering and leaving the set.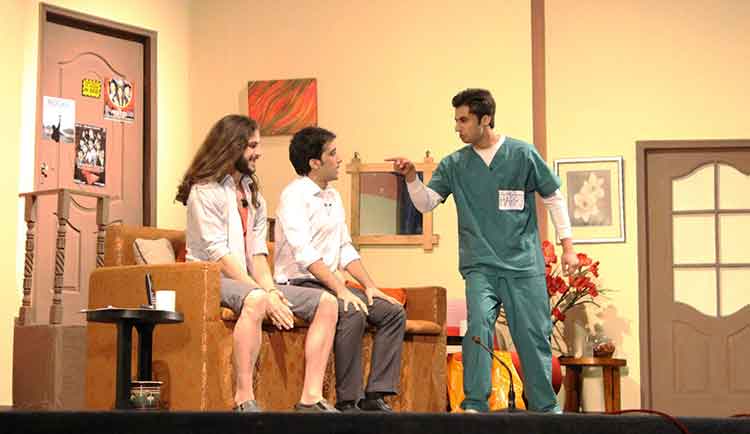 Dick smiling as Harry and Tom fight
The audience found themselves relating to poor Tom, who gets stuck in a very challenging situation, trying to cover up lies with more lies. His brothers attempt to formulate grand schemes to help him, but only end up making things much worse. Dick, who lives upstairs, has smuggled boxes of cigarettes and brandy, along with two illegal immigrants who are now stuck in their house. He does all of this while driving Tom's van, which is now under inspection. Harry comes up with a plan to help Tom buy his home, by convincing him that the price would go down if a dead body is discovered there – but he fails to mention that he has stolen a body from the hospital for this purpose, which is now lying in the backyard. Linda has been working all morning to make the arrangements; too bad she has no idea what Tom, Dick and Harry have been up to.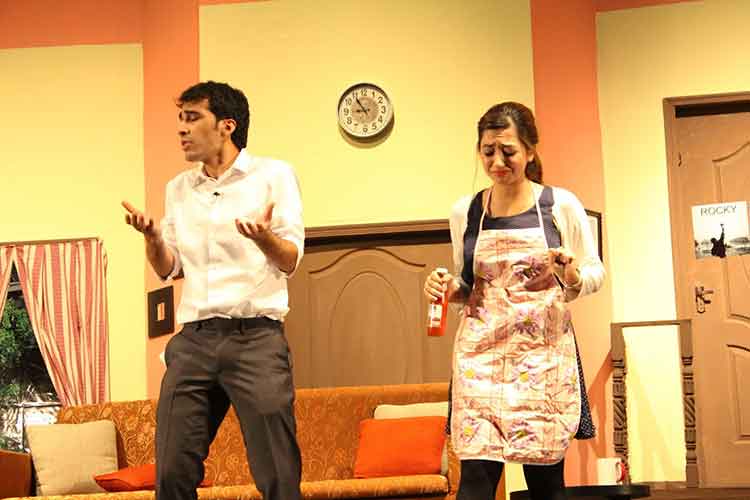 Linda Kerwood is upset at the turn of events
Other characters include the constable (Ali Zafar) who adds to the confusion by asking questions no one has the answer to. The immigrants, Andreas (Zohair Abbas) and Katerina (Simran Talreja), bring a whole set of problems, one of which is a mafia lord. So much for making a good impression on Mrs. Potter of the adoption agency!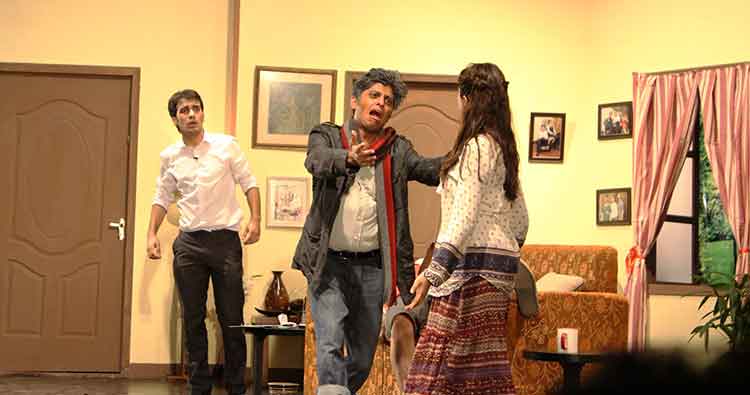 A worried Tom watching Andreas and his granddaughter
The play was very well executed, with the lively characters and engaging dialogues being the highlight of the show. After last year's suspense-filled Sweeney Todd, this light-hearted comedy provided a breath of fresh air. The ending of the play also brought a smile to everyone's face, as it was quite unexpected.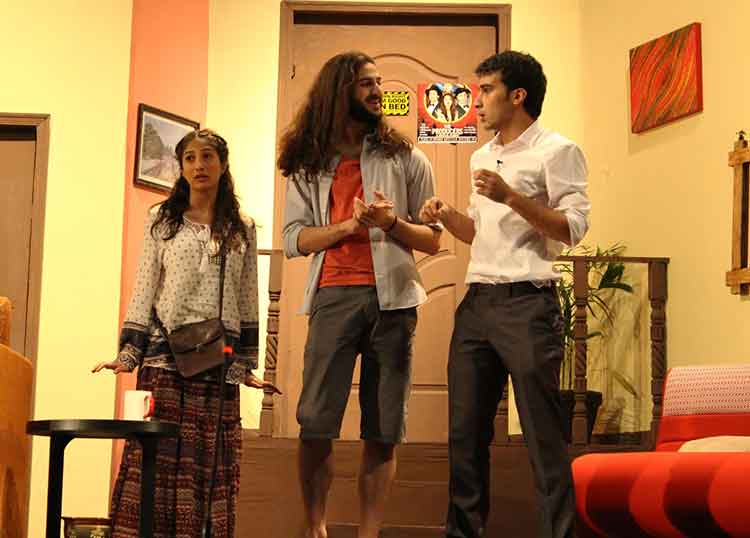 Katerina, Dick and Tom
Every year, Dramaline rises up to the challenge with a new genre for the LUMS Annual Play. I for one am already excited to see what they will have in store for us next year!
You may also like: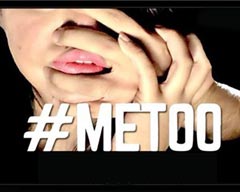 Theatre Review: #MeToo by BlankPage Productions
(January 12, 2018)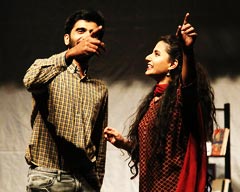 Theatre Review: Bol Kay Lubb Azad Hain Teray
(December 21, 2017)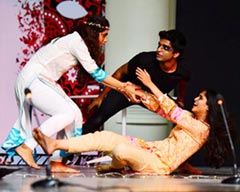 The Fringe 2017 – Intra-IBA Theatre Competition
(December 15, 2017)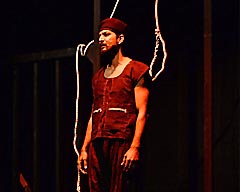 Theatre Review: Ajoka Theatre's 'Intezaar'
(November 30, 2017)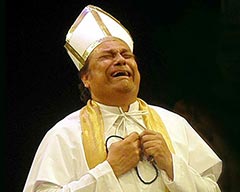 Theatre Review: 'Yahudi ki Larki' by NAPA at National Theatre Festival 2017
(November 02, 2017)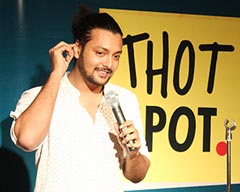 Bachay Panch Hi Achay (5 Kids are Enough) - A Saturday Night Comedy Show
(October 17, 2017)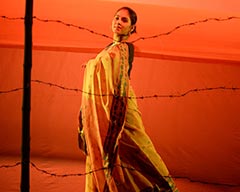 Ajoka Theatre's 'Shehr-e-Afsos - A City of Sorrow'
(October 13, 2017)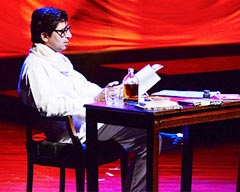 Theatre Review: 'Kaun Hai Yeh Gustakh' - Ajoka's Play about Manto
(October 12, 2017)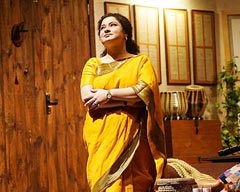 Theatre Review: 'Mushk - Fragrance' in Lahore
(October 10, 2017)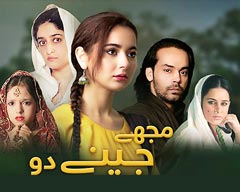 Drama Review: 'Mujhay Jeenay Doh'
(September 22, 2017)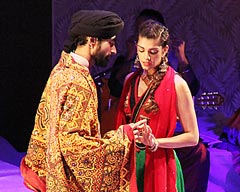 Heer Ranjha – Retelling Kaifi Azmi's Script in an Urdu Musical
(September 11, 2017)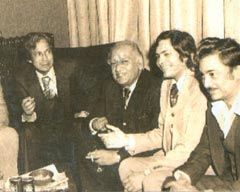 70 Years of Theatre: A Flashback Through the Ages
(August 30, 2017)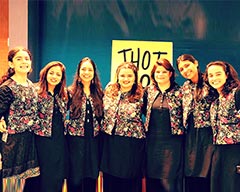 'The Khawatoons' Celebrate their First Anniversary!
(August 02, 2017)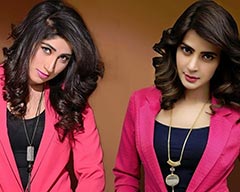 'Baaghi', a serial inspired by Qandeel Baloch
(July 31, 2017)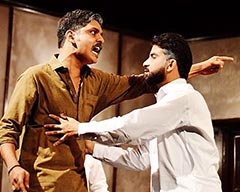 'Mulzim Ya Mujrim' – A Theatrical Production
(July 25, 2017)