Jahangirpura: Walking a Mile in Peshawari Chappal
Written by: Yusra Hussain
Posted on: June 07, 2017 |

Comments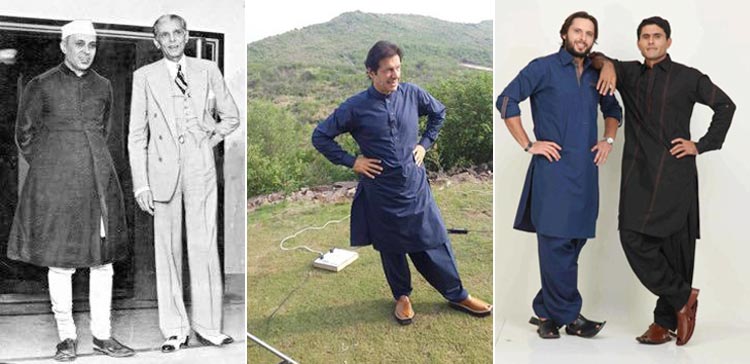 Celebrities in Peshawari Chappals (L-R): Jawaharlal Nehru, Imran Khan, Shahid Afridi and Abdul Razzaq
Amidst the crowded roads of interior Peshawar, forking into still narrower streets, you will find a famous bazaar that makes and sells the signature footwear of Pashtuns, known as Charsadda Chappal or Peshawari Chappal. This bazaar is located in the inner part of the city called Jahangirpura. Built on the quintessential old city layout, the entrance leading into this bazaar may seem confusing to those who are not locals of Peshawar. This is because the bazaar is surrounded by food and pet shops at one end, and an enormous food street – the famous Namak Mandi – at the other end. However, upon entering the market, visitors are awestruck by the chappals of numerous designs and shapes displayed on the shelves, making it irresistible to try them on and take at least one pair home.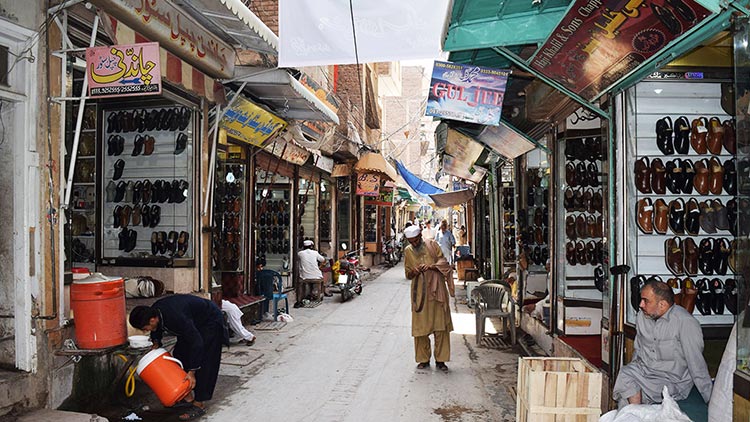 Jahangirpura, Peshawar (Source: News Lens Pakistan)
Peshawari chappal (often referred to as 'Khedi') is especially popular in the Khyber Pakhtunkhwa region of Pakistan. As the name indicates, it originated from the historic cities of Peshawar and Charsadda. Historically, these chappals were made from hard leather, with soles shaped out of the tyres of heavy automobiles such as trucks. This gave them their characteristic durability, with most chappals lasting for over ten years. This durability also favours the topography of the Pashtun belt, ranging from Mardan to Peshawar and Charsadda to Waziristan. Sturdy yet comfortable, the Peshawari chappal is perfect for the rugged terrain of this region.
A basic Peshawari chappal is made by crossing two strips of leather and joining their ends on either side of the sole. Another strip of leather is added to buckle it across the back of the foot. As these chappals combine style with comfort, they are worn on casual, semi-formal as well as formal occasions. Over the years, the Peshawari chappal has evolved from the hard leather build that was once very popular to softer suede versions that can be bought at boutique shops all over the country.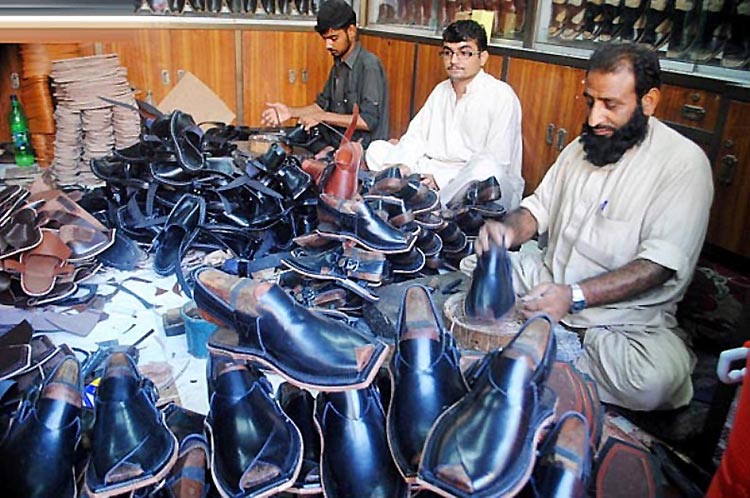 (Source: The News)
Over the last century, various national leaders and icons have worn these chappals, ranging from political figures such as Jawaharlal Nehru to sporting legends such as Imran Khan and Shahid Afridi. This has not only added to their local popularity, but also enabled them to receive international acclaim. In fact, British fashion designer Paul Smith re-introduced Peshawari chappal internationally by the name of 'Robert Sandal', priced at £300. This prompted outrage on social media among loyal Pakistani fans of the chappal. Eventually, over a thousand online petitions on www.change.org forced the designer to give due credit to the source of his inspiration, and the shoe's description on the Paul Smith website was changed to read that it was "inspired by Peshawari Chappal."
The shop owners at Jahangirpura have small workstations where the chappals are made, located either inside their shops or at a small distance from them. Initially, all of the footwear was sewn by hand. Over the years, different sewing and cutting machines came into existence, largely replacing the work done by hand. Although these machines have made the process efficient and effective, many regular customers still like to own handmade shoes. Most shops sell both handmade and machine-made chappals, the former being more expensive due to the precision of the work and the time and effort that goes into sewing each chappal by hand.
Peshawari chappals mostly consist of leather brought to these markets from the city of Kasur in Punjab. These shops have seen various innovations brought about in design and fabric across generations. Nowadays, people also wear Peshawari chappal made out of jeans and materials other than leather.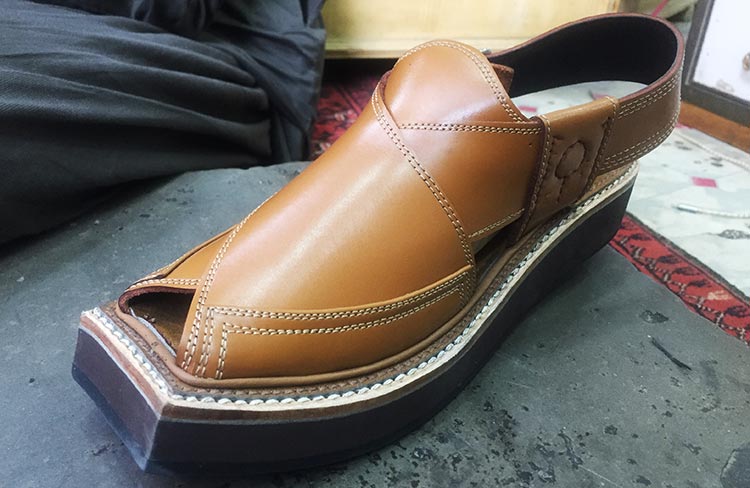 'Kaptaan Chappal', worn by Imran Khan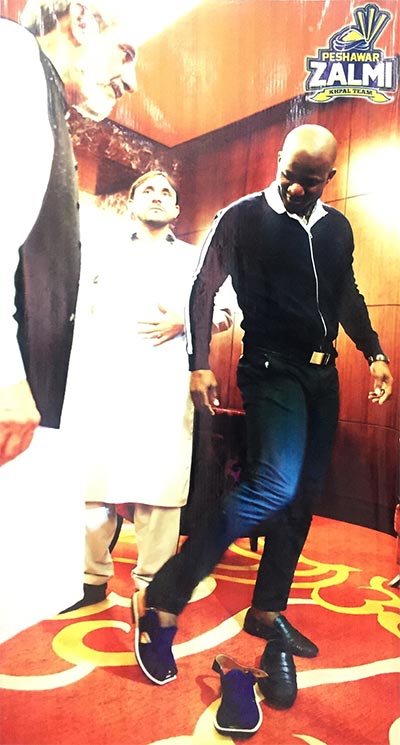 A panaflex display of Chacha Noor-ud-Din offering Zalmi chappal to Darren Sammy
One of the most interesting aspects of this bazaar is the display of pictures that show the owners presenting handmade Peshawari chappals to Pakistan's leading celebrities. The pioneer of this practice, Chacha Noor-ud-Din, became famous all over Pakistan for creating Kaptaan Chappal ('Captain's Footwear') which was presented to Imran Khan. Kaptaan fans from all over the country visit this shop to buy similar pairs. Chacha Noor-ud-Din makes these special chappals in different designs and colours, and is frequently visited by Khan himself. Chacha has also crafted Peshawari chappals for the Pakistan Super League's winning team, the Peshawar Zalmi, and even went to Dubai during the PSL tournament and personally presented them to all of the team members. Popular West Indies cricketer Darren Sammy, who was also part of the Peshawar Zalmi, was given a special royal blue chappal that he took back to his homeland as a token of love and appreciation for his time in Pakistan. Other shop owners have followed Chacha Noor Din's footsteps and started making specially designed Peshawari chappals for their favourite celebrities and presenting it to them.
Walking through Jahangirpura is a source of joy for locals as well as tourists. Visitors get their favourite pair of chappal while enjoying pictures of various celebrities giving recognition to this inconspicuous area of Peshawar that has gradually become a major part of the city's historical and cultural heritage.
You may also like: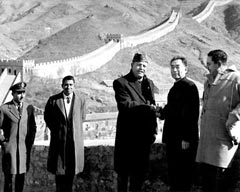 From People to People, Pakistan-China Relations since 1965
(December 12, 2017)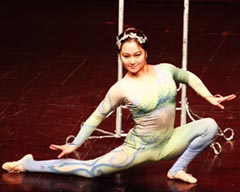 Rhythm of Liaohai Gala at PNCA, Islamabad
(December 08, 2017)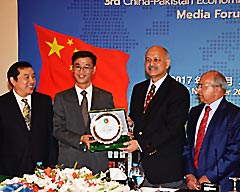 3rd CPEC Media Forum, Islamabad
(November 28, 2017)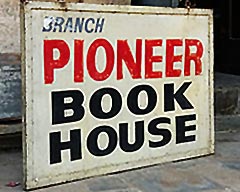 Pioneer Book House, Karachi
(November 24, 2017)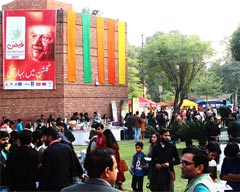 Faiz International Festival 2017
(November 22, 2017)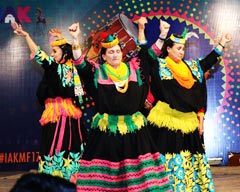 Lok Mela comes to Karachi
(November 17, 2017)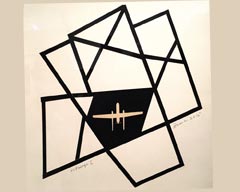 Writing Partition in Urdu
NYU's Urdu Conference
(October 13, 2017)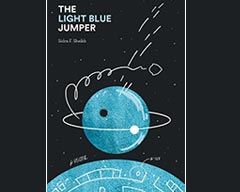 Book Review: The Light Blue Jumper by Sidra F. Sheikh (First Pakistani science fiction novel)
(October 02, 2017)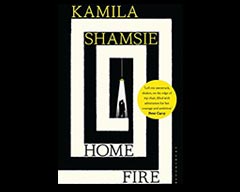 Book Review: Home Fire by Kamila Shamsie
(September 07, 2017)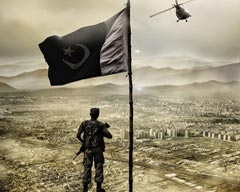 Pakistan's Armed Forces face challenges in 2017 with a New Confidence
(September 05, 2017)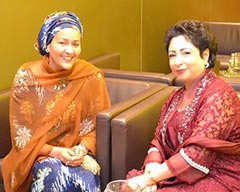 August 14 celebrations at the UN with the Sachal Orchestra
(August 15, 2017)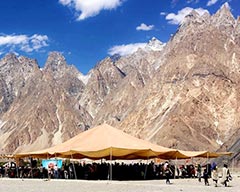 FACE Mela 2017, Passu
(August 10, 2017)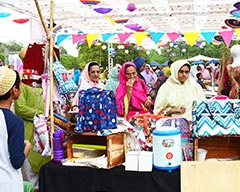 The Bohra Bazaar, Karachi
(August 07, 2017)