Art Review: Reading Between the Lines at Sanat Initiative, Karachi
Written by: Jovita Alvares
Posted on: December 05, 2017 |

Comments | 中文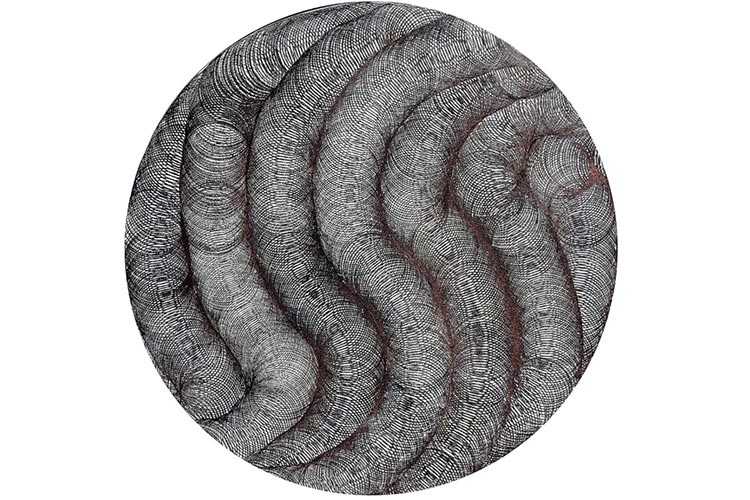 Untitled by Sidrat ul Munteha
A line is, quite possibly, the single most important factor in a visual. It allows differentiation of elements that make up an image, as well as creates forms and instructs the eye to follow. A line organizes the human world, physically, emotionally and mentally. It can also be chaotic and abstract, difficult to understand but at the same time it is independent of all these visualizations. In fact, the pictorial experience of unrest or peace, abstraction or representation, can sometimes just be determined by the direction of a line.
Aamna Hussain is curating a group show at Sanat Initiative that showcases works of upcoming graduates from various art institutes in Pakistan. Titled, 'Reading Between the Lines' the curator brought together an assemblage of talent whose concerns were propagated through their interpretation of line. The gallery displayed art by six various artists, with visuals that varied in size, medium and visual.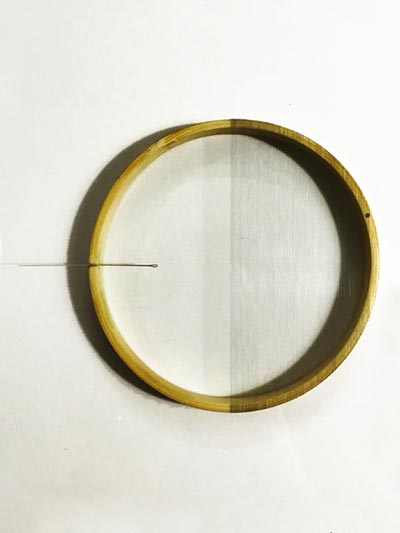 Untitled 1 by Rehman Younas
An artist that captured immediate interest was Beaconhouse National University (BNU) alum, Rehman Younas. With a degree in textile and fiber studies, Younas' interest lies in the materiality of the objects used in textile. By experimenting with fiber, the artist created multiple visuals where the audience could marvel at the appeal of something that would usually go overlooked. His focus and attention to detail was evident; one particular piece consisted of almost invisible, slender strands of yarn, delicately stretched around a wooden hoop that, ordinarily, would be used to help embroider and cross-stitch fabric. The work embodied a contrast of sensitivity and power, as the fine material displayed strength through its display, while drawing out linear patterns.
Wajeeha Batool was another BNU graduate participating in the show. Her digital prints played around with grids commonly seen on graph papers. By amalgamating geometric forms with colour, distortion and addition of elements, Batool attaches layer to the simple form and produces an exciting new optical. The rigid, mechanical form is broken with a warm play of rainbow-like hues and illusive warping that changes the grid into an organic abstraction. Further creative destruction that was particularly interesting in a piece, included squares cut in a linear pattern which somehow led the eye to believe a circle was drawn, even though it wasn't.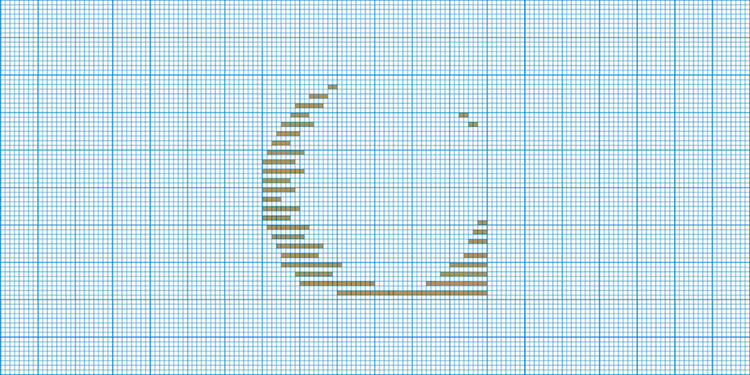 Circle by Wajeeha Batool
Also working with the layering of geometric form was artist, Sidrat-ul-Munteha. Coming from CEAD MUET, Munteha captured the attention of her audience with the painstaking layering and definition of her handmade drawings. Multiple circles deeply layered on each other filled the canvases and the lack of colour in each piece, allowed the depth of linear forms to remain the focus.
Following a similar colour scheme, Minahil Hafeez's pieces consisted of multiple short lines that collectively created a large impact. Her method of 'mark making' highlights the chaos and complications that everyone faces in their daily life, and the process of simplifying and combating the issue. By breaking down a scenario into smaller parts, it becomes easier to tackle. Hafeez's work is a visual representation of that; that huge complicated gradients can be simplified to basic lines.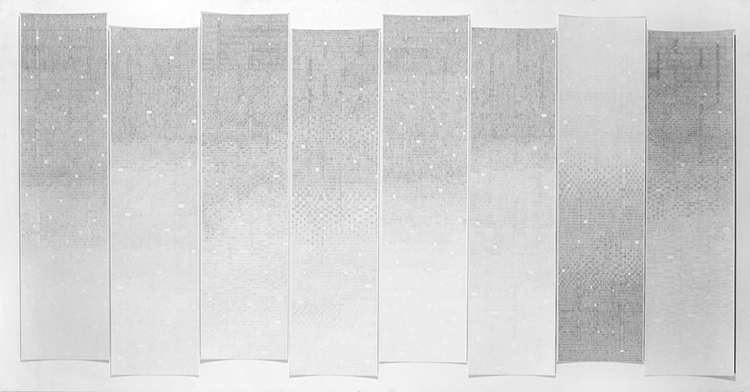 When colours turn to grey by Minahil Hafeez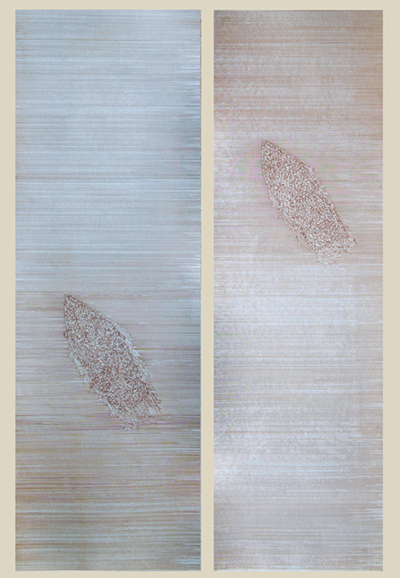 Them & Us by Onaiz Taji
Besides the abstract and geometric, two artists challenged the lines of the human form. Onaiz Taji's drawings appear to be linear organic shapes but on closer inspection are actually made up of numerous figures drawn with great detail. Trained in Indo-Persian miniature, his interest lies in capturing the disorganization of a crowd and how each individual present is unique, even among the vast numbers. His work aims at understanding the dynamics of the masses during a social event or crisis, how they come together for a common cause.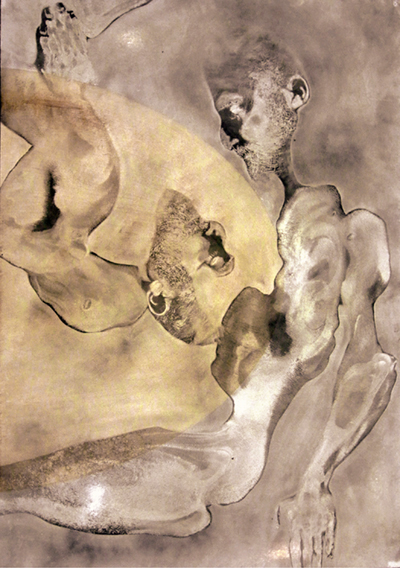 Untitled by Abdul Aziz Meer
Abdul Aziz Meer stood out for his life size impressions on paper. Done in mixed media, the artist created fossil-like images of his body in various forms and distortions. The work, like a scanned print, captured the softness of the skin and hair while creating a beautiful contrast between figuration and ambiguity, as well as cleverly encasing the moment in time.
The show is highly commendable for its exploration of line through these artists and their different representations. The visual experience from one work to the next moved smoothly, almost as if one oeuvre blended into the other but still managed to hold its own.
The show continues till 7th December 2017
You may also like: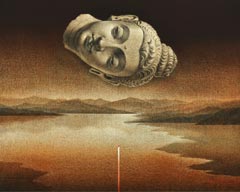 To Reflect: To Recognise
(February 12, 2018)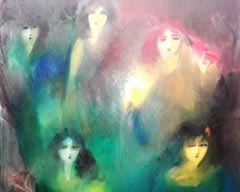 Art Review: Raja Changez Sultan at Tanzara Gallery
(January 19, 2018)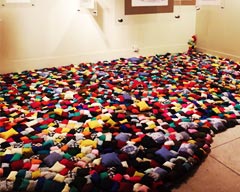 NCA Rawalpindi Degree Show 2017
(January 17, 2018)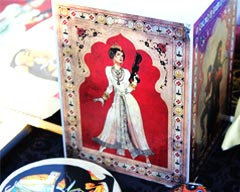 Winter Fete, Islamabad
(January 09, 2018)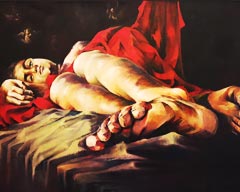 Review: 9th National Exhibition at PNCA
(January 02, 2018)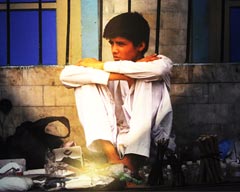 Yeh Hai Karachi 2: Photography and Film Exhibition
(December 20, 2017)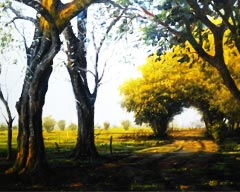 Art Review: Punjab Romanticism by Zulfiqar Ali Zulfi at Tanzara Gallery, Islamabad
(December 18, 2017)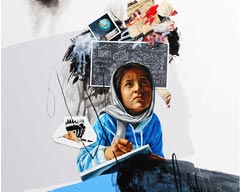 Art Review: The Onrushing 2 at Gallery 6, Islamabad
(December 04, 2017)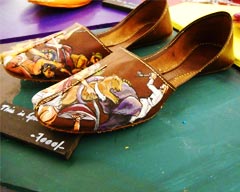 Daachi Arts and Crafts Exhibition 2017
(November 13, 2017)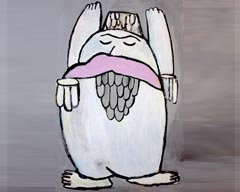 Art Review: 'Loompaland' at Studio Seven, Karachi
(November 09, 2017)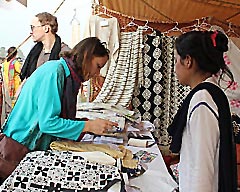 The Behbud Bazaar, Islamabad
(November 07, 2017)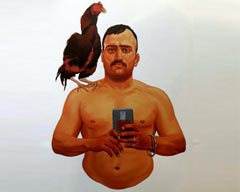 The Karachi Biennale 2017 (KB17)
(October 27, 2017)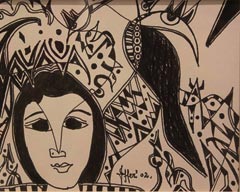 Wahab Jaffer Exhibition Opens at Tanzara Gallery, Islamabad
(October 20, 2017)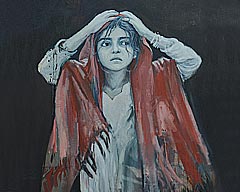 Art Review: Socio-Domestic at O Art Space, Lahore
(October 11, 2017)