To Reflect: To Recognise
Written by: Jovita Alvares
Posted on: February 12, 2018 |

Comments | 中文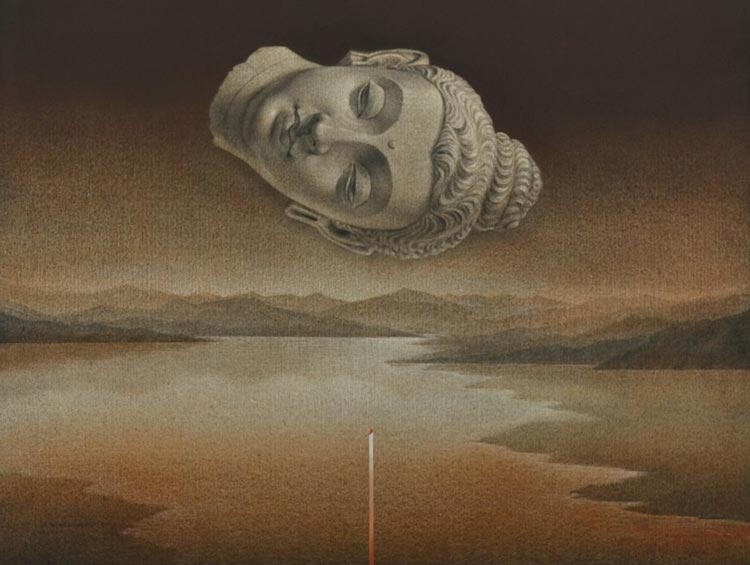 R.M. Naeem's 'Connection'
"…individuality is not only felt by the individual, but is also bestowed on the individual by the collective."[1] During our life, we take on various identities based on the people around us: we are someone's children, friends and parents. Accordingly, our mannerisms change to fit such roles. And though some facades are comparatively dominant, none of us can ever say we have lived with only one personality.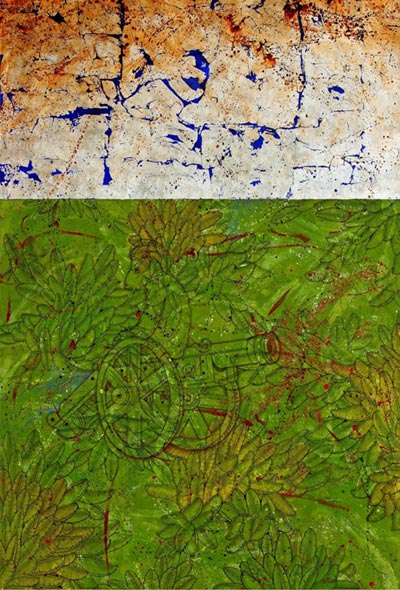 Waseem Ahmed's 'Untitled'
Among the individuals we encounter every day, only a handful have the capability to understand the complexity of multiple identities, and one such is the artist. The artist has the power to observe inward and outward, and provide an understanding for others. Recently, a group project at Sanat Initiative focused on this concept. The brainchild of Studio RM, 'Reflection' is a six person group show of internationally acclaimed Pakistani artists: Adeel uz Zafar, Ali Kazim, Mudassar Manzoor, Muhammad Zeeshan, R.M. Naeem and Waseem Ahmed. The display was massive, and erupted through the gallery space to the ground floor of the building, leading to a full house during the reception.
In order to deeply explore the multifaceted personage of the artist, each one was asked to deliver three different pieces for the exhibition. The first was a work in their respective styles, the second an artwork that strayed the tangent of that signature style, and finally a self-portrait. Alongside, each artist was to work with a photographer and writer of their choosing, which would allow them to bring forth another side of the artist.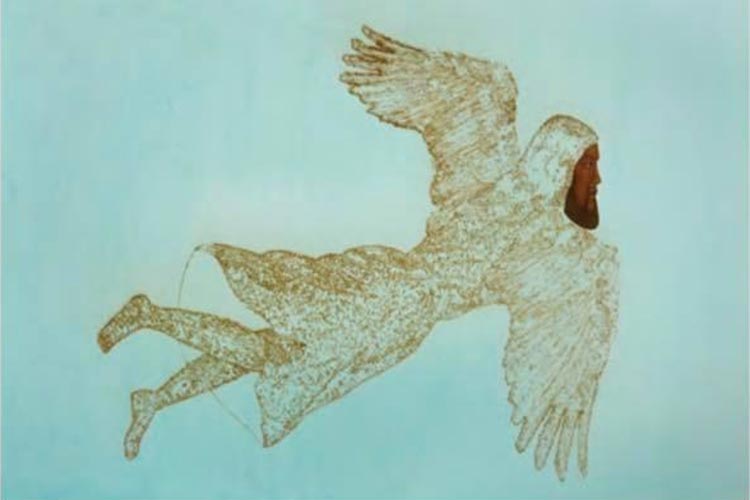 Muhammad Zeeshan's 'Laal Mary'
Let us begin with the writings; bound in a clean-cut catalogue, the writer for each artist brought out their strengths through unique text. Numair A. Abbasi explored the inner workings of R.M. Naeem through a conversation on Facebook Messenger that spanned over 16 days. The dialogue consisted of straightforward one-liners, conveying the beliefs, feelings and thoughts of the duo. Sehar Naveed discussed Muhammad Zeeshan in a Curriculum Vitae (CV). The artist's work was looked at like his business, and this was an exciting read since the artist is regularly influenced by Pop visuals and addresses consumerism through his art. Sehr Jalil took on a more abstract approach, understanding the colour green as a metaphor for Waseem Ahmed's practice, while Julius John and Sana Kazi had a more modest approach, with the former transcribing an interview with Ali Kazim and the latter reflecting on Mudassar Manzoor's work through an essay. Zarmeene' Shah took advantage of her past encounters with Adeel uz Zafar since 2014, and compiled a largely scripted text of his journey as an artist.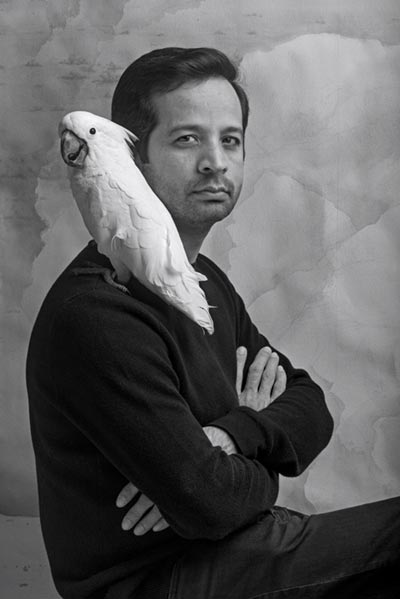 Khalil Shah's photograph of Ali Kazim
This show also looked at the relationship of photography and art; through Jaffer Hassan, Zafar was portrayed as one of his own paintings. Wrapped in gauze and posing with a skull, the satirical and playful imagery stood out and, in a way, amalgamated the visuals of his other work on display. Qudsia Shahnawaz and Hassan Rana took on digital manipulation by showing the two-sidedness of Manzoor and the otherworldly experience of Naeem respectively. Mudassar Dar explored Ahmed's use of dominant colours by giving us a monotone side profile, and Khalil Shah cleverly used Kazim's iconic pose with birds and modelled him with a majestic cockatoo against a cloudy background. Amean J took portraiture to the next level by clicking images of Zeeshan from all four angles, and placing it in a glass cube, thereby giving us an example of multifaceted.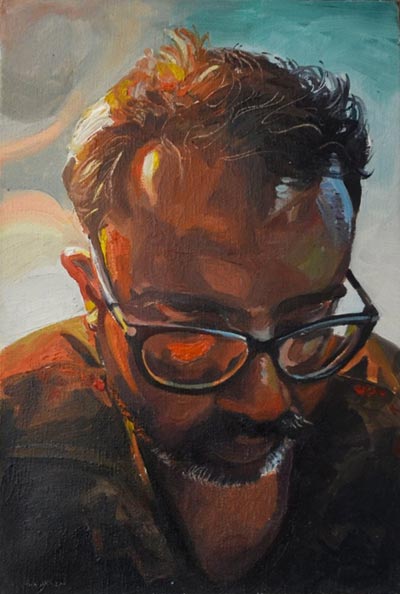 Adeel Uz Zafar's 'Artist's self portrait at the age of 42'
Through each painted portrait, the audience got a glimpse of the artist's perception of themselves. Whether it was Kazim's iconic self-portrait or Naeem's distinctive painting of his nude self, each depicted their personal side. Manzoor and Ahmed created silhouettes of themselves, while Zafar painted his current self at 42. Zeeshan allowed others to create himself where the first artist was given a mugshot and the next was given the first artist's painting of said photograph. This continued until there were eight paintings in various styles of Zeeshan, each one a continuation of the next.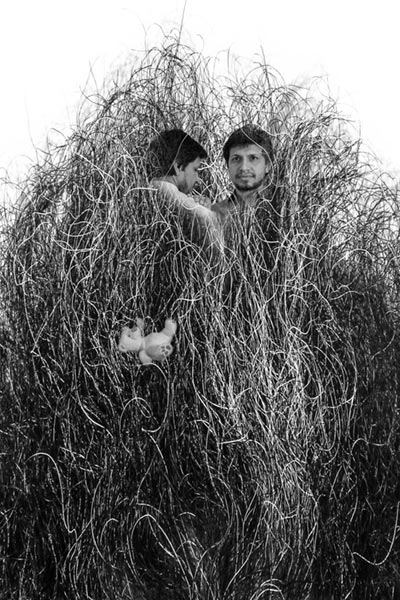 Qudsia Shahnawaz Cheema's photograph of Mudassar Manzoor
The artists are all well-known and so are their works, so what was more interesting to see, were their parallel artworks. Another fascinating work by Zeeshan was his non signature piece which, ironically, was the artist's signature on a 24 carat velvet ribbon. What was more amusing was that the piece was on silent auction, with bids placed in a small glass box. Kazim and Naeem explored sculpture in their pieces. Manzoor took on an interesting approach by taking figures from his distinctive practice, and giving them a faded grey background that was similar to the self-portrait. Zafar moved away from his toys and looked at the wrapping of a human skull, and Ahmed moved to explore photography.
The show was a great success, as it thoroughly explored variations in identity and cleverly shed light on what it means to be an artist in the 21st century.
---
[1]Julius John, 'Conversations over tea with Ali Kazim', catalogue 'Reflection' by Sanat Initiative, Pakistan, 2018
You may also like: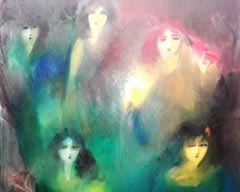 Art Review: Raja Changez Sultan at Tanzara Gallery
(January 19, 2018)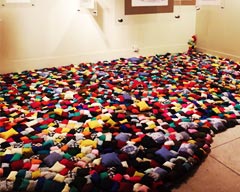 NCA Rawalpindi Degree Show 2017
(January 17, 2018)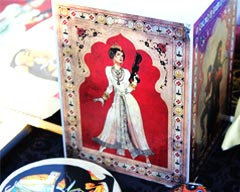 Winter Fete, Islamabad
(January 09, 2018)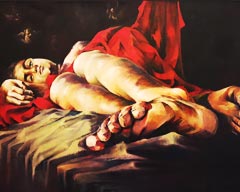 Review: 9th National Exhibition at PNCA
(January 02, 2018)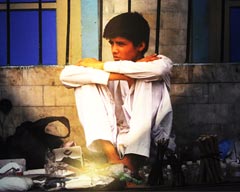 Yeh Hai Karachi 2: Photography and Film Exhibition
(December 20, 2017)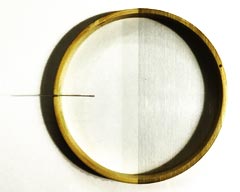 Art Review: Reading Between the Lines at Sanat Initiative, Karachi
(December 05, 2017)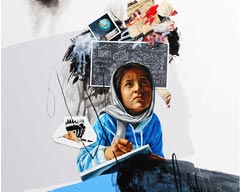 Art Review: The Onrushing 2 at Gallery 6, Islamabad
(December 04, 2017)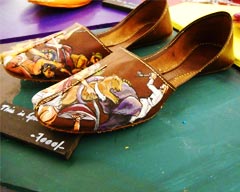 Daachi Arts and Crafts Exhibition 2017
(November 13, 2017)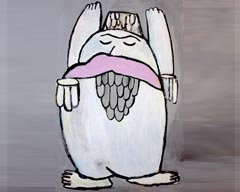 Art Review: 'Loompaland' at Studio Seven, Karachi
(November 09, 2017)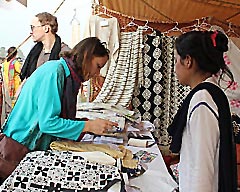 The Behbud Bazaar, Islamabad
(November 07, 2017)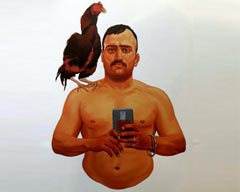 The Karachi Biennale 2017 (KB17)
(October 27, 2017)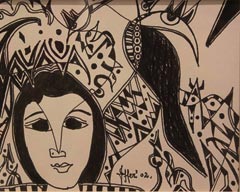 Wahab Jaffer Exhibition Opens at Tanzara Gallery, Islamabad
(October 20, 2017)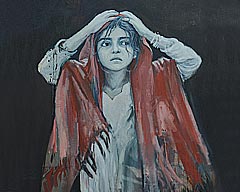 Art Review: Socio-Domestic at O Art Space, Lahore
(October 11, 2017)