Reviving Legends: Shah Abdul Latif Bhittai
Written by: Mahnaz Shujrah
Posted on: October 13, 2016 |

Comments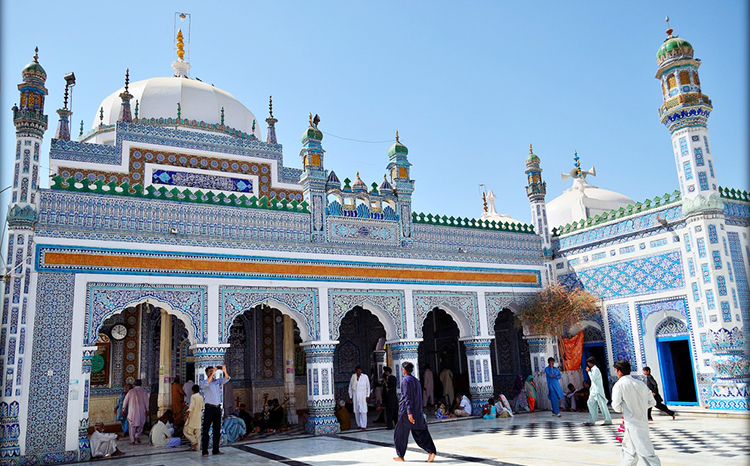 Shrine of Shah Abdul Latif Bhittai (photo: Ahsan Riaz Chaudhary, Flickr)
Paar chanaa de disse kulli yaar di
Ghariya ghariya aa ve ghariya
Right there across the Chenab River
Lies my beloved's hut
Come on, clay pot, let us keep moving
Raat haneri nadi thathaan maardi
Ariye ariye haan ni ariye
The night is deathly dark
The river waves surge high around us
Oh listen, girl, don't be stubborn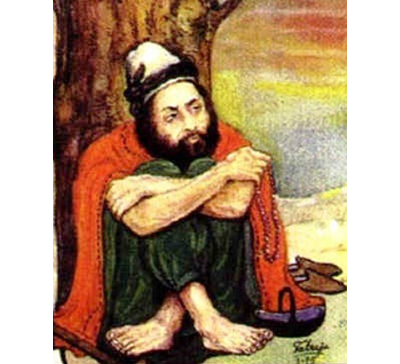 A recent painting of Bhittai
Paar Chanaa De, recently featured in Coke Studio season 9, touched many hearts. Sung by Noori and Shilpa Rao, the song relives the age-old story of Sohni-Mahiwal (also referred to as Sohni-Mehar) and their struggle to be together. I remember listening to this song recently and how it transported me back to my childhood, when my father first told me this story, along with countless others. The special thing about a good storyteller is that they bring the characters to life and make each situation compelling, describing everything as if it were happening right before your eyes. This enables you, the listener, to really step into every character's shoes. My father used to tell me the stories of such a storyteller, named Shah Abdul Latif Bhittai, and I have always been fascinated by his work.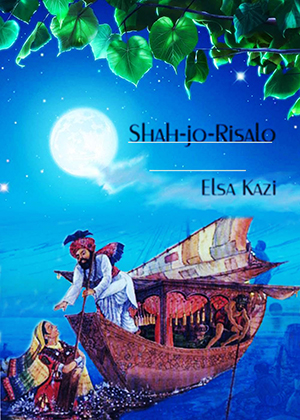 Shah Jo Risalo
Bhittai was a renowned Sindhi Sufi poet and scholar, who lived during the 17th century in Bhit Shah, Sindh. His poems and other work were compiled in Shah Jo Risalo, which has been translated into Urdu and English. The Risalo is written in poetic verses, and there are more than 30 surs (a mode of singing), as most of these stories are originally found in vernacular vocal traditions. Bhittai's work is comparable in stature to that of Bulleh Shah, as well as Maulana Rumi, who was also one of his inspirations. The language he uses is very traditional Sindhi, which is sometimes hard to understand for younger generations. But once you are able to comprehend his words, the themes and lessons found within are such that they stay with you for a lifetime.
Bhittai's stories were part of ancient folklore that has been passed down for generations, and one cannot be certain about the time of their origin, or whether they are even true in their present form. Different regions in the country have adopted the stories to match their landscapes and values, with different poets quoting the same characters time and again.
According to legend, Sohni was the daughter of a potter who worked to decorate the pots at her father's shop. Shahzada Izzat Baig, a rich tradesman from Uzbekistan, saw Sohni while on business, and fell in love with her. He would buy pottery from the shop every day just to get a glimpse of her. Sohni also fell for Izzat, and instead of going back with his caravan, he stayed and worked in the area as a buffalo herder, and became known as Mahiwal. However, a girl from the Kumhar could not marry an outsider, and Sohni was soon married off to another potter, whom she did not desire. Mahiwal left every worldly possession and moved to a small hut, across the river from Sohni's home, where he would tend to his buffalo. The lovers would secretly meet every night. Sohni hid a clay pot that she used to cross the river every night to meet Mahiwal.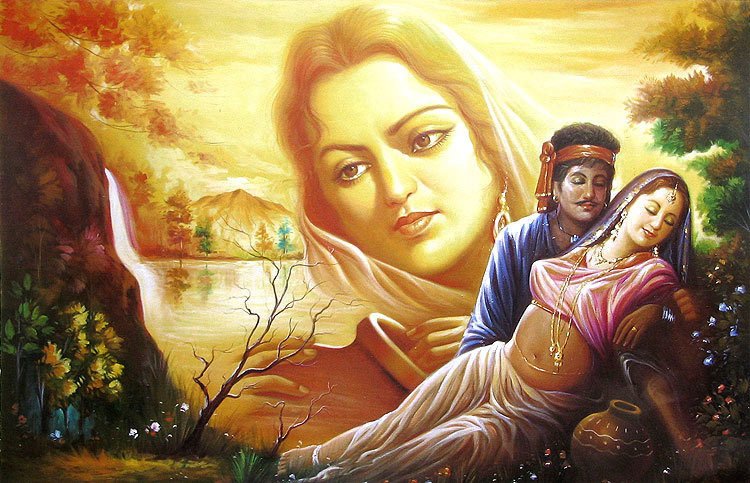 Sohni Mahiwal
Sohni is just one of the seven heroines that Bhittai writes about in his Shah Jo Risalo. The others are Marui, Momal, Sassui, Noori, Sorath, and Leela. My passion for these stories compelled me to not merely read about them, but also physically visit the places referred to in the poems. Whether it was walking on the desert where Sassui wandered for days, or visiting the grave of Noori in the middle of Keenjhar Lake, I wanted to truly understand and empathize with these characters.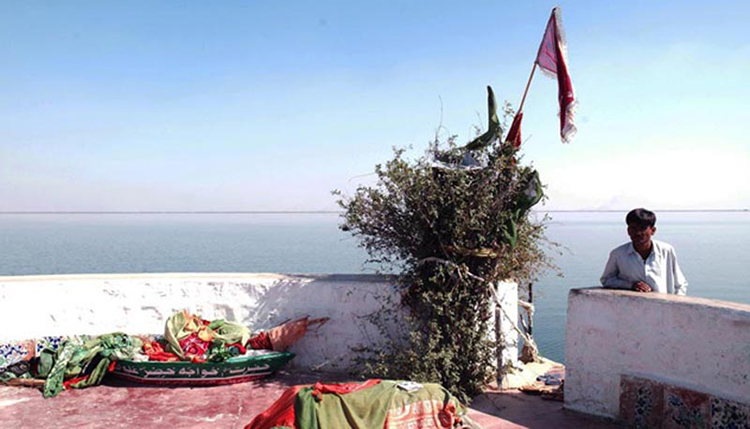 Historic gravesite of Noori Jam Tamachi (source: Dawn)
When Bhittai first heard these stories, he travelled all over Sindh, traversing the same paths as the characters and experiencing what their struggle must have been like. He idealizes their commitment, faith, determination, ambitions and struggles. Being a girl, it was exciting for me to see the females in powerful lead roles. They are the true heroes of the stories, sacrificing all for what they believed in and never giving up.
Keeping in mind that Bhittai was a Sufi poet, most of his work has several interpretations. Through these romantic tales, in which the character undertakes a journey to seek their beloved at all costs, Bhittai can also be interpreted in terms of the spiritual journeys of his characters: cleansing themselves of the evils around, attaining purity, and sacrificing the pleasures of this world for something greater.
The song I mentioned in the beginning is the dialogue between Sohni and her Gariya (clay pot). One night, as she goes to cross the river, she notices her pot has been replaced by a pot of unbaked clay. She then realizes that her sister-in-law spied on her, saw where she used to hide the pot, and replaced it. Nonetheless, she is determined to meet Mahiwal at any cost, as he must be waiting for her. She sets out and halfway through, the pot dissolves, leaving Sohni struggling. Upon seeing this from the other side, Mahiwal jumps into the river to save his love, despite being aware that the odds are against him. They both drown in the river that night.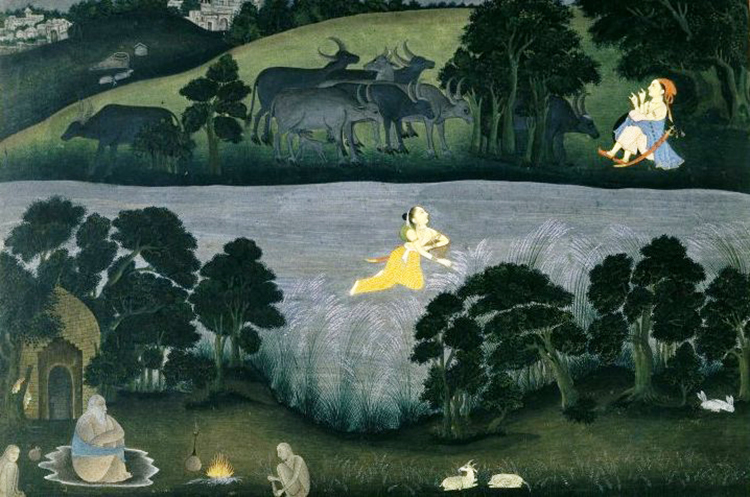 Sohni swims to meet Mahiwal
Like most of his work, Bhittai's Surs about the moment when Sohni is about to cross the river for the last time are profound. One cannot help but feel her pain and helplessness. Bhittai brings to life a lot of existential questions, some of which can perhaps only be answered when we find ourselves in front of that river, deciding whether to cross or run away.
You may also like: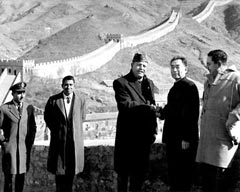 From People to People, Pakistan-China Relations since 1965
(December 12, 2017)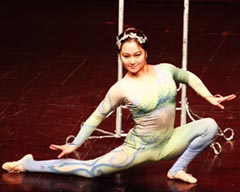 Rhythm of Liaohai Gala at PNCA, Islamabad
(December 08, 2017)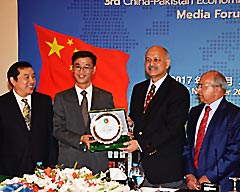 3rd CPEC Media Forum, Islamabad
(November 28, 2017)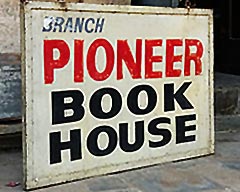 Pioneer Book House, Karachi
(November 24, 2017)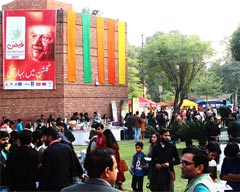 Faiz International Festival 2017
(November 22, 2017)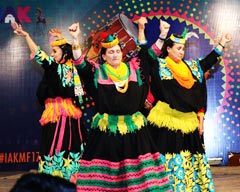 Lok Mela comes to Karachi
(November 17, 2017)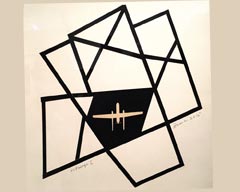 Writing Partition in Urdu
NYU's Urdu Conference
(October 13, 2017)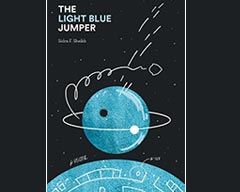 Book Review: The Light Blue Jumper by Sidra F. Sheikh (First Pakistani science fiction novel)
(October 02, 2017)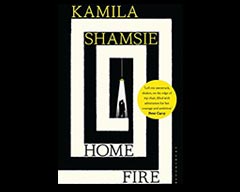 Book Review: Home Fire by Kamila Shamsie
(September 07, 2017)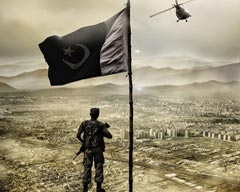 Pakistan's Armed Forces face challenges in 2017 with a New Confidence
(September 05, 2017)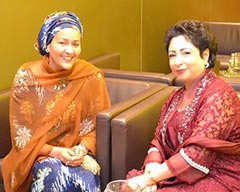 August 14 celebrations at the UN with the Sachal Orchestra
(August 15, 2017)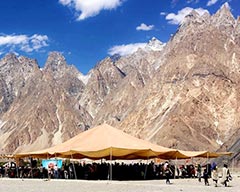 FACE Mela 2017, Passu
(August 10, 2017)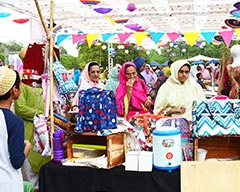 The Bohra Bazaar, Karachi
(August 07, 2017)