THE CHINESE SPRING FESTIVAL

Posted on: February 10, 2013 |

Comments | 中文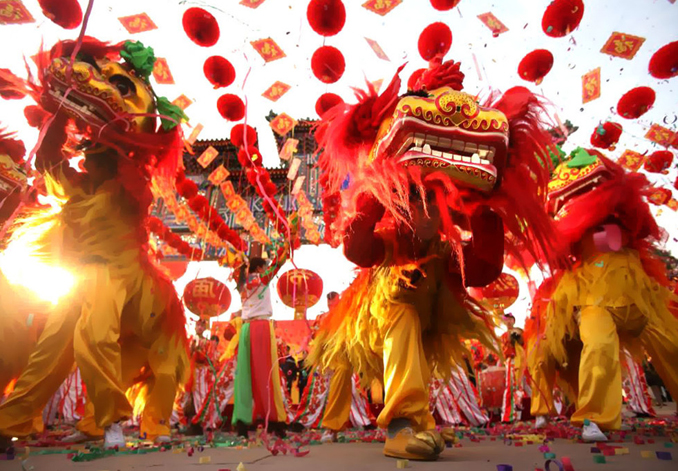 The Spring Festival of China is the grandest cultural event in the country, with over 4000 years of history and the longest celebration time. The most important date of the festival that spreads over several weeks, is the first day of the first month of the lunar calendar. This is followed by an official week-long holiday during which the country comes to a standstill and everyone takes leave from work to be with their loved ones. Before New Year's Eve, the country witnesses a human migration of magnificent proportions as all the Chinese people travel to their hometowns to rejoin their families. In 2013, the New Year falls on February 10th, and, according to Chinese tradition, the day will usher in the Year of the Snake.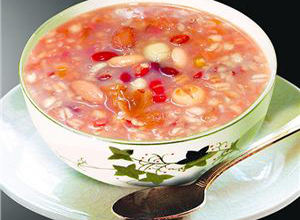 bowl of porridge
Preparations for celebrating the coming of the new year or 'Seeing the New Year in,' begin with the Laba Festival, on the 8th day of the twelfth lunar month. On the occasion, a traditional sweet dish laba, resembling porridge with several ingredients, is eaten. Preparations for New Year festivities get underway after the 23rd day of the twelfth lunar month, known as Preliminary Eve. The home and all articles of personal use are thoroughly cleaned. Food - including chicken, beef, fish, duck, rice, flour, oil, fruit, candy and different kinds of nuts - is purchased in heavy quantities, along with gifts for friends and relatives, new clothes and shoes for children, and brightly colored decorations. Homes are adorned with special Spring Festival couplets, featuring Chinese calligraphy in black ink on red paper. While the characters signify several different wishes, such as for good fortune or prosperity, it is essential to put up the Chinese character for happiness, 'fu'. Elaborate cutouts of red paper pasted on window glass are also a common sight.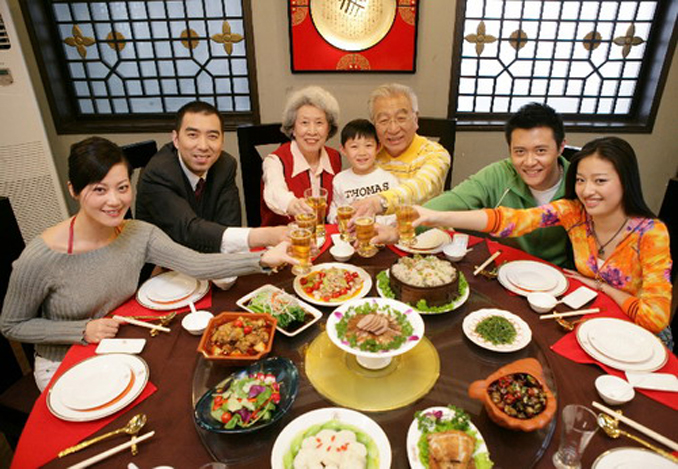 Family sitting together
The Spring Festival Eve is significant as families gather to see the new year in together. The highlight of the evening is a sumptuous dinner featuring a number of dishes, three of which – chicken, bean curd and fish – form the most essential elements, because their Chinese names – ji, doufu and yu, respectively – mean auspiciousness, riches and abundance.
On New Year's day, children receive gifts of money wrapped in red paper, and traditional breakfasts are eaten _ jiaozi or dumplings in northern China and niangao, a glutinous rice flour cake, in the South. In the days that follow, communities indulge in traditional performances such as the lion dance and the dragon dance. The end of the Spring Festival is marked by the Lantern Festival.
You may also like: