The Walnut Trees of Xinjiang
Written by: Wang Sufen
Posted on: November 23, 2017 |

Comments | 中文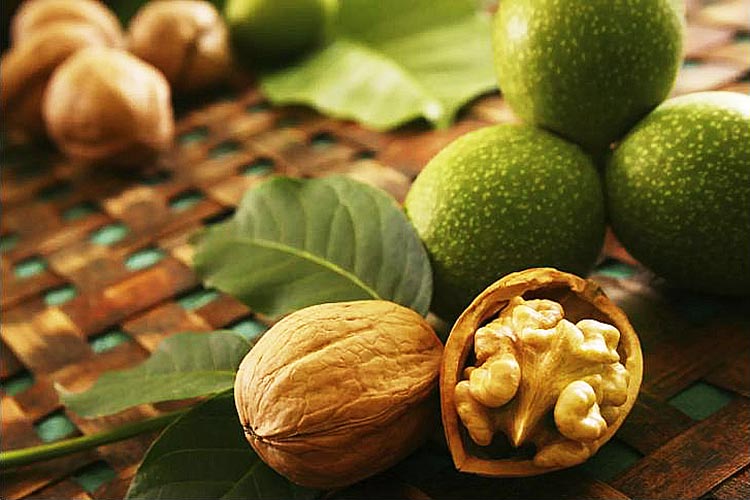 Walnuts from King of Walnut Trees (Source: Tours Xinjiang)
For people living at the oasis of Taklimakan Desert, September is an important month of the year. It is considered the harvesting month, in which the walnut trees spread out over thousands of hectares, become covered with fruits. Several areas in Xinjiang are well-known for walnuts, such as Yecheng (Kargilik) County of Kashgar Prefecture, Pishan County of Hotan Prefecture and Wensu County of Aksu Prefecture.
The harvest of walnuts is also called, "Hitting the Walnuts." It has ceremonial importance for local farmers, and the celebration activities of "The First Hitting" are held in many places. Various stories exist about the ancient walnut trees while the unique walnut bazaar is worthy of a visit.
Anecdotes and Legends about the Ancient Walnut Trees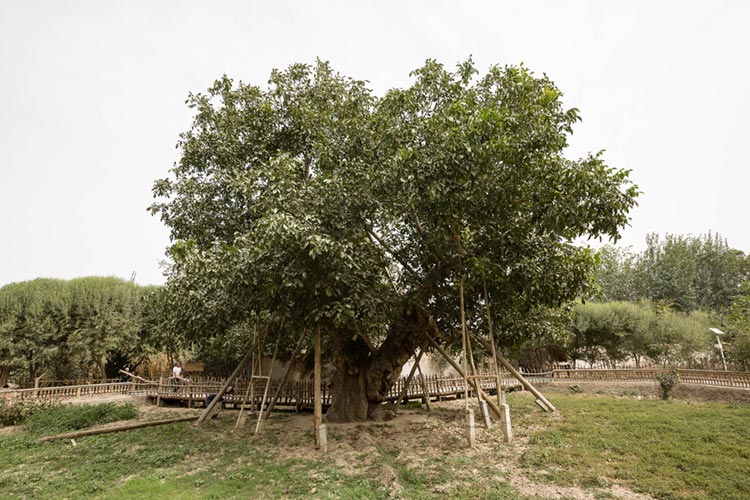 The King of Walnut Trees in Hotan (Source: The Longest Way)
As a kind of long-life species, walnut trees have a long cultivation history in Xinjiang. The ancient walnuts found in Tuokuzisalai Ruins (The Nine-Storey Pagoda) of Tumxuk, Kashgar Prefecture, and those found in the ancient tomb of Astana, Turpan city, have proved that Xinjiang started cultivating walnut trees as early as 1,300 - 1,500 years ago.
Walnut trees are planted in many parts of Xinjiang, from Yutian County in the south to Bole in the north, from Tashkurghan in the west to Hami in the east, from Turpan Depression where the altitude is close to the sea level to Sangzhu Township of Pishan County where the altitude is about 2,300 meters above sea level. Among them, the walnuts from the oasis around the Tarim Basin are best in both quality and output. The produce of walnuts from here is exported to Europe and the United States.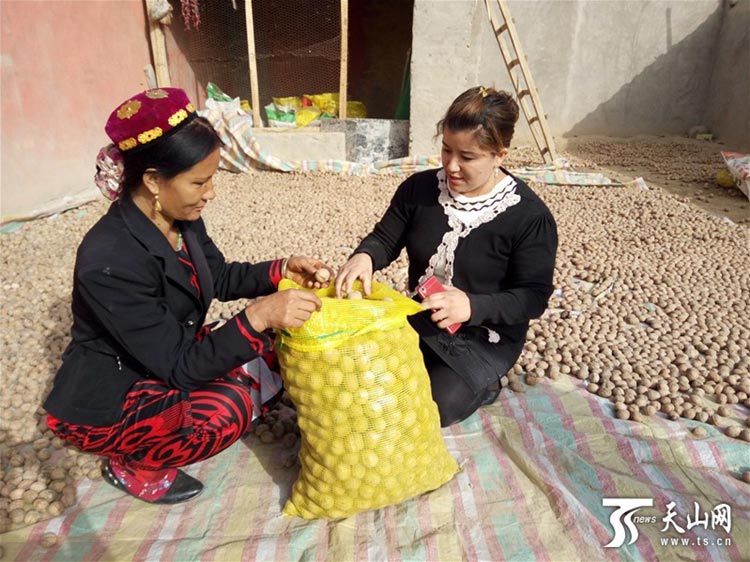 Walnuts picking in Yecheng County (Source: TS)
For more than a thousand years, the people of Xinjiang have cultivated walnut trees. An ancient walnut tree in Kekeya Township of Yecheng (Kargilik) County is flourishing and full of vitality to this day. Within just a kilometer of this, there are over a hundred ancient walnut trees, which are more than 500 years old.
There are seven ancient walnut trees in Sayibag Township of Yecheng (Kargilik) County, which are regarded as "The Seven Sacred Walnut Trees". Among them, the two oldest trees are more than 850 years old, with a diameter of 1.55 meters and the height of 25 meters. The other four trees are between 500 to 800 years old, and the youngest one is close to 300 years old. The Seven Sacred Walnut Trees are still high yielding today, and the highest annual output is more than ten thousand walnuts.
In Hotan, there are three famous trees that the local people surely recommend, one of which is the "King of Walnut Trees." This ancient walnut tree, in Bageqi Township of Hotan County, is more than 1,300 years old. Its trunk can only be embraced, if five people clasp each other's hands. This ancient tree still produces more than 6,000 walnuts each year, often regarded as a type of "longevity fruit." The "King of Walnut Trees" is also titled as "Zhuangyuan Tree," which means it can bless students with high scores, "Shouxing Tree," which means it can bless people with long lives and "Sacred Tree," which means it can bring people good luck.
Thus, Hotan is called, "The Hometown of Walnuts," since many houses of the local farmers are surrounded by walnut trees, These are not only financially beneficial for them, but also act as wind breakers and sand blockers, offering a cool and green environment.
The Popular Walnut Bazaar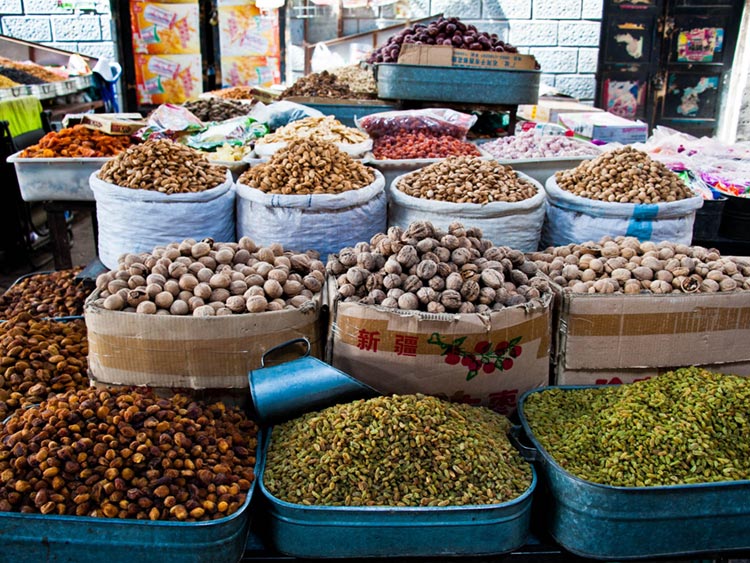 Dried fruit bazaar Kashgar (Source: Serious Eats)
In addition to the newly-built spacious Walnut Trading Center in Yecheng (Kargilik) County, there is also an old Walnut Bazaar in the suburbs, which the locals are familiar with.
At the bazaar, walnuts are put into gunny bags and nylon bags, and are placed in carriages, donkey carts, tricycles or four-wheel tractors. Some are simply piled up into the tractor hoppers. The tractor drivers and the carters are often walnut farmers themselves, whose fingers get dyed black, due to the peeling of walnut husks.
The bazaar is famous in Xinjiang, and as a popular wholesale market, it attracts many walnut dealers. Walnut farmers from nearby counties, such as Zepu (Poskam) County and Pishan County, also bring their produce to this market. Buyers at the market include purchasing agents from other places as well as local walnut businessmen. Some retailers and tourists visit the bazaar just to observe its bustling atmosphere.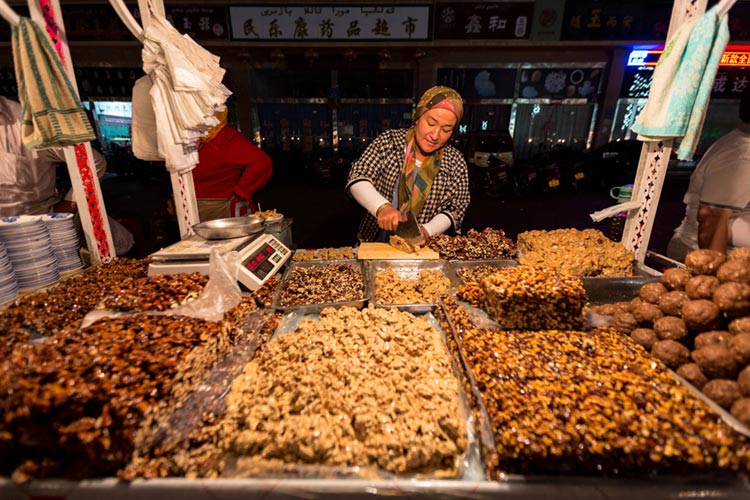 Walnut Cake being sold in Hotan (Source: The Longest Way)
There are many varieties of walnuts in the market, such as Paper Shell Walnuts, Thin-Shelled Walnuts, and Precocity Walnuts. Green-husk walnuts, peeled fresh walnuts and dried walnuts are all available. Kargilik Wild Walnuts have small walnut kernels, which have not been genetically modified. Despite the small kernel, this kind of walnut has high oil components, and those who recognize good quality walnuts will certainly buy some.
As a tourist, buying walnuts at the bazaar won't really save you money. However, you will end up with real walnuts, as well as an experience of the traditional charm and atmosphere of a bazaar, one which has existed for more than a thousand years.
Translated by Yang Keli

You may also like: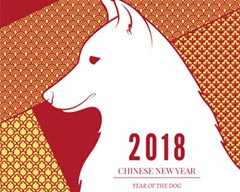 Significance of the Year of the Dog in Chinese Astrology
(February 16, 2018)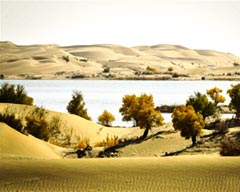 The Restoration of Taitema Lake
(February 13, 2018)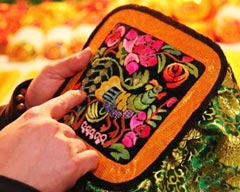 Female Embroiderers of Xinjiang
(February 08, 2018)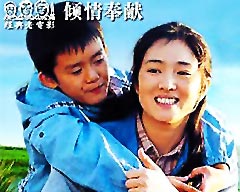 Chinese Film Month begins in Islamabad
(February 08, 2018)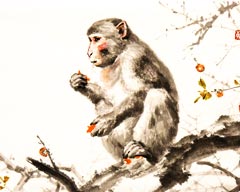 The Monkey in Chinese Culture
(January 31, 2018)
Etles Silk from Tianshan at China Fashion Week
(January 24, 2018)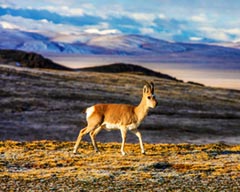 Hoh Xil: Kingdom of Wild Animals
(January 18, 2018)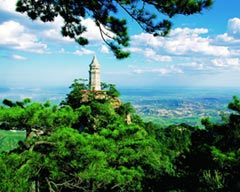 Panshan Mountain of Ji County
(January 11, 2018)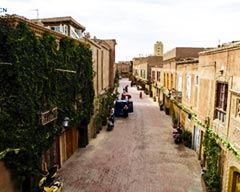 Stories from the Old Town of Kashgar
(January 04, 2018)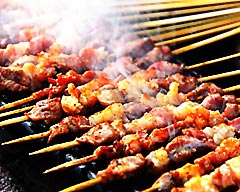 International Cuisine in Urumqi
(December 27, 2017)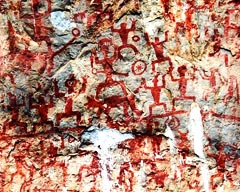 Zuojiang Huashan Rock Paintings, Guangxi
(December 19, 2017)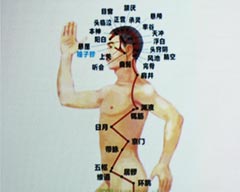 Seminar on Chinese Outlook on Life and Contemporary Value of Chinese Medicine
(December 15, 2017)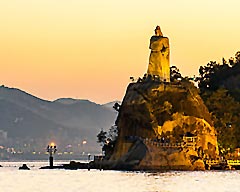 Gulangyu Island: The Island of Music
(December 13, 2017)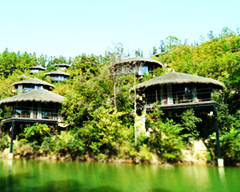 Mogan Mountain Farm Villas
(December 06, 2017)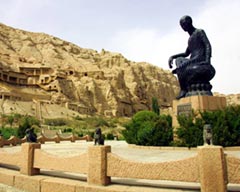 Kuqa: The Old Town on the Silk Road
(November 29, 2017)