DISCOVERING ITALY: PART I - NICE TO CINQUE TERRE
Written by: Dr Dushka H. Saiyid - Posted on: August 28, 2012 |

Comments | 中国 (Chinese)
Google Translation: اُردو | 中文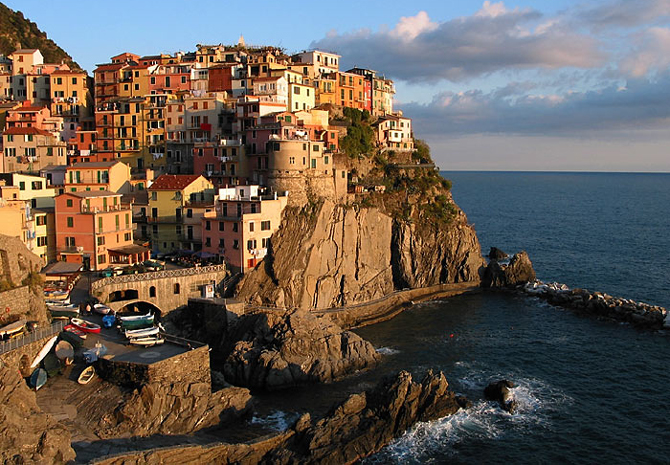 Italy as a holiday destination is irresistible. The cradle of Roman civilization and the birth-place of Italian Renaissance, its long and narrow land protruding into the blue Mediterranean, bestowing it with thousands of miles of beaches. Take your pick as to what interests you: as a history buff in search of the legacy of Caesar and Cicero, or as an art aficionado, thirsting for a first-hand look at Michelangelo or Bernini's work, or just a sun worshipper, who wants to soak in the beach culture and swim in the sea.

CINQUE TERRE

We chose to start our Italian trip from Cinque Terre (five villages), a part of the Italian Riviera in the region of Liguria. Their remoteness, picturesque villages, combining good hiking trails with beaches, no motorized traffic (cars and motorbikes are banned), was appealing. These villages date back to the medieval times, if not earlier, and were primarily fishing villages. Till a couple of decades ago, they were not on the tourist trail. Far from a big city, the nearest being Genoa, they retain some of their rustic flavor. Not surprisingly, there are hardly any hotels, and tourists have to make do with rented apartments.

It is their topography that has endowed them with fascination for the visitor: clinging precipitously to cliffs, most have access to the blue Mediterranean, while hills of green terraced vineyards provide them with a stunning backdrop. No wonder they have been declared a UNESCO heritage site.

The villages are connected by a local railway, which runs along the curving coastline, and the Sentiero Azzurro or coastal pathway, which runs along the side of the cliffs, over-looking the blue sea. The choice is between walking, taking a boat or a train. Since the boat comes at long intervals, the options are further reduced, and although bicycles are allowed, I didn't see any.

We landed in Nice, and took a train to Riomaggiore, which has the rare advantage of having a decent hotel.

RELATED STORIES:
You may also like: