ALIA BILGRAMI: THE ARTIST REVEALED
Written by: Adeel Wahid - Posted on: January 02, 2014 |

Comments | 中国 (Chinese)
Google Translation: اُردو | 中文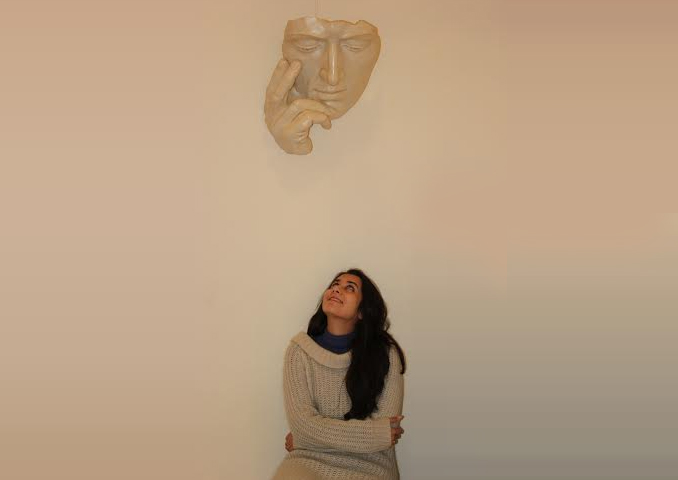 The seven year old Alia Bilgrami must have watched her family packing to leave for Pakistan with bewildered, puzzled eyes. She was born in Canada and spent the most malleable years of her life there. It was in Canada that her mother passed away, leaving a void so early on in her life. This family migration following the death of Alia's mother at such a tender age must have left an indelible mark on her mind since we see her ingeniously exploring the various dimensions of "displacement" in her artwork. "It is not with the locality or geography of a place that one has the primary emotional attachment with, but it is the relationship with an individual or individuals one has at a particular place which is hard to get over," says Alia. The relationship she had witth her mother could not be reproduced; the migration henceforth displaced her from the place where she had the fondest memories of her most cherished relationship.
After having moved to Karachi, Alia's father would often find the walls of their house embellished with drawings in crayon and lipstick, as Alia tried expressing herself using the walls as canvases. He has preserved every painting she had painted from the very beginning, proof of an atmosphere which encouraged the talent and potential she began to display early on.

Left Behind
However, it was not always encouragement that she received in her life. "You do not know how to draw." These words from Alia's A-levels art teacher must have cut deep. The statement must have motivated her to prove her teacher wrong, and it is safe to assume that it may have been in some way responsible for elevating her work to the level it has reached today. Perseverance in the face of doubt and overcoming ones fear of failure is the surest way to great accomplishment. "Call it reverse psychology, but then art is what I wanted to do," Alia refers to that time. After all, as her sisters and stepmom told her, "Anybody can do business, but really few people can be good artists". It was the difficult that she chose over the conventional; at one point she seriously considered Chartered Accountancy as a profession, but it was to Indus Valley School of Art and Architecture she went, after which she did her Masters in Fine Arts from Central Saint Martin College of Art and Design in UK.
Alia is an artist recognized both nationally and internationally. Her art work has been displayed in the galleries of Lahore, Karachi, Islamabad and even London. She has done three solo shows, with the recent most being at Rohtas Gallery, titled Tulipmania. Alia is also the curator at Khaas Gallery in Islamabad having previously worked as an assistant curator at Rohtas Gallery.
"There has to be some thought behind the art", says Alia Bilgrami, "And there has to be effort and skill involved in creating it." Whether it is her intricate contemporary miniature paintings or her solar plate etchings, her labor intensive techniques manifest themselves fully in her work. It is toiling with ones hand which fascinates her and which, in her view, adds a richer meaning to a particular thought. "Art has to be interactive," Alia elaborates. "An artwork has to convey the message of the artist and the viewer needs to connect with that, and it is only with this connection that the objective of the artist is fulfilled".
The overwhelming thought behind her work is "displacement", whether it is physical, emotional or even spiritual. As she moves away from using cardboards as symbols to stimulate the feelings associated with movement and migration, she is now experimenting with the same concept using tulips. Her recent work at display at Rohtas also carries an ingrained socio-political element since it is impossible, as she tells us, to be nonchalant to the turmoil afflicting Pakistan.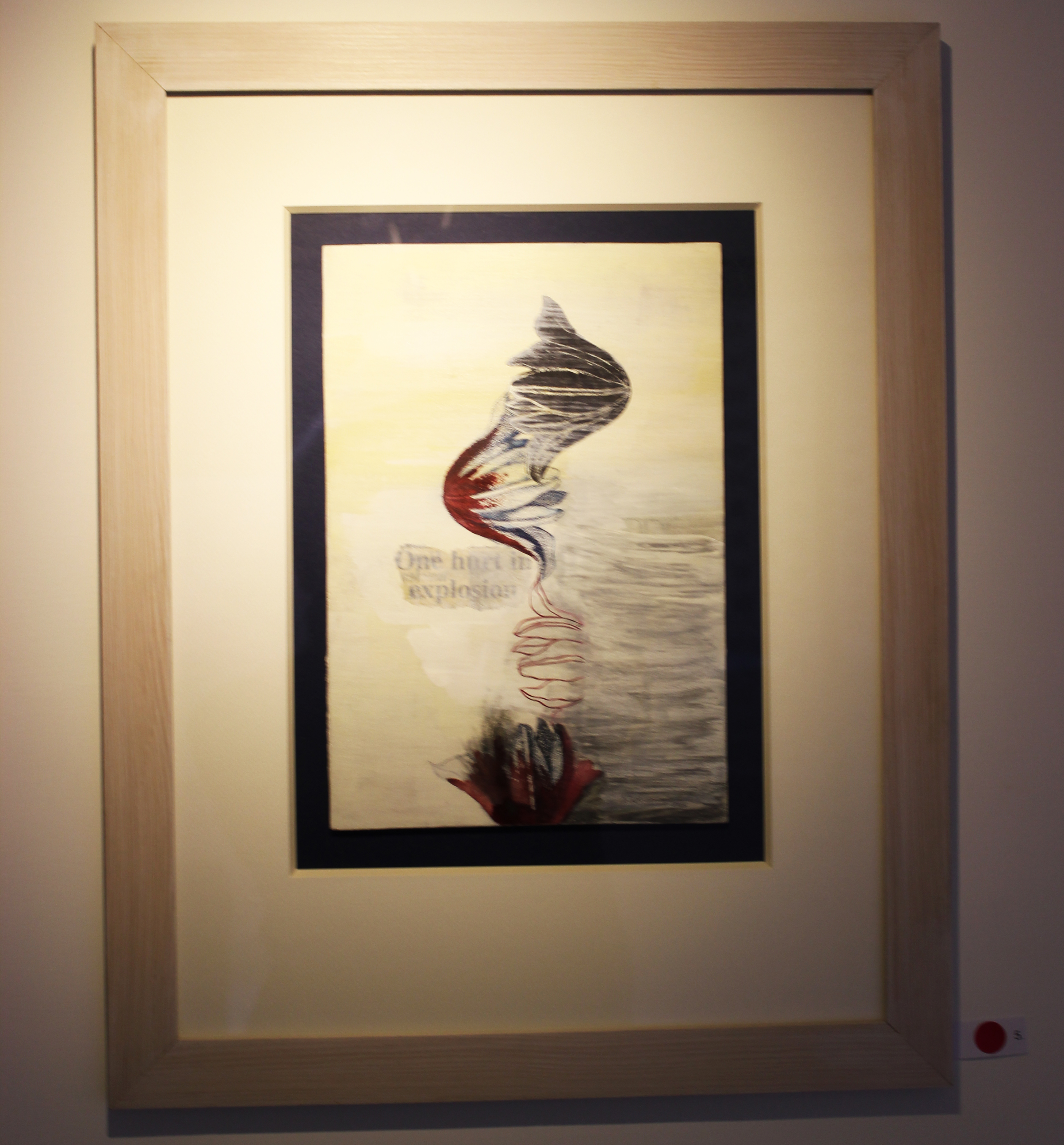 "One"
Her artwork "One", carries a headline from a newspaper amidst mourning tulips, lamenting the injury of one person in a bomb blast. The news has made the person as the anonymous statistical "one", but this individual must have been associated with a number of people who must have been deeply affected by the incident. "This 'One'," says Alia, "could have been the sole breadwinner of his family, a loved son, father, brother and so much more". It is the emotional displacement of the victims and their relatives that Alia tries to bring to the fore.
It is never an easy thing to leave behind one's home, family and possessions and move to different place altogether. This fact is fully realized by Alia as she tries to display through her art work the internal struggle the individuals have to undergo in leaving behind everything and finding a new home.
"Being brought up in Pakistan", as Alia tells us, "one is repeatedly exposed to the phenomenon of displacement since our history requires us to pay attention to it". In 1947, around twelve million people left their homes, families split, possessions were all left behind as the people of the subcontinent tried to make it to the right side of the newly created border. During the cold war, the Afghanis migrated to Pakistan, many of them ending up on the streets as beggars. Then being brought up as Muslims, we recognize the hardships of the early Muslims as they migrated from Makkah to Madinah in order to escape oppression at the hands of the Makkans. What Alia tries to highlight through her art is how such a migration is capable of not only transforming individuals but also impacting entire communities and countries, and perhaps the whole course of history.

Tulipmania
Using tulips as a symbol, Alia also tries to tell her audiences about the intricacies of the East, especially during the times of the Mughals. The tulip was used to express emotions of love when it was used in Persian poetry and art in the subcontinent, but it became a symbol of capitalism and money in the West. With this displacement, she feels, the flower has become debased. Alia's symbolism is rich in critique on colonialism where the East was exploited so that the West could get rich.
Alia's favorite artist from Pakistan includes Naiza Khan, whom she looks up to as inspiration not only in art but also in personal life. "She balances her art and family", Alia relates, and that is exactly what Alia wants to do now that she herself is about to get married. Another favorite is Sadeqain whose eccentricity as an artist appeals to Alia a lot and she wishes she had had the opportunity to meet the self-taught artist in life.
Alia Bilgrami is soft spoken to an extent that one has to really tune in one's ears to follow what she is saying. She strikes one as humble and down to earth, ready to share her thoughts and feelings without any feigned intellectualism. Alia Bilgrami's name as an artist is already on its way of becoming huge, but it is her persona which makes one respect her all the more.
Click to view picture gallery
You may also like: