GIVING BACK TO MOVE FORWARD
Written by: Aiza Azam - Posted on: November 29, 2013 |

Comments | 中国 (Chinese)
Google Translation: اُردو | 中文
Mustafa Hyder Sayed belongs to the generation of young, foreign-educated Pakistanis who are increasingly opting to return and apply the skills and education they acquire into giving back to their country. As Executive Director of the Pakistan-China Institute, he is uniquely positioned to promote social bilateral relations with our most important neighbor and bridge a cultural divide.
Mustafa acquired his undergraduate degree from Hobart William Smith Colleges in Upstate New York, majoring in International Relations with a minor in Political Science. It was during the time he spent living in the Asian Languages theme house and serving as chair of the International Students Association that he absorbed the impact different cultures can have on perceptions and understanding. "One of the most important themes of the entire institution was celebrating diversity and acknowledging what made us different," Mustafa recalls. So whether it was taking lessons in cooking Sichuan noodles from a Chinese housemate or celebrating Eid, Holi and the Autumn Festival, all with equal fervor, the Association he headed played a pivotal role in helping the international students integrate.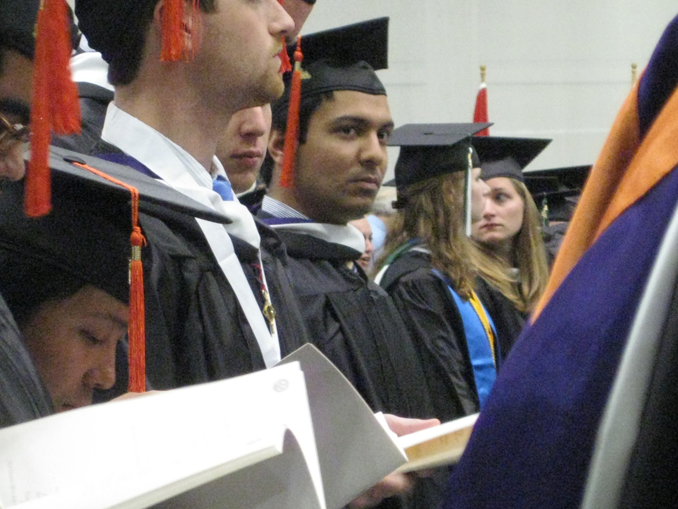 At the graduation ceremony
After graduation, he was faced with several opportunities that would have laid the foundation for his professional life there. But the core belief he had set out abroad with was that every Pakistani inherits the responsibility to use what they learn to give back home. He interned in the States after, at the New America Foundation. It added to his experiences interning on Capitol Hill with a Congressman and at the Woodrow Wilson Center, both while pursuing his degree. These helped him develop an understanding of the role of such institutions in policymaking and he came away with a marked impression of the inclusivity of the system.
On returning after graduation, Mustafa worked for a period at a consortium of East Asian companies known as the Asian Global Group. He was a Special Representative at the organization, which focused on infrastructural development in the region. His work there gave him a glimpse into international business and emerging markets, and shaped his views on the economic issues Pakistan was facing.
In 2012, he joined the Pakistan-China Institute as Publisher of the online rapid newsfeed daily, Nihao-Salam, a venture aimed at keeping Pakistanis informed on developments in China and Pak-China relations. In 2013, he was given the position of Executive Director, which involves not only managing outreach to local and international institutions for collaboration, but also conducting in-house and external events on major issues of interest in Sino-Pak relations and the broader region.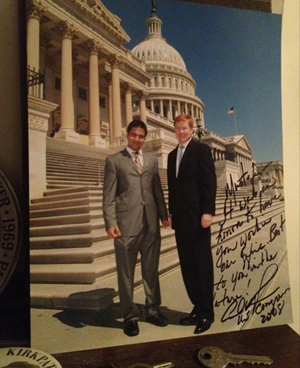 Mustafa believes the role of PCI is crucial in Track II diplomacy and sees its objectives as reinforcing and institutionalizing the core interests of both countries in each other. He takes pride in the multifaceted identity of the institute, highlighting its involvement in various sectors, from culture and society to business and diplomacy. It is important to him that his work at PCI translates into advocacy of peace and stability and helps to promulgate people to people contact. "The work is intellectually challenging and also gratifying, because I'm able to contribute positively to this important relationship and make a difference through PCI."
His take on Sino-Pak relations is that it is unique for its unconditional goodwill and the lack of cost-benefit analysis on either side. While he doesn't ignore the fact that both countries have their core interests to consider, particularly in a world that is increasingly more aggressive economically and security wise, and are also beneficial to each other for how they are geo-strategically positioned, he reiterates their conviction in contributing towards each other's growth and stability.
Mustafa feels the youth has an important role to play in taking these relationships to the next level and encourages them to visit China, to acquaint themselves firsthand with not only its society and culture but also the economic success story story that it is. "500 million people were lifted out of poverty within a generation. As a nation we need to see how China overcame its challenges and also how they turned a massive population into an asset." He highlights the role the Pakistan-China Institute is playing in engaging the youth as well, from helping institute Chinese language programs to networking young academicians with their counterparts in China.
Mustafa's views on politics mirror his convictions. "I believe it is an avenue that can be used to translate your passion for serving your country into a life of consequence. The important thing is to be an agent of change, and I think our youth getting involved as we are now seeing is a very positive development. We need to exercise our right to express ourselves and make our voices heard. The direction the country takes is a reflection of the collective priorities of the people." He had been a member of the Youth Parliament before leaving for university abroad, the youngest member of his batch, and served as the Minister for Youth Affairs. He credits that as giving valuable insight into the system, and feels the overall experience was not only useful should one wish to pursue a career in politics, but also for life generally.
However, his passion for serving the country is not limited to these platforms only, as is testified to by his active volunteer work. In July 2009, he went to Swabi to work with the internally displaced persons (IDPs) from the conflict hit areas of Bajour, Dir and Swat who had settled there in camps and villages. Staying there for several weeks, he went door to door with other volunteers to assess each family's needs; the reports that were filed on the basis of the findings determined the cash stipends that would be paid out. Then, last year he volunteered at the House of Light, a school in the Simly area outside Islamabad which provides free education to the underprivileged children living in the region. Every week he drove down there to teach them about tolerance, protecting the environment, the importance of hygiene, and other fundamental issues. "It was inspiring to see such bright young minds sitting there, so eager to learn. And it was gratifying to be able to give them something, impart knowledge in some form that could help them. I think it's really important to not just talk about compassion and making a difference, but to actually do something at the micro level that has an impact."
Mustafa also feels that the Pakistanis of his generation have a lot to give and they are aware of their responsibilities as citizens. "I believe there is definitely a strong sense of purpose and allegiance to Pakistan among our generation, but I think the challenge for the youth is to strike a balance between pursuing professional opportunities where they see career growth and in being able to contribute to society; and the thing is that the two are not mutually exclusive."
Mustafa's positive outlook and fervent belief in the role young Pakistanis can play is refreshing and encouraging. And it is a hopeful reflection of where we can expect this country to take itself in the future.
You may also like: