Imaan Mazari: Going Against the Grain
Written by: Zahra Belal - Posted on: June 20, 2014 |

Comments
Google Translation: اُردو | 中文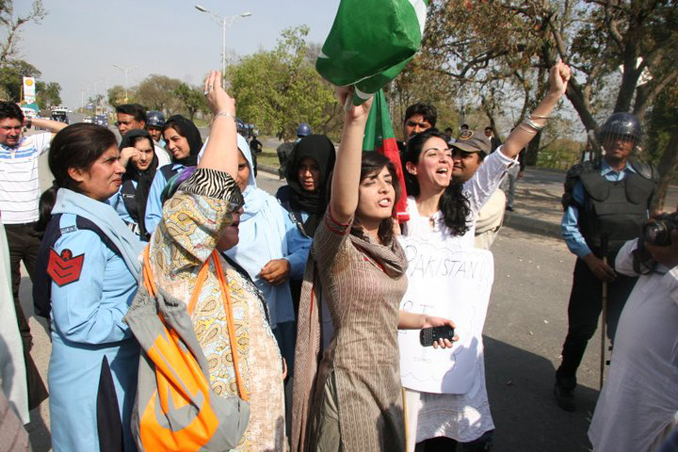 Imaan Mazari (center)
What would you do if you had just come back home to Islamabad for summer vacations after a gruelling semester of studying law abroad? Be a couch potato and chill out in the cool confines of your home. Certainly not go out in the sweltering heat and dust to the forgotten and neglected inhabitants of the katchi abdadi of the Federal Capital. But that's exactly what Imaan Mazari did when she returned home for the summer this year.
While everyone ranted on social media about how the Metro Bus Project had created inconvenience for them on the road, Mazari thoughts went out to the settlements annexed to the construction sites. The H-9 slums areas, for instance, are right next to the Sunday Market which is the hub of the construction work. What are they going through? To answer this, she hitched up her camera and went out to this katchi abadi, where it came to light that the inhabitants were directly suffering from the Metro Bus Project; they were having problems breathing and sleeping with all the dust clouds and cacophonous sounds from the work. It was another lesson in disparity and social stratification that exists in the country. "You know, a project this close to the homes of affluent residents of F-6 and F-7 would have never taken place without informing and consulting them," she says. But it did, as it always does, start without consulting the katchi abadi inhabitants. This is what Imaan is using her social media presence to protest against.
Only twenty-one years old, Mazari has a very strong online presence. Her famous debate with her mother, Shireen Mazari, a prominent politician of Pakistan, was all the rage in social media and even made it to the print media with The News doing a story on it. Her tweets are bold and she does not shy away from taking on the big names to criticise and chastise. For instance, she tenaciously tweeted against a leading female politician whose video of thrashing a bakery boy leaked out a couple of years ago. "I remember I tweeted on this for three consecutive days to protest and raise awareness", she recalls fondly. Years earlier, her online petition to "Free Dr. A Q Khan" became so popular that Mariana Babar and Geo news interviewed her, and the scientist himself met her personally. Her personal blog continues to churn out discursive and often opinionated essays on the current affairs.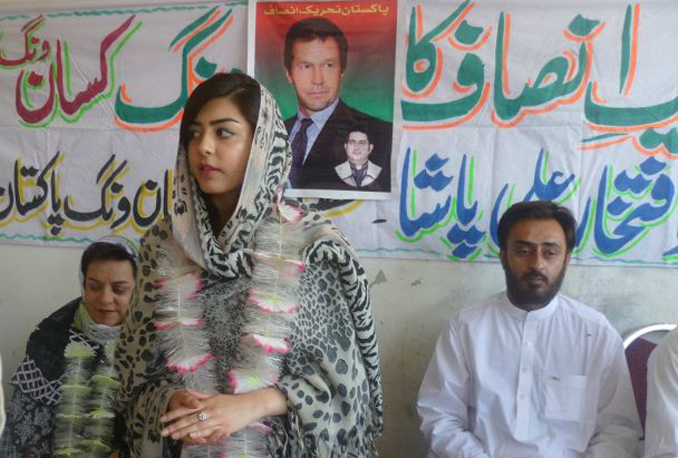 Addressing a political rally
Critique and protest, however, are not the sum of Mazari's contribution to making a difference. When it comes to social causes, Imaan works on exotic ideas and campaigns. How does one educate children who, during the daytime, slave away at workshops to put bread in their families' mouths? In a "bring the mountain to Mehmet" approach, she worked for the Mobile Teaching Project. "Under this project, two teachers go on motor bikes to the workshops to give lessons to these child labourers after their working hours", Imaan explains. "I ensure that the project has enough books and stationeries, and whatever else that's needed."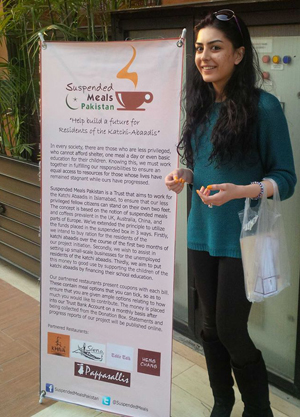 Recently, she launched a Suspended Meal Project that draws from a common practice abroad wherein people visiting restaurants pay for "suspended meal" along with their bill; this suspended meal can later be claimed by any needy person who chances to come in. In Pakistan, Imaan initiated the same idea with a slight modification and took on board five volunteers and five of the best restaurants in town. In Pakistan, it's hardly practical for a needy person to reach these high end restaurants to claim a meal, which is why the idea was to convert the suspended meals into currency, collect these funds from all restaurants and deposit them in the project's bank accounts, the statements of which were to be made public on a monthly or quarterly basis to ensure transparency. The volunteers could then use these collected funds to buy food and rations for the needy people.
"We were actively marketing the project on social media so we were expecting a good response," Imaan tells me. Unlike the teaching project, however, this project is doddering with lack of funds compelling the bank to close down the project's account but Imaan's spirits are as high as ever. "I keep thinking about something to do that can help the people in katchi abadi so if this doesn't work out, I will come up with other new ideas," she says cheerfully.
But why does Mazari feel that she must carry such loads on her young shoulders? "I have always felt that I am what I am today because of this country and this is why I owe it to the country to make efforts that will bring about a positive difference", is a direct and unhesitant answer. And at it she has been since she was 12, collecting funds for cancer and cataract patients, 2009 Gaza Massacre victims, iftar for the poor in Ramadan, and other activities in which she often works together with her mother. "Every year on 14th August, my mother and I make food packages for the police officers and go out to distribute them", she tells me with warmth and a touch of pride.
Social work and politics is what Imaan is fully committed to take on after she graduates with a law degree from the University of Edinburgh, intending to prove her mettle through social work and grass roots level activism to garner political support, even if it means "going door-to-door". She has firm conviction that social change can come from political activism, stating, "Despite all the negativity attached to politics, it is an essential instrument to bring about a change; how can you can build a school without public funds or change the education policy?" There is hope, optimism and energy in her that's hard to ignore, this, along with her ability to easily interact with people is sure to make her a force to be reckoned with in the coming years.
You may also like: