OF CHOCOLATE AND CHEESECAKE: JIA'S DELI ISLAMABAD
Written by: Aiza Azam - Posted on: September 28, 2013 |

Comments | 中国 (Chinese)
Google Translation: اُردو | 中文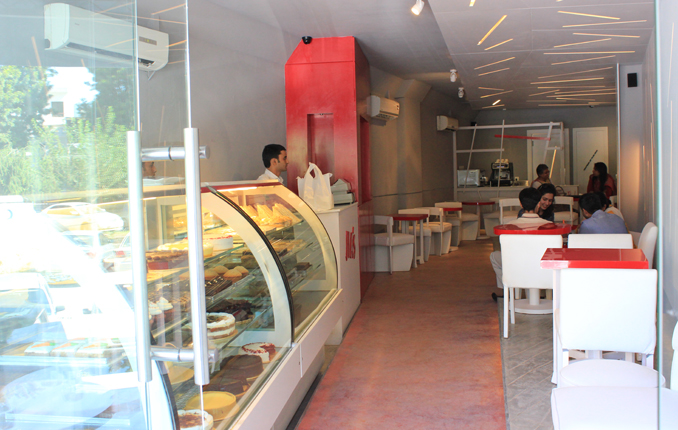 The cozy, wood paneled interior, the subtle lighting, the space in the back with a wall entirely of mirror, and the trademark ceiling with photographs of happy customers caught in a moment of candidness. Islamabadis will know only one place has those snapshots frozen in time: Jia's Deli.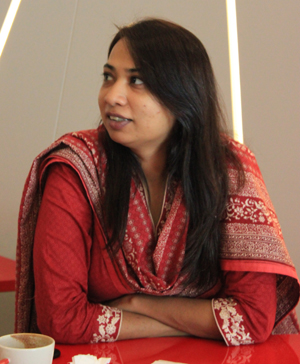 Najia Rafiq
Having opened up after a hiatus of 10 weeks, with renovation by Hammad Husain Architects, one of the city's most popular hangouts is back online. The new Jia's Deli is all luscious reds, pristine whites and hidden lighting. But while the look is new, the delicious fare hasn't changed an iota. And after two and a half months of conspicuous absence, its regular clientele is relieved it's back.
Najia Rafiq, the owner of Jia's Deli, began her professional career with a consultancy firm. Though armed with an MBA from Bahria University, she went into the development sector straight after graduation. Nearly six years later, stationed in Abbottabad after completing an MPH, along with with a diploma in Development Studies from Iqra University and field experience under her belt, Najia felt it was time to reconsider her options and turned her thoughts to opening an eatery. She remembers thinking "If I don't do it now, I'll never do it."
The concept of going into the food industry was not entirely alien. "It's not like it was something I decided out of the blue! It had always been there, the idea, and it was more of a return to something I had always been passionate about." At university, she would ply her colleagues with sandwiches and brownies and, over time, she began supplying the campus café with snacks made from scratch to satisfy demand. Opening up her own eatery seemed the right step forward.
It took the form of an Islamabad outlet of the popular Lahore franchise, Masoom's, in 2008. The venture was on an entirely different level from what she had been used to, literally going from her kitchen-and-dining room setup to a separate production unit and an outlet complete with managing staff. However, the franchise owners guided her through the initial process and soon she was comfortably ensconced in work. But little less than a year down the line, she took the decision to discontinue her association with them, owing to irreconcilable differences.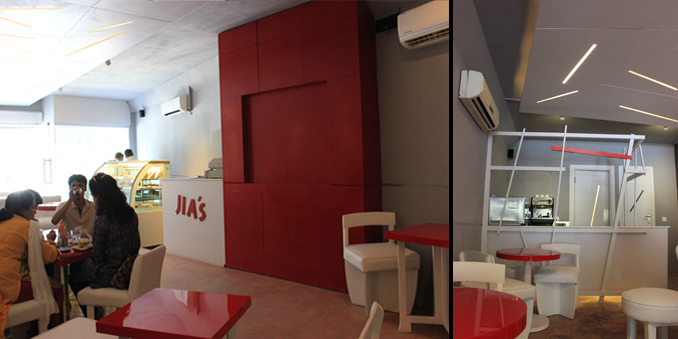 The Deli revamped
It wasn't until two months later that a new signboard went up outside the place, announcing the arrival of Jia's Deli. But during that time, business had continued as usual, with clientele holding fast to their watering hole of choice. Najia credits this largely to the personal relationship she has with her customers, formed during the early months in particular with her hands on approach. "I'd be there at the counter, taking orders, serving, ringing up the cash, coordinating take away, and talking to each one personally to see if they were enjoying their food. It helped cement a loyalty that's still there."
Ofcourse the quality of the product has also been a crucial factor. In a city where bakeries or delis all too often witness a drop in standards, whether some years after establishment or due to a proliferation in local branches, Jia's has maintained the standards it set out with. Najia insists that, using quality ingredients aside, it's all about the people you have to work with and how you work with them. "The recipes don't change; it's ensuring that they are followed to the letter that will keep your product top notch." She believes you have to be involved with your staff in making the product on every level, and should know the process inside out. Her way of doing it is to work alongside them, often having stayed late at the outlet or shown up in the wee hours of the morning at the production unit, so she is familiar with each step. While such work ethic has paid dividends, it can be difficult for a woman to work in such a field. Difficult customers, being in charge of an all male staff and dealing with suppliers are some areas where she feels a female has to work twice has hard to be taken seriously. Though, she admits that she has been largely fortunate in this regard.

The delicious fare!
Whatever challenges she may have faced, Najia has managed to make it look effortless. Even during the ten weeks the Deli was closed, they were taking orders from customers online and by phone, and had kept business up as usual. Many of them would order the same favorites, such as the lasagna, the sandwiches and the cheesecakes. While the menu has retained most of the products that have been successful over the past five years, with the re-opening Najia plans to introduce a new range of items for the health conscious. The product in that line would be the same but would substitute certain ingredients with healthier options. The challenge in this, she confesses, is to retain the original taste without sacrificing its nutritive value. She has been consulting with nutritionists on this to ensure there is no lapse.
It's been five years since her place found its way in Islamabad, and now Najia is looking at expanding into event management. "But whatever we do, we don't plan on letting ourselves be distracted from providing our customers with quality food; that's priority."
The official launch is expected to be sometime in early October. In the mean time, the Deli is back in swing as customers flock back in droves.
You may also like: