PAKISTAN'S FIRST LADIES OF SKIING
Written by: Shahana Shah and Eeman Amjad - Posted on: December 11, 2013 |

Comments | 中国 (Chinese)
Google Translation: اُردو | 中文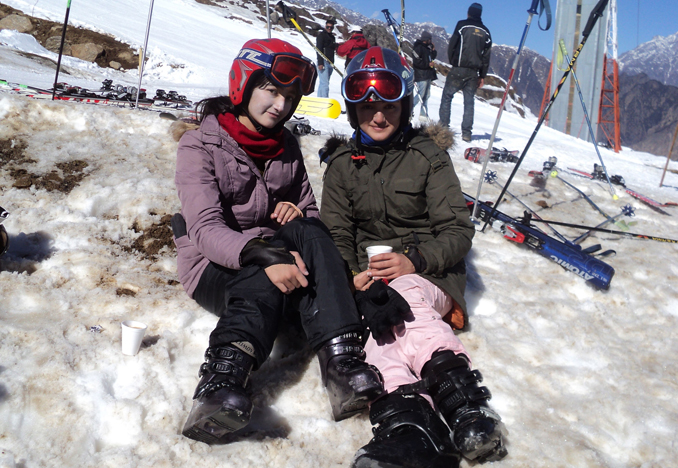 Amina and Ifrah Wali
January 2011, Amina and Ifrah Wali became the first female athletes from Pakistan to win at the South Asian Games ski event. After that, there were many firsts for the Wali sisters, and they are now the first girls to compete in the current Olympic qualifiers. If they make it through, they will become the first-ever female Pakistanis to participate in the Winter Olympics. "How do you feel about going to compete in these qualifying rounds? Nervous?" we ask skier Amina Wali. "Excited," she answers.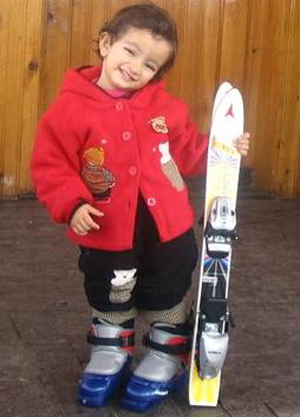 Five year old Ifrah with her skiis
That sums up their attitude towards skiing; they are enthusiastic, measured, realistic and passionate. Originally from district Ghizer of Gilgit-Baltistan, the Walis grew up in Gilgit city and come from an educated and enlightened family. Amina is a student of B. S. Environmental Sciences at the Karakoram International University and Ifrah is at NUST Business School.
Their father, a major in the army, was posted in remote Rattu in Baltistan for eight years. Five-year-old Amina and four-year-old Ifrah would vacation for four months every year in Rattu. There was no civilization, no school and no children their age; the only thing they did have were the snow-covered slopes, and skiing for fun was the best thing they had. Ifrah animatedly describes, "It feels so great, because you get scared, the air is on your face, there is this adrenalin rush and your body shivers. It feels amazing. It is as if you have never felt anything like that in your life."
The 2002 National Championships was the first time the sisters participated in a large-scale skiing event. They won their first medals in 2005 at the National Skiing Championship at Malam Jabba in Swat. They made training trips to Japan in 2007 and to Austria in 2008. "It's sort of a competition between my sister and I, as to who will impress our father more," Ifrah laughs. "My father, he himself was a sports enthusiast. He became our teacher, our motivation, our coach." He also got them their first equipment. Amina fondly remembers her father engaging a carpenter and working with him to make special wooden skis for her.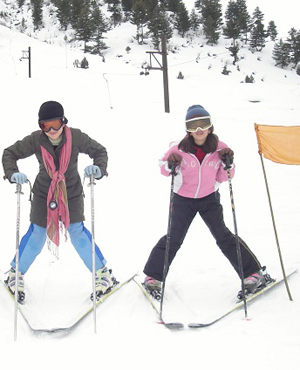 But it hasn't been all laughs and competition, as there were always people urging their family not to let the girls travel alone to a foreign country. But their father was inflexible. "I love my girls and trust them", he would tell the world. It was with that love and trust that the girls went off to the South Asian Winter Games 2011. It was daunting, Ifrah remembers. "Everything scared me. Everything in Pakistan is not at that international level. The slopes were so big. The players, they were so good. Our equipment seemed as if it were from the stone-age."
They only had three days to practice At first they were nervous, but then there was the eventual realization that it was not that difficult. Unfortunately, while they were training Ifrah dislocated her wrist bone. Her injury meant she could not compete in the Games. "I looked at my coach and started crying. I was so confused. I knew I had to compete. I had spent eight years in Rattu to be here. I didn't know how to persuade everyone, but my coach knew that I was stubborn." He let her compete with the condition that if her injury got worse she would have to pull out. It was her chance to make her father proud. "My father had worked really hard for us. He expected us to do our best because he had invested in us. He knew I would do something good. All those expectations; it was time to prove him right. He called me before the games; I was nervous and he told me I would do great." And she did! Ifrah won the gold medal for the giant slalom, while Amina won two silver medals. They came home to a huge celebration. Gone were any fears or hesitation of the girls competing and traveling on their own; they were received by friends, family, and other skiers. Ifrah looked to her mother whose eyes were filled with tears of pride. "It felt so heartwarming, so great."
There are some personal stories that eternally change the way we perceive our world; Amina and Ifrah's story is one of them. "In Gilgit nobody knew what skiing was, or that girls could even ski! Now many schools with girls have started competing in the skiing competitions at Naltar. We meet girls who also want to try and compete in the Olympics in the future." Amina Wali loves to ski but she also gives due attention to her studies and has plans for when she might not ski any more. On the other hand, Ifrah wants to live her whole life skiing. "I don't want to leave skiing at all. Skiing it is a part of me. I was four when I started. Skiing was the only sport I knew. I had no friends, but I had my skis. Because of this I have traveled the world and I have led a different life that I am grateful for."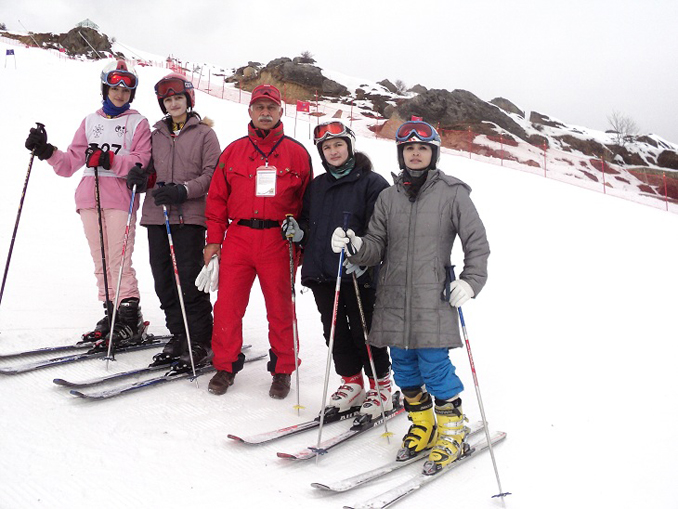 The ski team
Their next big challenge is qualifying for the Olympics, for which they will begin competing this week. "We didn't have much time to train and it is going to be very, very tough and competitive," Amina admits. She is confident that with enough training and preparation they stand a very good chance. Even though they lack the necessary facilities and are unable to practice until they reach the qualifiers, both sisters are determined; the one thing they know for certain is that they will represent Pakistan in the winter Olympics, if not now, then in another four years.
Now Pakistan has its fingers crossed for their bid at the Olympics; and if the Wali sisters qualify next month, they would be two naujawans who will make history for their country.
You may also like: