RABTT: ON MAKING CONNECTIONS
Written by: Salma Chaudhry - Posted on: November 20, 2013 |

Comments | 中国 (Chinese)
Google Translation: اُردو | 中文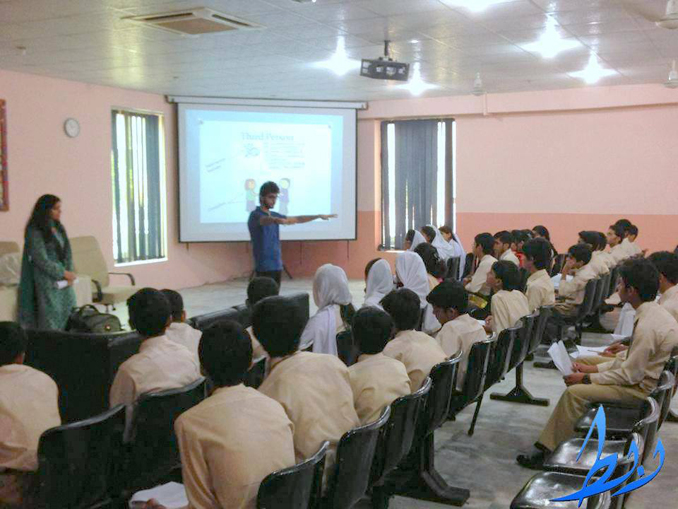 ---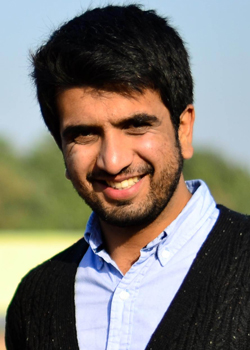 Imran Sarwar
We see Pakistanis such as many of our own selves living lives in melancholy, cursing the government for all that is bad, latching onto the negative side of matters in our drawing room discussions where we declare wretched poverty, rampant illiteracy, a crippled economy, cruel feudal values, dishonesty, sectarianism and terrorism, all to be a consequence of the failed policies of the state. While these arguments hold true, it is also correct that very few of us really endeavor to alter the much talked about 'system' because it's not easy. It's not easy and entails a great deal of courage to look outside your own little world and do something to transform the existing ideals, something more than just discussing them during our hi-teas and dinners. But Imran Sarwar, a recent graduate from Harvard Kennedy School, thinks differently, he has chosen the path of positivity and believes that it only takes one step in the right direction to bring about meaningful change and raise a voice for what you truly believe in.
Imran, who graduated from LUMS in 2010, worked as an instructor during the National Outreach Program in which students from far flung and underdeveloped areas are taught basic math and verbal skills to prepare them for the LCAT. "Teaching NOP kids was a life changing experience; I realized that those kids were far more bright and hard-working than we ever will be", recalls Imran when asked about his motivation behind the organization called Rabtt.

Rabtt, a word which means connection, was the idea of two young individuals, Imran Sarwar and Aneeq Cheema, both graduates of LUMS. Their discussions with each other on issues ranging from the values being instilled in our children at the core of curriculum to the knowledge, skills and abilities passed on to our next generation through the same, contoured Rabtt as a voluntary organization where tutors – mostly university students - interact with children from high schools in an attempt to give them a holistic educational experience. Aneeq's inspiration came from the Seeds of Peace program and his research on the curriculum being taught at public schools. "We recognized that if you wish to inspire someone, you've got to spend time with them," Imran explicates the philosophy behind their venture. "Donations are vital but time is even more significant".
Rabtt had humble beginnings. The talented team was supported by the strong will and resolve, and the munificent hands of some who were impressed by the core ideology which aimed to spark critical thinking, tolerance and creativity amongst students. "Aneeq and I complemented each other well," says Imran. "We were equally focused and passionate about this. Then we also had support from some of our mentors like Dr. Amjad Saqib and Omair Rana", he adds. When I ask him about the name 'Rabtt', he candidly responds that he doesn't actually remember who coined it but the suggestion came through various discussions on developing human connections and creating lifelong bonds with children by connecting with them at a personal level.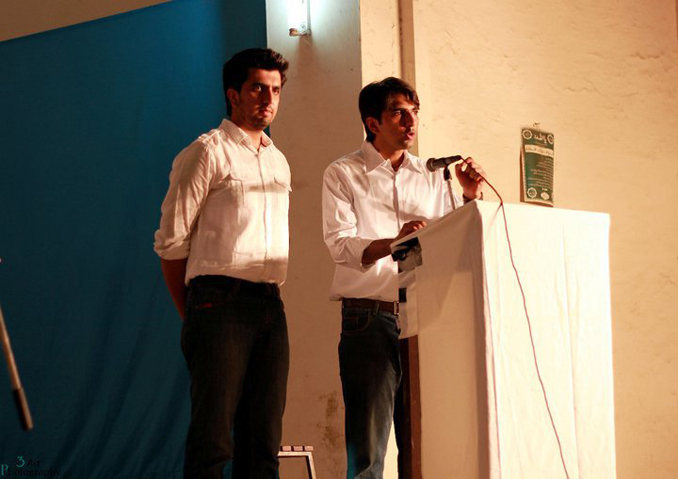 Imran and Aneeq at the Closing Ceremony of Rabtt Summer Camp '12
A small but committed team was able to organize the Rabtt Summer Camp 2011 at the Government Pilot School, Wahdat Road, Lahore with ten students showing up on the very first day. "We have come a long way; we believe that critical thinking, tolerance and creativity are as essential as Maths, English or Geography!" Since 2011, Rabtt has conducted 5 Summer Camps and several workshops across public and private schools, engaging more than 800 students and almost 100 mentors. When I ask Imran what made him focus all his energies on Rabtt when he could have been making a lot of money doing some other job, he smiles, "You see, we couldn't scale up if it was a part time. We want to see if it has the potential to become something big and for that, someone needs to be thinking about this 24/7. Also, in terms of my own career, these years when I'm doing something meaningful will count more than anything I might do some years down the lane."
The children of today are the decision makers of tomorrow. What is taught to them in these times of ambiguity and insecurity is crucial to what we as a nation will face in the future; Rabtt is creating new trails for them to thrive on instead of tripping into old norms, and this is Imran's message to us all: "Talking doesn't take you anywhere, realize that if you want to do something, at least take a step. Honestly, you will find people who will support you."
To learn more about Rabtt and how to contribute, please visit: http://www.rabtt.org
You may also like: