The Ultimate Show Stopper
Written by: Jalal Hussain - Posted on: May 12, 2014 |

Comments | 中国 (Chinese)
Google Translation: اُردو | 中文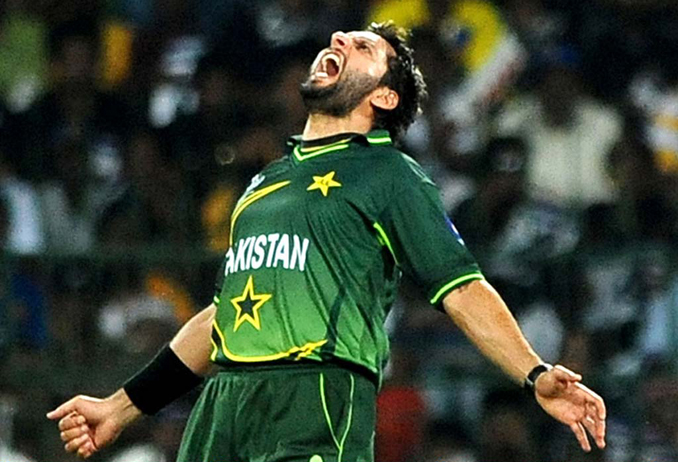 Shahid Afridi
I can never forget my first introduction to Shahid Afridi. It was a Saturday morning, 5th of October 1996 to be precise. I woke up as I usually did back then by the bedside lamp that my father turned on early in the morning to read the newspapers. My father seemed transfixed by something he was reading. He usually read the papers with an expressionless face; this was an age when headlines were more mundane and not quite as sensational as they are now. But on that particular day, he had an expression of disbelief as he stared at the newspaper. Curiosity got the better of me and I asked him what had happened. He slowly turned to me and said "Beta, some 16 year old kid named Shahid Afridi has scored a century in his first ever innings…in 37 balls. He's broken the record for the fastest century in international cricket. And that to against the world champions, Sri Lanka!" I remember going to the washroom to wash my face and make sure I was awake before I asked him again. It just sounded unreal.
Even now, almost 20 years later, the thought of a 16 year old boy batting for the first time in international cricket and scoring a century off 37 balls against a side crowned the world champions a few months back, seems more like a tale befitting of a fantasy novel. But it was done and the cricketing world had been taken by a storm so exhilarating that it still engulfs it every time Shahid Afridi steps on a cricket field.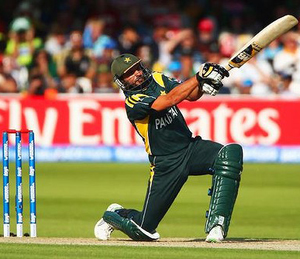 That innings made him a marked man. He became a prisoner to the expectations of millions of people. If a sixteen-year-old boy could pull a miracle in his first international innings, he could do it again anytime. People expect him to repeat the feat every time he goes out to bat. The audacity and impudence of a man who could bat in international cricket as one would in a gulli game playing with one's mates has captured the imagination of people the world over. It is little wonder that whole stadiums empty when Afridi gets out; what could possibly be more exciting after Afridi? He has forever changed the way we perceive the game.
His batting heroics are few and far between, but when on song there is no better an entertainer than Afridi. Not many saw that first innings live, but for the benefit of the public, Afridi almost repeated the feat in Kanpur in 2005 when he scored a hundred off 45 balls against India. It is his addiction to sixes that draws the cricket-watching public to him like a moth to a flame; it consumes him as it does those watching him. But boy is it worth it when he goes about his business, whether that be smashing Harbhajan Singh for four consecutive sixes in a test match, or hitting an Anil Kumble at his peak for five boundaries in an ODI game.
Ironically, all said and done about his batting, people forget that he got into the team on the strength of his bowling, which remains his strongest suite. The foolhardy panache with which he bats would make it easy to forget every other aspect of his game.
It was not till a few years ago that we reconciled to the fact that Afridi is a bowler who can bat, and not just a master illusionist who has a side trick up his sleeve. His bowling is perhaps the most under rated aspect of his game. Lala approaches leg-spin bowling with a fast bowler's mindset. Running to the bowling crease, his locks bouncing off his head, bowling with an open-chested action, he delivers the ball quicker than most spinners. His quicker delivery is faster than the average speed of most fast bowlers today. Afridi has developed his bowling armoury over the years after it became clear that his mercurial batting alone wasn't enough to warrant a place in the side. He has kept alive the rich tradition of leg spin bowling and remains the foremost exponent of the art in the modern game. His bag of tricks includes the traditional leg-spinner, which he rarely bowls, his stock delivery skids through without turning much. He has developed a lethal googly, a top-spinner that rises from a good length and the occasional offbreak. He is at his most threatening when he gets the ball to drift in the air, and he drifts it at a good pace, which gives the batsmen little time to make adjustments. Afridi has brought his own brand of Pakhtoon swag to leg-spin bowling. He is one of the leading spinners in limited overs cricket and has consistently ranked in the top ten of the ICC rankings for bowlers, yet his bowling achievements have failed to overshadow his madcap batting in the eyes of fans.
Afridi remains one of the fittest members of the team, his agility in the field belying his age. Over the years he taken some outstanding catches, the most memorable being the one he took to dismiss Marcus Trescothick in the Natwest Trophy final in 2001. Running full speed, he dived and collided with Shoaib Malik before he completed a brilliant catch It was then that he unveiled his signature X-man pose, which has now become the standard pose for Afridi's wicket celebrations. It is a pose appropriate for the superstar that he is; it rallies the team to the contagious madness of Afridi and the team feeds off his energy. An inspired Afridi is a sight to behold, it leaves you breathless and awestruck.
Shahid Afridi is a gargantuan figure of our generation and will be the stuff of folklore after he quits the game. His approach to the game has made him the eternal Peter Pan of cricket; he refuses to grow a day older than 16, a quality that makes him so endearing to fans. They say characters in cricket are a cherished commodity; Afridi happens to be one of the biggest characters the game has seen. Infuriating, reckless, glorious, describe him as you will, one thing is for certain: you are unlikely to see another show stopper in cricket like Shahid Khan Afridi.
Related articles:
You may also like: