ZOE VICCAJI REVEALED!
Written by: Dr Dushka H Saiyid - Posted on: May 27, 2013 |

Comments | 中国 (Chinese)
Google Translation: اُردو | 中文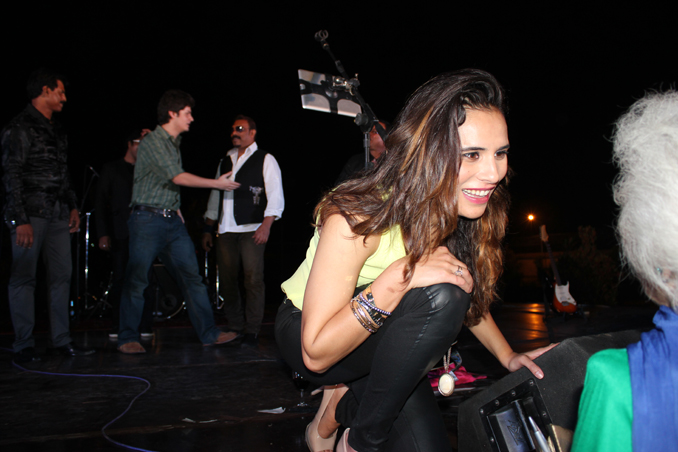 Zoe Viccaji
She agreed to an interview when we bumped into her at, of all the unlikely places, the rest room of the Turkish Embassy; and she scooted off like a schoolgirl on discovering that they had announced her performance and the crowd was waiting. This lithe, tall, raven-haired girl had the audience electrified as she went from one jazz number to another (my favourites were New York, New York and Summertime) but when she got to Jailhouse Rock or Nazia Hassan's Aap Jaisa Koi, half the crowd was dancing with abandon in front of the podium.
Squeezed for time, she had agreed to let me drop her to the airport and interview her enroute. She slipped into the car, wearing specs, hair tied at the back and no make-up; quite a stunner in the Frieda Pinto mould.The interview was a breeze, because she is open, articulate, and happy to tell her story. I had full forty minutes with her, before this sylph disappeared into the crowds to catch her flight back.
She is a Karachi kid who got her schooling at the Convent of Jesus and Mary, and after graduating from Hamilton College, a liberal arts school on the east coast of the USA, returned to her hometown. When I needle her about the problems of surviving in the rough milieu of her hometown, instead of a litany of woes, her response is candid: Every place has its challenges, and if I had stayed on in the USA, maybe I wouldn't have got the kind of break I did in Pakistan".
Hailing from a middle class family of Karachi, she announces that her parents couldn't afford to send her abroad and so she applied for scholarship and got into two schools in the USA, and chose Hamilton, a small liberal arts college on the east coast. Her education is broad-based; she majored in Sociology and Fine Arts. She recalls that she worked in the States for a year making documentaries, but then came back and tried her hand with a company of independent filmmakers. When that went broke, she took up a job in advertising. She did music on the side, and was in Chicago and Mama Mia before she joined the team at the Coke Studio.
When I ask as to how she developed an interest in music, her reply is direct; my mother is a Christian and that community is steeped in music, because they get introduced to singing in the church. The "boys", as she refers to the Intime Band that accompanies her, is from the Goan community that has a strong music tradition, and has enriched the music scene of Karachi since they arrived in the mid-19th century. She says that music was all around her when she was growing up,and many of their family friends played some instrument. Her mother played the guitar, and exposed her to the jazz greats. At age 10 or 11, she and her best friend Sana would pretend to be performing on stage. By the time she was 15, she was writing her own songs and playing the guitar, and first played on stage in school, when she and her classmates sang Candle in the Wind at Diana's death. When I ask her who is her favourite singer, the answer bounces back, Ella Fitzgerald.
A jazz buff, it was her exposure to eastern music at the Coke Studio that her interest diversified, and she is now honing her skills and accent in Urdu, so she can compose her songs in it. The "tipping point", she says, was her first solo show in June 2011, and since then, her life has been consumed by music. Her first album, which she financed herself, took one year to produce and is at the distribution stage. It is going to be released at the same time in India and Pakistan, and has a mix of five English and five Urdu songs.
She says that from age 15-25 was a period of angst for her, but for the last one year, when she turned 28, her music is upbeat and she "wants more songs to spread positivity". To that end she and producer Zohaib Kazi (under the duo name of Zoe and Zohaib), held workshops where school children joined them in singing Bolo, a number they released just before the elections.
She wants bigger audiences and better acoustics, and maybe that is why a tour of India is being planned. A talented kid with a pluralist background, since her father is a Parsi, she is also a crusader for a better Pakistan. That was the subtext to the entire interview. It is Nau Jawan like her who will reclaim Karachi and Pakistan from mayhem and corruption, and one day Karachi will be the city of lights once again. Zoe is on the cusp of bigger things to come!
You may also like: