Music Launch of Tamanna
Written by: Abbas Hussain - Posted on: June 05, 2014 |

Comments
Google Translation: اُردو | 中文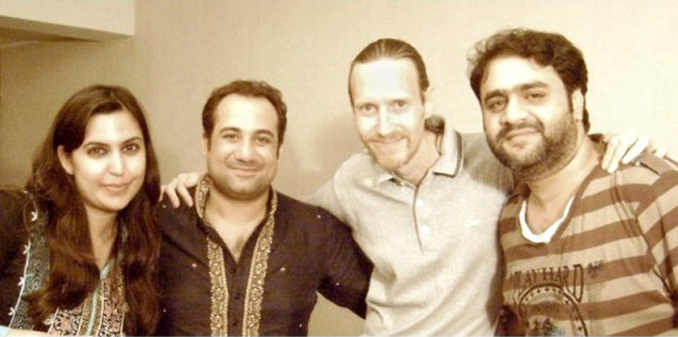 (l-r) Sarah Tareen, Rahat Fateh Ali Khan, Steve Moore and Sahir Ali
Tamanna, Pakistani cimena's first release this year is, after repeated delays, finally set to release on the 13th of June. Royal Palm Super Cinema in Lahore organized a launching ceremony for the music release of the Noir film. At the event were the film's principal cast save Feryal Gauhar, and the production crew along with singer Amanat Ali, Lollywood director Syed Noor and a host of socialites and media personalities.
The producer of the film Sara Tareen seemed enthused about the release of the film and thanked the media for supporting Tamanna. She hailed the efforts of Summit entertainment in supporting local films and spoke about the reasons for the delay of the release date of the film. ''A lot of students requested us to delay the release date of the film as the initial date coincided with their exams. Plus distribution involves a certain process and it takes time.''
The lead actress of the film Mehreen Raheel also appeared quite excited about the release of the film and described the process of working on a film as "planting a seed that one has protected and nurtured. I look forward to seeing the film blossoming into a tree."
Veteran actor Salman Shahid who is a cast member of Tamanna says that the music of the film created a buzz way before the release date of the film and has in fact tasted success in international quarters. "The Rahat Fateh Ali's song, Koi dil main aa raha hai dastak has already fetched an award for best music talent. Rahat Fateh Ali Khan got an award at the London Asian Film Festival two years ago. It is a very nice song and has been top 10 in the BBC Asian service.''
Actor Omair Rana who plays the character of Riz in the film, described the soundtrack as consisting of songs belonging to different genres. He spoke about a 'Jazzy kind of number' with Rahat and a 'very desi track' with Ali Azmat. "The songs are very situational as well and some interesting moments in the film have been accentuated by musical pieces'', he said.
Lollywood director Syed Noor, who has been supportive of the project since it was first announced, underlined the positive role of films like Tamanna for the future of the country's cinema. "Tamanna is going to be a part of the revival of our cinema. The reason why I am supporting the film is that the film has been made by young people who will be the future of our industry and hopefully will be rising stars. The music of Tamanna is doing very well and I wish the team the very best. ''
With the film gearing up for release, the entertainment industry and audiences await with bated breath for what the film will eventually offer. There is one thing for sure: a film of this nature is a first for local cinema and hence it comes as an ambitious experiment.
You may also like: