Embracing Our Language: Urdu Literature Festival
Written by: Sarah Khan
Posted on: June 09, 2014 |

Comments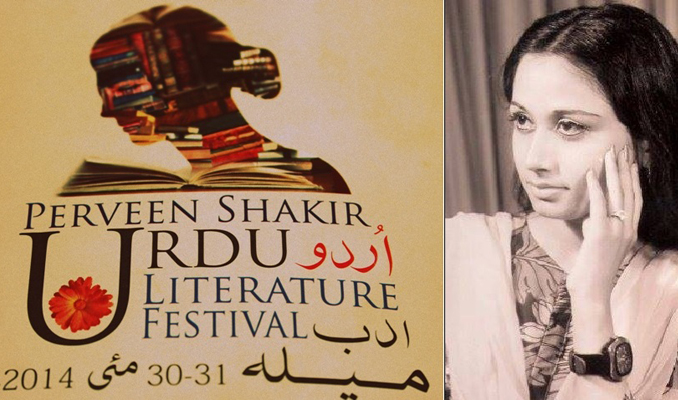 Urdu Literature Festival, held in Islamabad on 30th May
In Khaled Hosseini's 'And the Mountains Echoed', Pari recollects her Baba's words pointing out the value of learning one's language: "He said that if culture was a house, then language was the key to the front door, to all the rooms inside. Without it, he said, you ended up wayward, without a proper home or a legitimate identity." Lack of command on or inadequate familiarity with our language casts us adrift in an ever-changing world of multiplicity. The inability to access our own culture deprives us of our capacity to feel unique. Language makes us feel rooted, giving us a sense of belonging and a legitimate identity. And as a medium of expression, lacking the skill to explain oneself can be a serious impediment to intellectual and emotional growth.
The satisfaction of being able to express oneself tastefully in one's native language was best summed up by Faiz:
Our habitual disdain for learning local languages is regrettable, but it is heartening to see, among us, various entities that are working towards the reversal of this unfortunate trend. One such laudable organization is the Parveen Shakir Trust, formed in 1994 in the memory of the eminent poetess Parveen Shakir, which aims to revive and promote Urdu literature in Pakistan.
To meet the challenges faced by Urdu Language and to celebrate the beauty of Urdu poetry, the Parveen Shakir Trust organized an Urdu Literature Festival in Islamabad which kicked off on Friday, May 30th. Prominent writer and host of the event Mazhar-ul-Islam noted that this festival aimed to play a part in fostering interest and transferring the cultural legacy of our legendary poets and writers to the new generation.
Mustansar Hussain Tarar graced the occasion with his towering presence and reminded us of simpler times when morning television shows were a graceful, unpretentious affair. Apart from numerous contemporary poets and writers, such prominent personalities as Talat Hussain, Qawwi Khan, and Amjad Islam Amjad were in attendance. Tributes were presented, through captivating recitals, to the soul-stirring poetry of Ghalib, Iqbal, Faiz, Munir Niazi and Parveen Shakir, the giants of Urdu literature.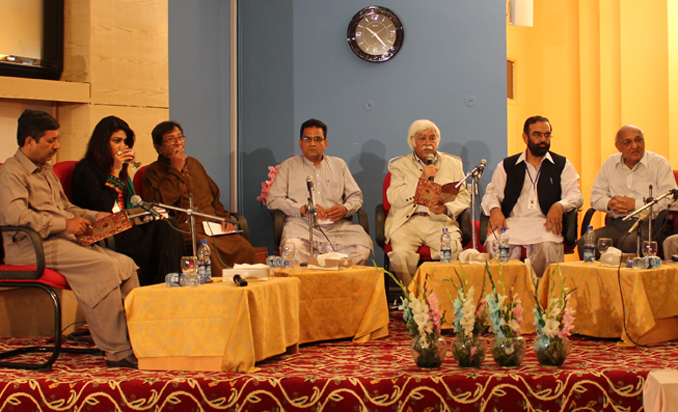 Session on Ghalib, (L to R) Professor Saeed Ahmed, Iqra Aslam, Talat Hussain, Ali Raza, Mazhar-ul-Islam, Majid Qureshi and Amjad Islam Amjad
Ghalib- Writers and academics outlined the unique aspects of Ghalib's poetry, one of which is that it is composed of multiple layers. A mystic will, for instance, find Divine love in the same verses in which a poet will glimpse his beloved. The panelists professed that new dimensions of Ghalib's poetry still continue to be discovered, so much so that Ghalib-shanaasi (understanding Ghalib) can be termed as an entirely separate branch of knowledge in itself.
Is this Moses pleading before God to have Him reveal His glimpse, a Sufi yearning for a Union with his Lord, or an ordinary romantic longing to unveil the face of his beloved - who can tell?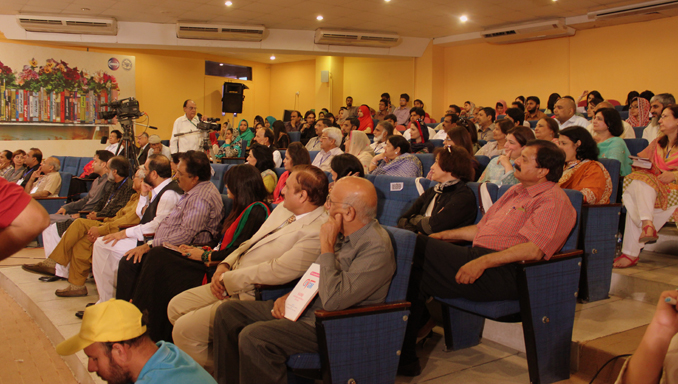 Engrossed Audience
Iqbal- A spirit of reverence filled the air as the participants commenced discussing Iqbal, whose poetry is so prolific and profound that it will remain relevant for all the centuries to come. Every word he wrote prescribes a tireless dynamism and an aversion to stagnation, spiritual and communal: 'Take your destiny in your own hands to unlock the doors of your true potential' is his underlying message. Man is not meant to be a silent spectator, to only watch the events of this universe unfold; his decisions and actions continue to shape the world in important ways.
Faiz- Faiz was eulogized by the participants for the way he romanticized resistance and revolution in his poetry. His famous poems Dua, Aaj Bazaar Mein, and Rabba Sacheya (the Punjabi version of Shikwa- man's complaint to God) were presented.
Talat Hussain's majestic, mesmerizing voice, especially when reciting the closing verses of Faiz's poem Tanhayi, left the audience spellbound: Apnay be-khawaab kivaaron ko muqaffal karlo, ab yahaan koi nahi koi nahi ayega- (Lock up your dreamless quarters now; no one, no one will come here again.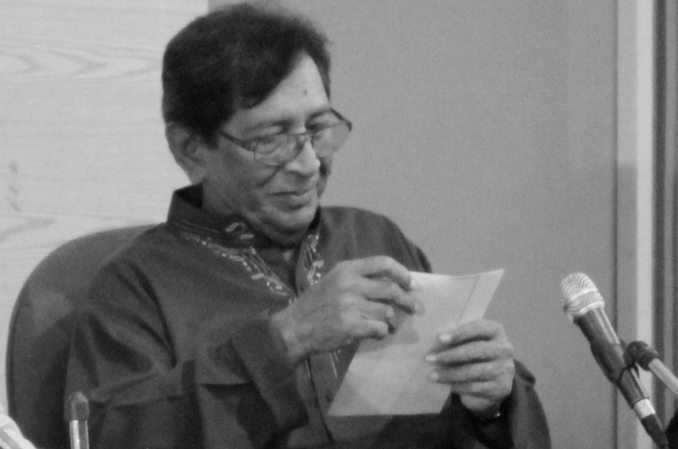 Talat Hussain
Munir Niazi- Munir Niazi was termed as the poet of all things simple yet beautiful. A panelist commented: "While other poets continued to write poetry, it was poetry that continued to write Munir Niazi." That is to say, he expressed poignant thoughts with admirable ease.
Parveen Shakir- Amjad Islam Amjad was all praise for Parveen Shakir, the person as well as the poet. He maintained that Parveen remains one of the few female poets of the sub-continent who serve as the quintessence of a new thinking woman. With feet firmly affixed in culture and tradition, her learned and illuminated mind transcended narrow bounds and explored new worlds, he remarked. We feel that Parveen Shakir's poetry was like a breath of fresh air in a society that deems an expressive woman to be immodest.
The Festival turned out to be a winsome experience that not only celebrated the poetry of our bygone legends but also gave a platform to emerging and contemporary poets to share their own compositions. The audience participated at intervals, making the session more lively and interactive.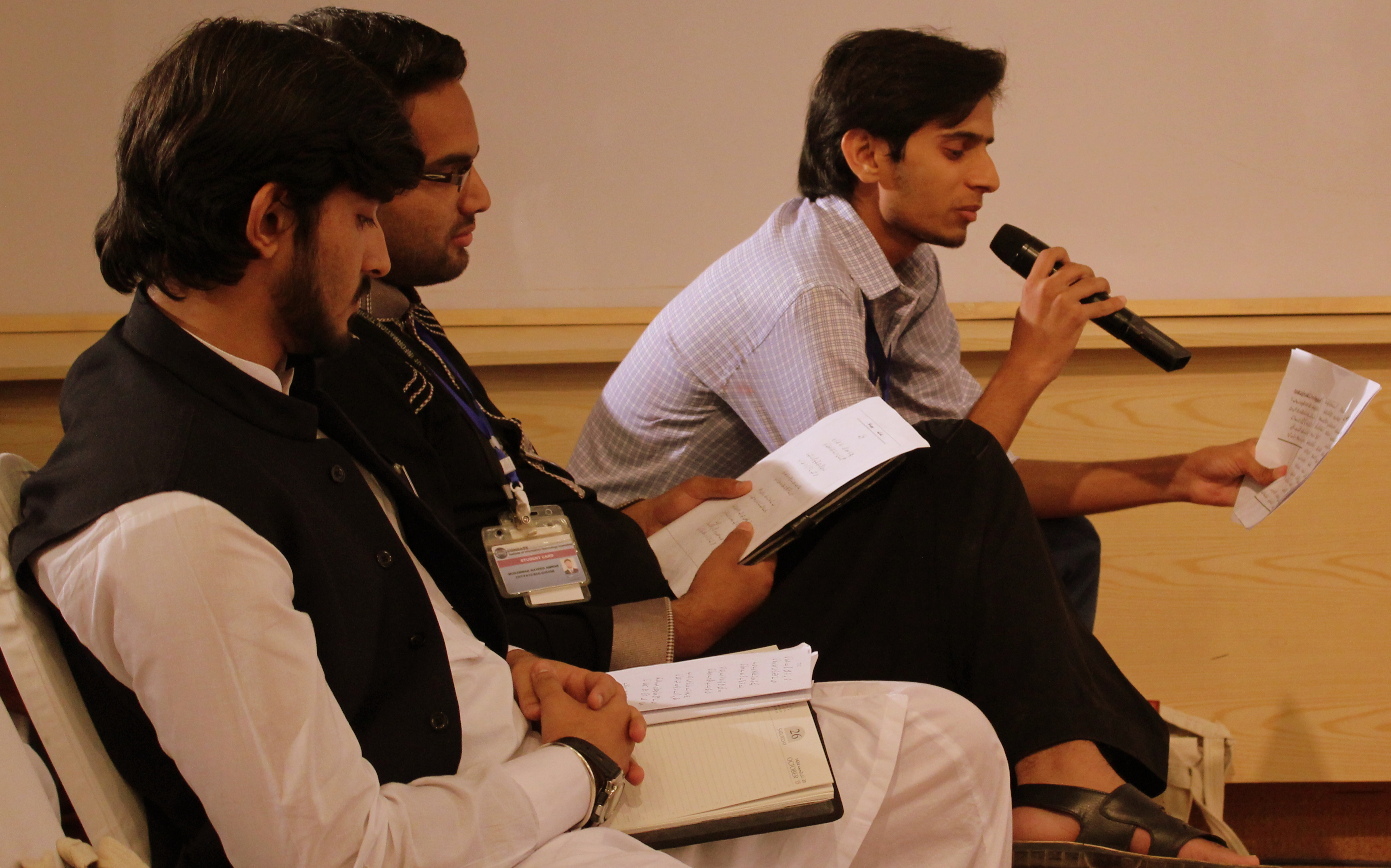 Audience Participation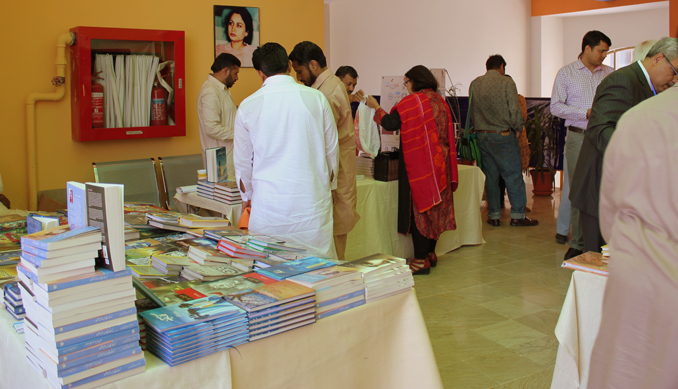 Guests at book-stalls
Click to view picture gallery
RELATED ARTICLES:
You may also like: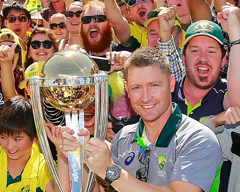 Australia Pulverizes New Zealand to Bag World Cup 2015 Trophy
(March 30, 2015)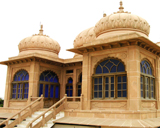 The Undying Grandeur of the Mohatta Palace Museum
(March 29, 2015)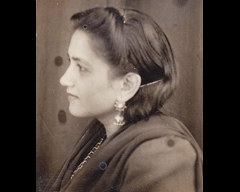 Ada Jafarey: A Tribute
(March 27, 2015)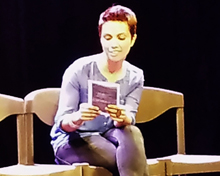 Me, My Mom & Sharmila: Fawzia Mirza and the Brown Woman
(March 26, 2015)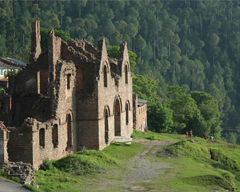 Silk Road: The Picturesque Mansehra and Abbottabad-VI
(March 25, 2015)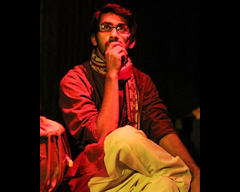 Azeem Hamid and the Independent Theatre Company
(March 25, 2015)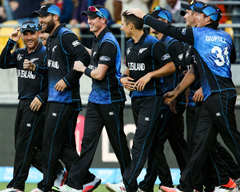 New Zealand to Choke South Africa and India to Overpower Australia?
(March 24, 2015)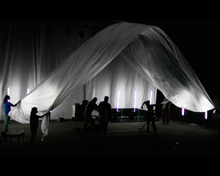 NAPA International Theatre Festival 2015: 'Among Fog'
(March 20, 2015)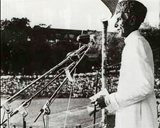 Pakistan Resolution Revisited
(March 20, 2015)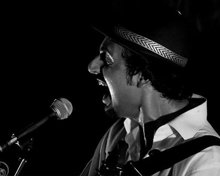 Faizan Tirmizi - The Ideology of an Aspiring Musician
(March 12, 2015)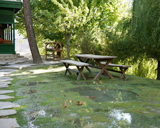 Hunza Valley: A Fine Balance between Tradition and Modernity
(March 10, 2015)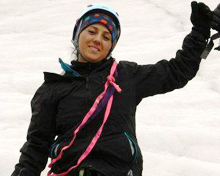 Samina, we are proud of you!
(March 06, 2015)