Pakistani Cinema: Kal aur Aaj
Written by: Mirza Salam Ahmed
Posted on: April 28, 2015 |

Comments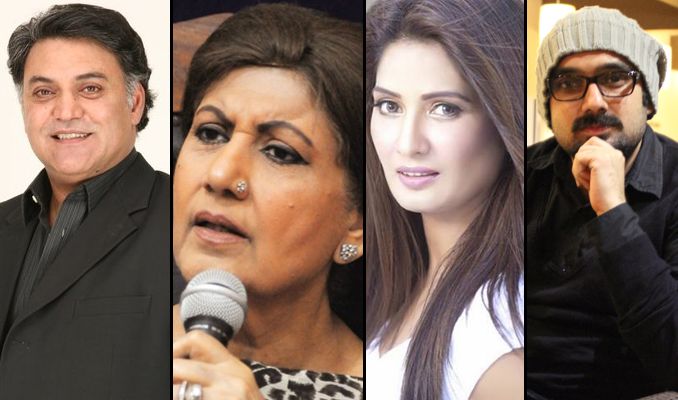 (l-r) Asif Raza Mir, Bahar Begum, Jia Ali and Yasir Jaswal
Once rivalling the glamorous Bollywood of our neighbours, the Pakistani film industry is now in shambles, clinging to life from rare productions of ingenuity. Panelists at the 3rd Islamabad Literature Festival discussed the factors leading to the downfall of Lollywood, in a session titled 'Pakistani Cinema: Kal aur Aaj'. Renowned celebrities graced the event, with actor/director Asif Raza Mir, film actress Jia Ali, scriptwriter Shahzad Raffique, director, producer and actor Yasir Jaswal, and senior film actress Bahar Begum appearing as panelists, and the veteran actor Raju Jamil moderating the discussion. Fingers were pointed at dictators such as General Zia-ul-Haq and the ruthless Islamization movement of the 80s, as the leading cause for this decline.
Mir pointed out that Pakistani films once had rich content, catchy songs and quality production, factors that are missing today. He further added that censorship laws and a discouraging environment caused a big exodus in the film industry in the '80s. "During the good old times, people, ranging from directors to producers to actors to musicians, used to do films professionally, but that is not the case in today's industry. Furthermore, I think General Zia-ul-Haq's policy of Islamization also dealt a devastating blow to the entertainment industry, especially films," Mir said.
Raffique supported Mir's stance, and added that rejuvenation can only be birthed at the hands of the younger generation. He said that the government as well as investors should patronize efforts in the industry in order to bring back the golden days of film.
Bahar Begum, on the contrary, was hopeful that better days are ahead for our film industry. She stated that she was highly impressed with the quality of recent productions, and could confidently say that revival was on its way. She encouraged writers to bring forth strong messages and good scripts, and to utilize modern filming techniques to quench the thirst of the demanding contemporary viewership.
Yasir Jaswal lambasted critics for comparing our Lollywood to India's Bollywood. Wealth, modern technology and a supporting government have been present in India for several years, and hence their market has developed tenfold in comparison to ours, explained the director of success story 'Jalebi'.
The third and final day of the ILF concluded with closing statements by Ameena Saiyid and Asif Farrukhi. The keynote speeches were delivered by Zehra Nigah, and Paul Harding was declared the winner of the Pulitzer Prize.
RELATED ARTICLES:
You may also like: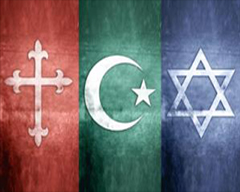 Fundamentals of the Abrahamic Religions
(September 24, 2015)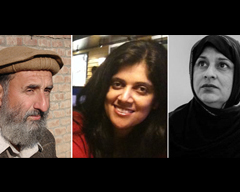 A Women's Jirga in Swat
(April 28, 2015)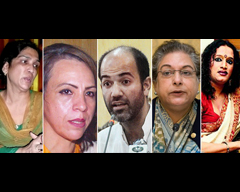 Rights and Wrongs of Transgender Issues
(April 28, 2015)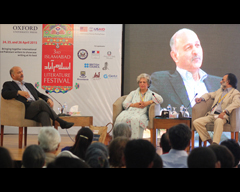 Islamabad Literature Festival 2015
(April, 2015)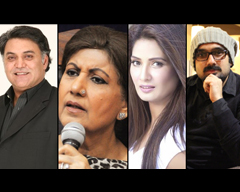 Pakistani Cinema: Kal aur Aaj
(April 28, 2015)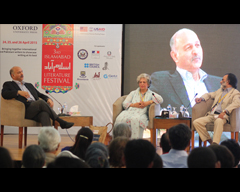 Power Failure: The Political Odyssey of a Pakistani Woman
(April 28, 2015)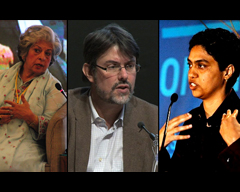 Full of Sound and Fury: Elections in Pakistan
(April 28, 2015)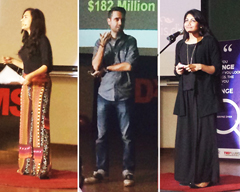 TEDx LUMS 2015: The Power of 'Changing Mindsets'
(April 07, 2015)

Teaching Chinese Language in Pakistan - Part-II
(August 07, 2012)