LLF London 2016
Written by: Samar F. Zia
Posted on: November 01, 2016 |

Comments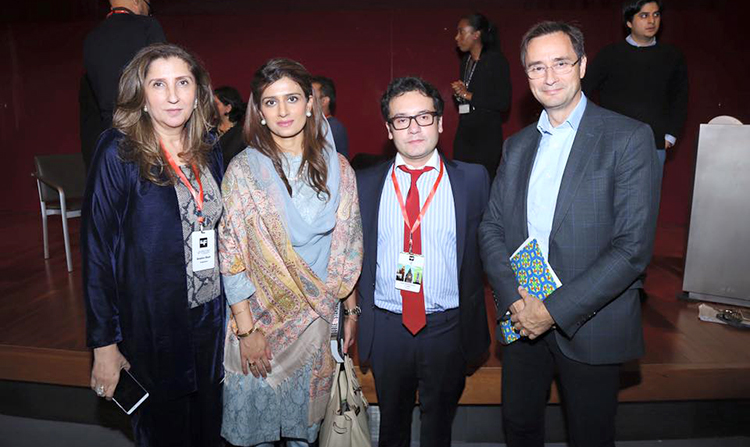 (L-R) Anila Shah, Hina Rabbani Khar, Razi Ahmed and Dr. Robin Niblett at LLF London
The Lahore Literary Festival London, held at the British Museum, was a day-long event with back to back programs covering a range of subjects from politics, culture, literature, art and media. It included an impressive list of panelists from novelists, artists, media personalities and political analysts from within and outside of Pakistan, as well as politicians.
Even though it was primarily a Pakistani event, it had a global feel to it, owing largely to the panelists and the way they handled the discussions. Credit for this must also be given to the organisers, Razi Ahmed, Anila Shah, and Nusrat Jamil, for selecting eminent people to address corresponding issues. It would be impossible to sum up the entire day's events in this essay; however, I aim to briefly touch upon four diverse sessions to elucidate the general sensibility of the festival.
Founder and CEO Razi Ahmed speaks about LLF London
The one event to hit a chord with every Pakistani, Kashmiri and perhaps Indian, was Blindsided. The panelists for this session included lawyer Farooq Bajwa, novelist Mirza Waheed and journalist Sonia Faleiro, moderated by historian Andrew Whitehead. The main focus of the program was the state of Kashmir, and it was evident from the start that each of these personalities had an in-depth understanding of the issue (from their particular experience on either side of the border) and their own viewpoints on the current Indo-Pak crisis regarding Kashmir. However, kudos to them for keeping the session progressive and receptive to alternate opinions on a subject as sensitive as Kashmir.
Most of the issues discussed in this session were familiar ones, and as hard as it may be for some Pakistanis to digest, Mirza Waheed maintained that Kashmiris have their own memories based in the state of Kashmir as an entity in its own right; Kashmiris don't view themselves as either Indian or Pakistani. Another important point highlighted during this discussion was the dissemination and lack of leadership in the Kashmiri Separatist movement.
An integral element in this geopolitical dilemma was reportage, or the lack of it. Even though the scale of atrocities committed in this region is massive compared to those in Israel occupied Palestine, it is not given much air-time on news channels, particularly Western News channels such as BBC or CNN. This is because the international media and human rights organizations are not allowed to enter the area. Moreover, according to Whitehead, another reason for the lack of reportage on this large scale human-rights issue is the length of time it has gone on for, almost becoming background noise, as well as the emergence of India as a rising economic power which also keeps the heads of Western countries from interfering.
Nobody expected a resolution to this intensely sensitive issue at the end of the dialogue, but it was enlightening all the same. Before delving further into other sessions, it must be said that the subject of Kashmir served as a unifying thread, (unintentionally) cropping up time and again in the various programs of the day.
The Lahore Literary Festival managed to cast light on many Pakistani, and to a limited extent, global issues. Although very few of the sessions ended on a positive note, they did serve to propel and motivate one to keep working for a better future. That being said, Seema Aziz's session with Peter Oborne was heartwarming! Back to the Blackboard started with Care Foundation's founder, Aziz, relaying her start and journey in transforming Education in Pakistan, one state school at a time. It is imperative to add here that she was amongst the most genuine and charming people to sit on the LLF London stage.
Below is a short video clip of her speaking about CARE Foundation at the event.
Seema Aziz of CARE Foundation with Peter Oborne
It was unfortunate that her session was one of the briefest and was ended prematurely just as the Q&A was starting. A conversation with her later, revealed that she was as surprised by the sudden end as the audience was disappointed.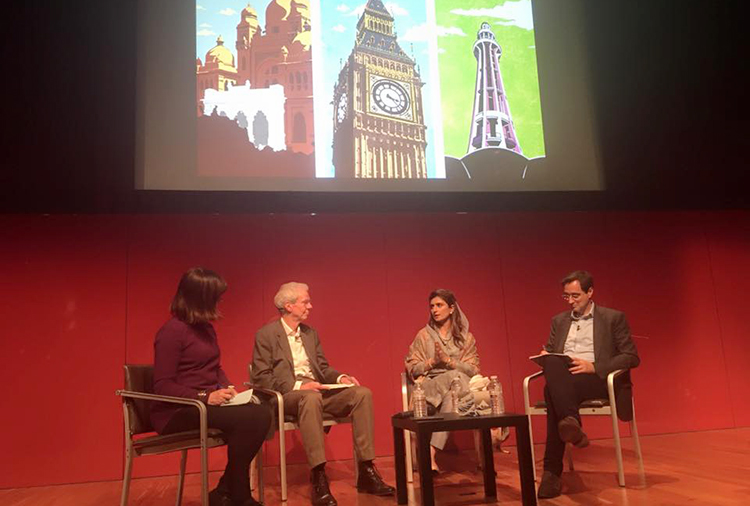 (L-R) Lyse Doucet, David Lloyd, Hina Rabbani Khar and Dr. Robin Niblett
The next program's panel included prominent personalities, PPP's Hina Rabbani Khar, Dr. Robin Niblett, head of the ThinkTank, Chatham House, South Asia correspondent David Lloyd and Lyse Doucet. Even though this session ended the previous one abruptly, it must be lauded for its punctuality.
As unexpected as it was, this program titled Dateline Pakistan, meant to focus on Geopolitics, Internal Security and the global position of Pakistan, started off with talk of Bollywood and the ban on films and film stars (another recurring theme during the day's events). Beyond the catchy theme, from Bollywood to Baluchistan, advancing the discussion was Khar. Unsurprisingly, she was most effective and eloquent in the positive points she made about the progress of Pakistan – such as the unanimous passing of the Honour killing bill – and what the country needs to do further to remove the stigma of its past behaviour from its future development. A related point made by her was that the issue of Kashmir in the global circuit is treated as a terrorist issue as opposed to a human-rights issue owing to Pakistan's tainted history of harbouring terrorists/ism and reactionary behaviour despite India's grievous actions. ?
She was insistent that Pakistan cannot continue by closing its borders to its neighbours, be it India, Afghanistan or Iran. It needs to utilise its location to its benefit. She reminded that progress had been made during the Asif Zardari and Manmohan Singh tenures but that seems to be unravelling now under Modi's nationalist leadership and the current Kashmir crisis.
Below is a clip of her responding to a question from the audience regarding Baluchistan and the threat of violence by various militant groups within the country.
Hina Rabbani Khar speaking at the session 'Dateline Pakistan: Geopolitics, internal security and the weight of the world'
All the panelists were positive about the capability of Pakistan as a country but felt that it was stifled by the insecurity it feels with regards to India. It was agreed that where India is progressing, it is this insecurity that has led Pakistan to maintain a reserve of dangerous groups of potential militants to keep itself safe in case of need, but that has only meant stagnation or regression for Pakistan. The Taliban were one such group, who have inflicted immense damage upon the country and even though it is tackling them now, there is probably another equally potent group hidden away in case of need.
The last but not least of the programs that this essay is going to expand on was titled The Fourth Wall. The panel consisted of BBC's Fifi Haroon, visual artist Naiza H. Khan and celebrated director Sarmad Khoosat. Indian actress Pooja Bhatt was also listed as part of the panel, but she was absent. Just to keep up with the trend of the event, one can shoot in the dark and assume her absence was due to the current Indo-Pak tensions.
This ambitious session tried to encompass many related yet disparate topics that fall under the umbrella of culture within a one-hour slot. The discussion mostly revolved around escapism in the media, and the Pakistani audience's appetite for tragedy and drama as opposed to original avant-garde ideas. A valid point, articulated both by Khan and Khoosat was that cultural space and exposure has been denied to the people of Pakistan. However, there lies a glaring difference between visual arts and mainstream media such as television. Through her practice, with works such as Henna hands and those zooming in on the island of Manora, Khan has hoped to reclaim space as well as take art out of its comfort zone within gallery walls and studios, to the people or masses, if you may. According to her, this has primarily been possible because there is almost no state support for the visual arts, thus it generally tends to slip under the radar and artists are able to achieve a lot, even if in small amounts and with limited exposure.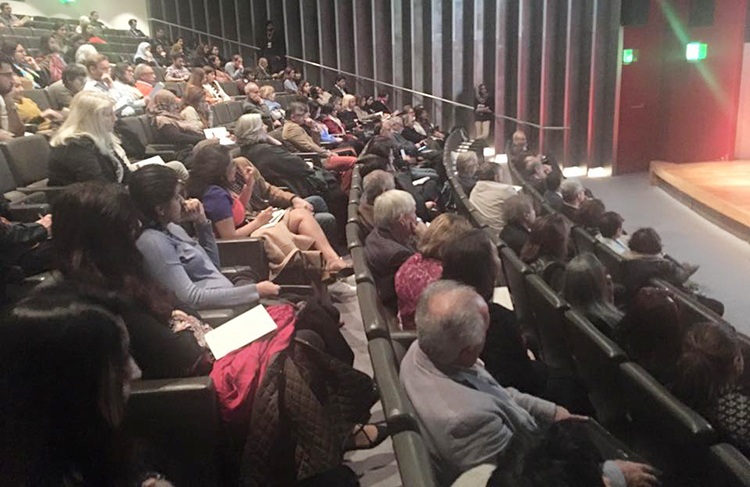 Audience at LLF London
It was unfortunate that Naiza Khan didn't get to speak as much about her practice as one would like to hear, considering her accomplishments and accolades as a Pakistani artist in the international art scene.
The crux of the session boiled down to censorship. Khoosat's experience exemplified the fact that he's always having to make work that reflects dissent or subservience. Through his work he is constantly dealing with one issue or another presented either by restrictions laid down by the governments censor board authority, PEMRA, or by the mindset of the audience that is conditioned to either accept or reject certain forms of expression and concerns. He felt that it is an enormous responsibility to challenge and change the perceptions of the masses through your work. He has had to struggle a lot with the restrictions imposed upon his art, while inventing creative methodology to make his point as well as work around the restrictions. Understandably, as a creative individual, he craves producing imaginative and experimental work, work for the sake of creating and not bringing about social change. To prove the case in point, his innovative production of TV serial Mor Mahal has done badly in terms of response and rating, as opposed to successful shows like Humsafar, that don't exhibit any unusual or innovative material.
Below is a clip of Khoosat commenting on the evolution of TV and the kind of entertainment demanded by Pakistani audiences.
Sarmad Khoosat comments on the evolution of TV media in Pakistan
Overall, the event was enlightening, presenting some great viewpoints to ponder over and act upon. To end on a positive note, as Naiza Khan pointed out, there has been an increase in cultural gatherings such as the LLF itself, or Numaish or KLF, which invite the public to participate in and understand the emergent political and cultural development in Pakistan.
You may also like: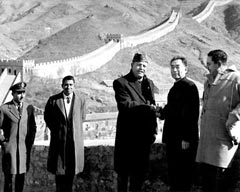 From People to People, Pakistan-China Relations since 1965
(December 12, 2017)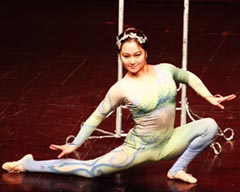 Rhythm of Liaohai Gala at PNCA, Islamabad
(December 08, 2017)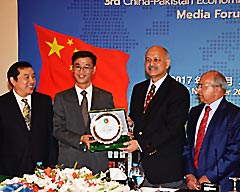 3rd CPEC Media Forum, Islamabad
(November 28, 2017)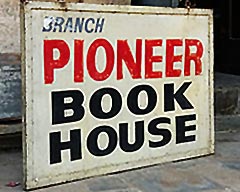 Pioneer Book House, Karachi
(November 24, 2017)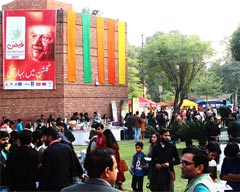 Faiz International Festival 2017
(November 22, 2017)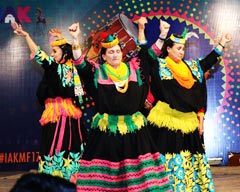 Lok Mela comes to Karachi
(November 17, 2017)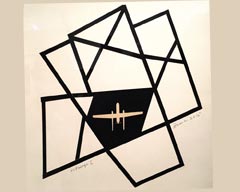 Writing Partition in Urdu
NYU's Urdu Conference
(October 13, 2017)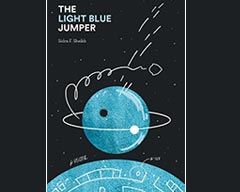 Book Review: The Light Blue Jumper by Sidra F. Sheikh (First Pakistani science fiction novel)
(October 02, 2017)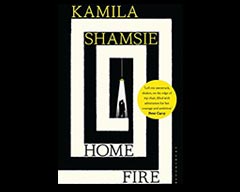 Book Review: Home Fire by Kamila Shamsie
(September 07, 2017)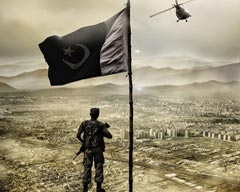 Pakistan's Armed Forces face challenges in 2017 with a New Confidence
(September 05, 2017)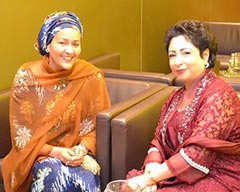 August 14 celebrations at the UN with the Sachal Orchestra
(August 15, 2017)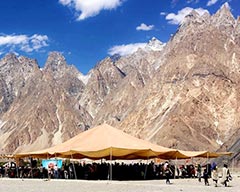 FACE Mela 2017, Passu
(August 10, 2017)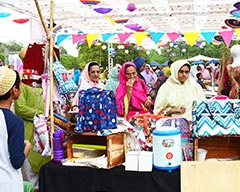 The Bohra Bazaar, Karachi
(August 07, 2017)