Yusuf Salahuddin: Guardian of Cultural Heritage
Written by: Abbas Hussain
Posted on: March 17, 2014 |

Comments | 中文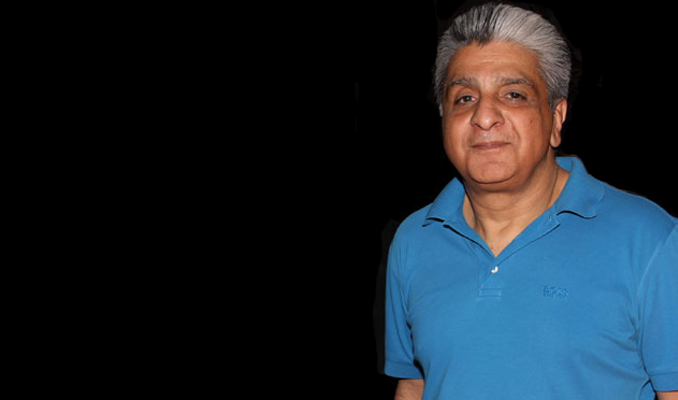 Yusuf Salahuddin
Mian Yousaf Sallahuddin is a part of the crème de le crème of Lahore's literary circle who for many years has strived to promote Pakistani culture by spearheading creative projects. Hailing from a formidable political lineage, Mian Salli, as he is popularly known, was actively involved in politics but has now dedicated himself completely to the arts. The grandson of one of the greatest poets of the Subcontinent, Allama Iqbal, he has art running through his veins.
The walled city of Lahore is considered the emblem of the city's culture, flaunting exotic Mughal relics and narrow streets lined with eateries selling mouth-watering delights.
The Barood Khana Haveli, owned by Yousaf Sallahuddin, is a prominent cultural symbol in the milieu of Lahore's archeological heritage. The grand entrance of the red-bricked building leads into a vast verandah with ornate structures in white marble that display the legacy of skilled artisans from the shores of Mughal history.
Barood Khana gained prominence at the time of Mahraja Ranjeet Singh and is around 370 years old. This was where the city's ammunition was stored, including cannons, rifles and gunpowder, hence the name Barood Khana. It was also a corps commander house, responsible for the defense of Lahore.
Yousaf Sallahudin underscores the importance of understanding one's cultural roots and history, something he fears is lacking in the current generation which is becoming increasingly superficial and confused about their true identity.
"When you try to become to westernized and spend all your energy and time learning about someone else's culture at the cost of your own, that does not leave you as a very intelligent person. The worst thing the West has done to the world is that the entire young generation is obsessed with clothing and cars. They are not inspiring like the kind of people I grew up around for instance; I strongly feel that our younger generation is going away from their identity. Wherever you are in the world you teach certain things to your children. Like in England, whichever school you are in you will learn about Shakespeare and so many aspects about your culture and heritage. It is all taught to you. Unfortunately in our country it is not, especially with all the independent channels coming in who are throwing all sorts of hogwash. My work is to revive the heritage that many of us seem to have forgotten."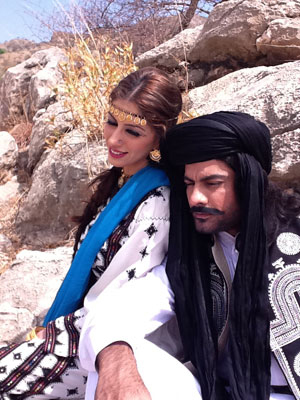 Still from Heer Ranjha
Yousaf Salahuddin's association with television has translated into a TV program television called Virsa Heritage Revived and his magnum opus Heer Ranjha, a much celebrated tale of romance in the subcontinent's literature. "Heer Ranjha is probably the most famous love story of the entire Subcontinent and is based in Punjab. The idea was to revive this story and our music. The serial has around 20 songs and it is shot like a 14 episode film. It does not have a Bollywood style but is shot more naturally like films were made in Pakistan back in the 5o's. The whole era had to be recreated with its clothes and setting.''
Indian's iconic actor Naseeruddin Shah gave a voiceover in this project which, Salahuddin asserts, gave the project an international status.
As the discussion of Heer Ranjha progresses, a glamorous female in a bright pink, glittery shalwar kameez walks past us. "That's your Heer'', exclaims Yousaf Salahuddin excitedly. The actress of the serial Heer Ranjha is gearing up for an interview and looks every bit of Heer in her dazzling attire, as she sits on a charpoy across our sitting area. Joining us also is author and television host Aatish Taseer, son of the slain governor of Punjab Salman Taseer.
Yusuf Salahuddin on the serial Heer Ranjha
The discussion of the city's culture would be incomplete without the mention of a festival that has been an inextricable part of the city and symbolized the celebratory spirit of Lahore. The ban on the festival of basant has, like it has for many of the city's old dwellers, been a sore point for Salahuddin.
''I have raved and ranted in front of many officials about the unfortunate ban. I have tried telling them that apart from being a 2000 year old festival it also put Pakistan ion the cultural map of the world. Actually there is no festival like this in the entire world. It was celebrated in the old city for many years and not many people knew about it outside that, till the 80's. As Lahore became bigger its influence spread. It could also have become one of the biggest export earners for Pakistan."
He opines that the real problem lies in the production of kite strings which have been laced with chemicals and that the problem should be dealt with at its roots. Most of the victims have been those on motorbikes and according to Salahuddin, for a stipulated period on the day of the festival this form of transport could be restricted to eschew the associated risks.
"Can you imagine how basant could have helped the tourism of Pakistan. It could help the economy of the city, considering that around 2 billion were being spent on the festival when it was at its peak. All that money was trickling down to the caterers, the bangle sellers and the duppatay-wala among others. Event management companies also started because of this festival.''
Yousaf Sallahuddin passionately shares the vision he had envisaged for basant, to become a world class festival which he feels would be possible if the Punjab government has a department that deals specifically with basant and announces the dates a year in advance of the festival. This could potentially attract thousands of tourists which would in turn contribute to the economy.
This notion was not just resting on mere idealism but premised on the festival's building momentum which he experienced firsthand.
''On one basant, Imran Khan came to Lahore with the Duke and Duchess of Somerset. They were completely awed by the event. That prompted me to organize a big basant brunch and prior to that I asked Mir Shakeel-ur Rehman, who had just bought in the newspaper Jung at the time, to cover the event. I agreed to organize a big basant brunch since basant was always a day event. As I was a politician back then, I was able to invite a lot of influential people including bureaucrats, diplomats the literati and glitterati. The next day newspapers were full of pictures of basant. From then on the festival really took off. Special flights and trains were coming to Lahore for the event and hotels barely had any vacant rooms.''
Ask him about his coveted ancestry and whether they set certain standards for him, and he appears blasé. Though he himself has had a successful run in politics, he regards his second innings, so to speak, in the world of art as something that he is proud of and passionate about. "I don't think getting elected to the parliament was an achievement really. I think what I have been doing for the last two decades regarding the preservation of the country's cultural heritage, celebrating basant, doing television programs and so forth have been more worthwhile."
As far as his penchant for the performing arts goes, Yousaf Sallahuddin always had fire in the belly. Back in 1992 he composed Nazia Hassan's hit song Taali de Thalle from her last album Camera Camera. Nazia Hassan and Zoheb Hassan were staying at the Barood Khana haveli during their visit to Lahore when this song was composed as Zoheb strummed his guitar and Salahuddin lent his input. He then composed Garaj Baras Sawan, which paved the way for Ali Azmat in Bollywood.
Salahuddin was given the responsibility of organizing a music show soon after the Sufi Council was established. He chose to compose the tunes himself for the poetry given to him with the help of legendary singer Fareeda Khanum. Eight new singers were asked to sing the compositions including Fareeha Pervaiz, Abrarul Haq and Rahat Fateh Ali Khan.
He released an album with a host of singers soon after and his program Virsa Heritage Heritage was to follow.
Along with a fine cup of piping hot tea I am treated to some of his melodious compositions in the voice of the very popular Rahat Fateh Ali Khan which blend in beautifully with the quaint surrounding.
His music is indigenous, utilizing eastern instruments; he chooses to remain true to the eastern tradition in its pure form.
Yousaf Salahuddin's dedication towards his country and its glorious traditions is inspiring and a candid discussion with him proves to be an enlightening and inspiring experience in a spiritually uplifting atmosphere where culture finds its home.
You may also like: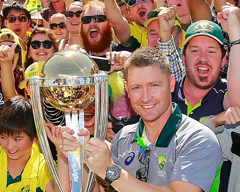 Australia Pulverizes New Zealand to Bag World Cup 2015 Trophy
(March 30, 2015)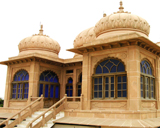 The Undying Grandeur of the Mohatta Palace Museum
(March 29, 2015)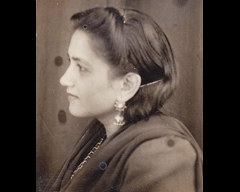 Ada Jafarey: A Tribute
(March 27, 2015)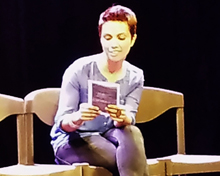 Me, My Mom & Sharmila: Fawzia Mirza and the Brown Woman
(March 26, 2015)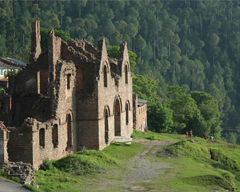 Silk Road: The Picturesque Mansehra and Abbottabad-VI
(March 25, 2015)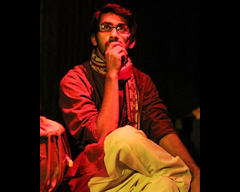 Azeem Hamid and the Independent Theatre Company
(March 25, 2015)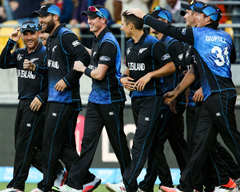 New Zealand to Choke South Africa and India to Overpower Australia?
(March 24, 2015)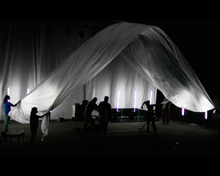 NAPA International Theatre Festival 2015: 'Among Fog'
(March 20, 2015)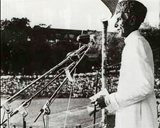 Pakistan Resolution Revisited
(March 20, 2015)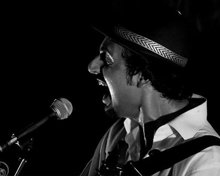 Faizan Tirmizi - The Ideology of an Aspiring Musician
(March 12, 2015)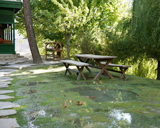 Hunza Valley: A Fine Balance between Tradition and Modernity
(March 10, 2015)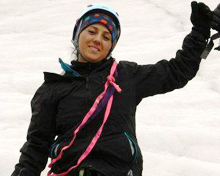 Samina, we are proud of you!
(March 06, 2015)