Conversations with Lahore Music Meet (LMM) 2020
Written by: Nayha Jehangir Khan
Posted on: January 31, 2020 |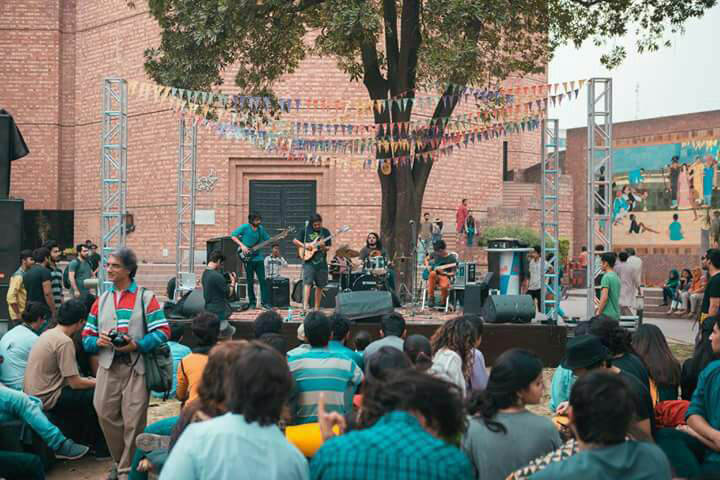 The Lahore Music Meet (LMM) is a 2-day music festival, scheduled for the 1st and 2nd of February, 2020 at Alhamra, Lahore. For co-founder Zahra Paracha, LMM aims to be an inclusive community. She explains that, "there are only a handful of artists who are represented by labels that do everything for them." To counter this imbalance, LMM "represents artists in their true form, by facilitating culture and not dictating it."
Through a carefully curated representation of Pakistan music, LMM creates a uniquely wholesome celebration of diversity in music. The entire initiative is a labour of love and completely volunteer-based. During the LMM season, there is, what Zahra calls, a "makeshift music ecosystem" that activates linkages between the musicians, corporations, and the general public. It creates a mirror of the music industry designed to support musicians. She believes that, at this stage Pakistan does not have a sustainable eco-system for promoting new music.
With hopes to heal the broken music industry, Zahra realized that the problem lay in attitudes towards music consumption. Therefore, they focused on the younger generation of musicians, who were open to exciting and unorthodox collaborations. Sana Nasir, Art Director of LMM, remarked, "[my artwork] is reflective of the craft and attention to detail, the whimsy, the experimentation, and deep-rooted acknowledgement of our heritage and culture alongside technology and growth."
This year's showcase lineup champions both independent and Pepsi sponsored acts. It captures genres like electronica, indie, and rock, and is inclusive of Urdu and English composers, singers and rappers. Fake Shamans told me about the time they applied to LMM and got rejected for good reason. Omair from the duo said, "I personally believed that our work was not up to the mark at that time."
They are grateful that their application finally got accepted this year, and they are excited to be surrounded by like-minded performers. "Lahore is our hometown, and getting to perform in Alhamra, where we have so many childhood memories, has its own charm".
Islamabad's homegrown talent, Saakin will be headlining Day 1 of LMM in the Pepsi Hall. While sharing their excitement, they said, "LMM is one the most thrilling platforms for showcasing live music. It is already a sensation, and the vibe is going to [get] better every time. We feel really honored to be a part of such a festival."
Another Day 1 showcase act, Maanu, has been actively participating in LMM since 2016, and has been encouraging others to attend as well. Maanu hopes to headline the LMM stage in the future. "It is a really important platform that gives young artists the opportunity [to perform]."
Meanwhile, Aarish and Auj are winning rock bands from Pepsi Battle of the Bands. They represent Pepsi at LMM, bringing the best of both worlds on stage. Ibrahim Imdad, also known as Gentle Robot, will be performing on Day 1. He has played a prominent role in shaping independent music in Pakistan. He appreciated both the meticulous organization of the event and the revitalizing effect its anticipation has on musicians. "If I could just play one LMM a year, that would be all I'd need, because I don't have the time to prepare for gigs and can only perform once a year…All you see are smiling faces around you, everyone enjoying the music with their friends, [there are] internet friends meeting each other for the first time. It's just magical."
Ifrah, hailing from Faisalabad, shared how the music scene is underdeveloped in her hometown. "We cannot even think about playing our original music there. All events are Bollywood influenced. Being invited to LMM means a lot to us. This will be the first time we get to interact with musicians from other cities whom we follow and listen." She shared her feelings about performing saying, "[For] every show that we've done in the past, our objective has been "awam nachani hai (we have to make the crowd dance)", so the set is entirely [filled with] cover songs of popular music." But at LMM she is at ease, because she knows that people are there to appreciate the music.
IQBAL a rising Urdu rapper, believed that, "Urdu rap is usually neglected in the mainstream." He appreciated LMM for highlighting him as an underground rap artist. "I am confident that the audience will embrace what I have to say, since my lyrics openly shed light on existing grievances that people avoid talking about." Another underground artist is Mahak Qayyum. She shared her frustrations and feelings about being underrepresented, and stated that the lack of exposure to other genres, inhibits audiences from developing musical tastes outside the mainstream.
Day 2 has performances by well-known acts like Adil Omar, Karakoram, Haniya Aslam and Natasha Humera Ejaz. The second day will have Talal Qureshi performing alongside Naseebo Lal, in what is expected to be a never before seen performance in Pakistani music history. Madlock will also be taking the stage after a 2-year hiatus. Frontman Mahroze is of the opinion that Pakistan is yet to develop a mindful audience, which wants to listen to original music and the community-driven ideas of LMM will seek to amend that. "LMM represents freedom for the artist to be recognized, based on their expression and music."
Towers is an experimental music trio from Karachi that will be taking the stage on Day 2, who said, "LMM is great because [the festival] is just as grassroots as the musicians it hosts". Hassan and Roshaan are an upcoming duo that has been working on an 18-track album called 'Chaar Dinon Ka Khwaab (A Four-Day Dream)' for the last 2 years. They appreciated LMM's persistent progress since 2015, and the wonderful execution of the events and art direction, which reflects the sincerity with which the founders want music to grow in Pakistan.
LMM's streaming partners, Karachi Community Radio, said that LMM is bringing together well-established artists with upcoming acts and contributing to knowledge, production, and exchange of ideas about the Pakistani music industry. Similarly, Mughal-e-Funk expressed their views that "LMM gives us a space to share our music with a variety of people [and] gives the freedom to play the kind of music we want."
Programming Partner Rearts will be curating upcoming talents that are undiscovered by the general public. They are hosting a separate Rearts Stage located next to Hall #1 Main Entrance Courtyard, featuring Press X, The All Girl Band, Malaika Mueen, Amena Farooq and Luke William for a performance and a meet-and-greet.
Clear your weekend and make your way to Alhamra, Lahore. Entry for the event is free. Your contribution as viewers and music lovers who support and celebrate the Pakistani music industry begins this Saturday. For the complete lineup and the schedule, check their Facebook and Instagram. kistani music industry begins this Saturday. For the complete lineup and the schedule, check their Facebook and Instagram.